Kenny Davis, teacher of jazz ensembles and trumpet, has performed with the duke of jazz, the queen of soul, and all the headliners from the Motown Sound, including Marvin Gaye, Stevie Wonder, The Temptations, The Four Tops, Smokey Robinson and Gladys Knight, among many others. But he says that his work in educating the next generation of jazz musicians and his outreach work with the Cleveland-based Jazz for Kids program, has proven just as gratifying as his many turns under the spotlights.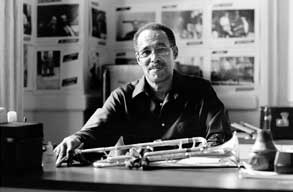 Kenny Davis in his office at Hale's Auditorium and annex. Photograph by John Seyfried.
JAZZ IS A MUSIC FORM IN TRANSITION. WHILE only two decades ago, we were still blessed with the living presence of many of the pioneers and innovators of contemporary jazz, today their legacy is carried on by a precious few. The recent loss of these masters of modern music opens a chasm between the future generations of jazz musicians and the rich cultural heritage that preceded them. Never before has the need for jazz education been so pressing: without it, the attitudes, personalities and cult of style of the forefathers of jazz may slip through the cracks in history.
The modern jazz educator - the living link between at least two generations of musicians - is a key figure in the course that this music will take in the near future. Kenny Davis, Conservatory professor of jazz trumpet for almost 20 years, is one such figure. A consummate musician, Davis' credits as a performing artist read like a laundry list of Who's Who in music over the past 30 or 40 years. Yet his rich performing career is only one side of his erudite musicianship. He feels he has found the perfect complement to his performing through his work as a professor and jazz missionary of sorts for the region.
"Between teaching and playing, I don't know which one I love the most," Davis admits. "And as far as Oberlin goes? Oh, man, I absolutely love it. I absolutely adore it. Because I get to watch these kids grow and come out and play with experience. The fun part, I think, about being a performer and a teacher is the fact that we can bring these guys up to Cleveland to play while they're still in school. This performance experience encourages students to complete academic studies and hit the performance ground running."
Davis got a running start on music at an early age, as a result of the encouragement of his parents who were avid jazz enthusiasts. When the Davises would go out at night to dance to the sounds of the Ellington or Basie orchestras, they'd leave young Kenny and his siblings at home with an extensive record collection that included all the popular jazz of the 1930s-40s. Davis believes his own jazz education began at home with these recordings from the nascent swing era of jazz.
"My parents kept good music around the house all the time," he says. "And growing up in Cleveland and Lorain with the sounds of the inner city all around us, ours were aural skills more than anything else, because it was about listening. Our ears were always full."
Pretty soon Kenny had his hands full with music, as well. He began playing drums when he was five-years-old, but his early exposure to the horn-driven jazz big bands led him to switch to trumpet when he was 11. Through middle school and high school, he cultivated his skill on the horn, and continued to develop his interest in jazz. Following his high school graduation at age 17, he was accepted into the United States Naval School of Music, where he stayed for four years and performed in the President's band.
After graduating from the academy, Davis remained in the Navy as a musician from 1959 to 1962, playing aboard various aircraft carriers. "They were what we called Mediterranean cruises," says Davis, "and they were about seven months long. I really saw the world: Italy, France, Spain, Turkey, Sicily and Canada."
Upon returning to Cleveland in the early 1960s to get married, Davis found his home city immersed in the sounds of the burgeoning Motown era. Having honed his craft in the Navy bands, he began to work extensively around Cleveland with both local and national jazz and R&B acts. "I even played with some rock bands around Cleveland," Davis remembers fondly. "One of the guys in the band was a fellow named Charles Hatcher and he went on to become famous as Edwin Starr. Yeah, he's from Cleveland and he's one of my guys. And also I got into the house band at Leo's Casino when all the Motown stuff was getting started.
"I played with Mary Wells, Marvin Gaye, Stevie Wonder, The Temps, The Tops, Smokey Robinson, Gladys Knight, Aretha and a whole bunch of others." Davis rattles off the names as casually as if he were reciting the notes of a B-flat scale. Davis may take his accomplishments in stride, but they are a testament to the heartfelt commitment to music that he has sustained over the years. Through much of the 1960s and 1970s, even as he continued to gig extensively around Cleveland, he also maintained a fulltime job as an engineer at GE. "Yeah,"says Davis with a laugh, "to raise my kids!"
Senior Farnell Newton, freshman Josiah Woodson, Kenny Davis, freshman Damein Hill and freshman Sato Kojun following a rehearsal in Davis' studio. Photograph by John Seyfried.
Yet despite his humility, the experiences he accrued in those years are an invaluable piece of his overall musicianship and his uniqueness as an educator. A man of countless stories, Davis is able to impart much more than mere musical knowledge to his students. He offers more of the jazz experience - a largely oral tradition - in the form of anecdotes, jokes and colloquialisms.
"In 1979, the year before I got the Oberlin gig, I joined the Ellington Band for a year," Davis recounts at the outset of one such story. "It was great. We had a young lead alto player at the time who was 19 years old named Kenny Garrett. You dig? Mercer [Ellington, Duke's son] was leading the band but a lot of the original cats were still in the band. I was trying to read Ellington's book Music is My Mistress and I never finished that thing because every time I opened it up those bastards would grab it so they could look at their own pictures!"
These days, when Davis isn't busy either teaching at Oberlin or performing around Cleveland, he leads a program called Jazz For Kids. Along with Oberlin percussion professor Greg Bandy, Oberlin graduate Jackie Warren on piano, and bassist Kurt Feldemacher, Davis visits the public schools in Northeastern Ohio to demonstrate the dynamics of a small jazz ensemble. "We go everywhere from K-12 and it's really hip. We get a lot of satisfaction," says Davis. "I like to think of it as creating friends for the music. Kids are always intimidated by something they don't know, but if we open up with the theme from "Sesame Street," it gets their attention right away. We play things like the theme from "Batman," and we teach them that it is just another form of the blues. You know, kids don't forget. It's great just to see their faces."
And despite his tireless performing, teaching and community work, he's managed to be a nurturing family man along the way, as a proud parent of three and grandfather of eight. "I had a birthday party recently at the Mardi Gras club in Cleveland, and my little three-year-old grandson came up and played the trumpet with me," he beams. "And he played the right note, too!" His grandfather's grandson, to be sure.
Jason Kriveloff, OC '98 is a freelance writer and musician from New York. While living in Cleveland for a year after graduation he wrote music reviews for the Cleveland Free Times and The Plain Dealer, and played regular gigs at the Boarding House, the Cleveland Bop Stop and Club Isabella. He currently lives in New York, where he teaches a Literacy through Music program at an elementary school in the Bronx.