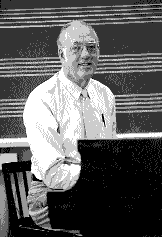 Professor Herbert Henke: Retirement is no Swan Song to teaching.

Photo: Ramon Owens
WHEN HERBERT HENKE, PROFESSOR OF EURHYTHMICS, retired from Oberlin following fall semester, 1998, he quickly explained that this retirement is no swan song, no bidding adieu to a 45-year teaching career. Instead, he said, this career shift is simply one more addition to a long line of interesting changes.
There are those who teach for the love of a particular subject, and others, like Herbert Henke, who teach for the love of teaching. "I always found great satisfaction in teaching: children or adults, any subject matter," he said. "I love the variety that teaching offers, the search for new ways of imparting information and the development of skills. What will I miss about teaching full time? Ask me again in a year. I'm sure I'll miss it all, much of it with joy. But meanwhile, I have taught summer classes at Carnegie Mellon University for 14 years and will continue to do so. And I will be the artist-in-residence at the University of Alabama," he explains.
Henke first came to Oberlin as a student and earned a bachelor of music education degree in 1953, a bachelor of music degree in voice in 1954, and a master of music education degree in 1954. Following graduation, Henke spent two years as a teacher of vocal music in the Cleveland public schools, then two years in the Oberlin City Schools as a supervisor and teacher of vocal music, K&endash;12. He accepted his first collegiate-level teaching appointment at the University of Maryland in 1958, and returned to Oberlin in 1962 as a professor of music education at the Conservatory.
"I certainly never came to Oberlin thinking that I would spend most of my life here," he said. "That was a real surprise to me, but there's much I love about Oberlin. The faculty and administration have been fine colleagues. The students are stimulating and responsive, and the teaching environment, with an emphasis on performance, is wonderful. I was also a performer for a long time and did a lot of singing. All that combined to make Oberlin a very happy place all these years"
A NONTRADITIONAL APPROACH
Henke's nontraditional, innovative approach to teaching is legendary. Joanne Erwin, director of the music education division recalls, "One of my favorite Herbert Henke stories is when, at the beginning of an Intro to Music Ed course, he randomly asked six students entering his classroom to remove their shoes. All of the shoes were different in shape and design. He asked the students what they noticed about the shoes and then arranged them so that he could explain theme and variations form. It's a brilliant educational tool &emdash; teaching from the known to the unknown &emdash; using physical objects with which students are familiar to explain unfamiliar abstract concepts."
Henke explained, "It's vital to arouse curiosity when you teach music. You must offer a bit of surprise, like completing a puzzle. In some ways I liken classes to
puzzles: I have information to impart, so I imagine how to share it in a way that will be interesting and fun for the students. I spend a lot of time working puzzles; a large part of my retirement will be devoted to puzzles.
I suppose teaching is an extension of that fascination with solving things."
EURHYTHMICS AT OBERLIN
Eurhythmics heavily influences Henke's teaching. One of the basic tenets of Dalcroze Eurhythmics is that music is a full-body experience, not just intellectual or emotional, that the rhythms and movements of music can be physically experienced and not just intellectually understood.
"I teach it to improve students' performing abilities, their sensitivity to phrasing, line and every aspect of musical expression. I'm very pleased when at the end of the course students say to me, 'I listen to music differently now.'"
His first exposure to Eurhythmics was as an undergraduate at Oberlin with Inda Howland, professor of Eurhythmics who had studied with Emile Jacques-Dalcroze (father of the Dalcroze Eurhythmics philosophy). "As a freshman student I was required to take Eurhythmics. I didn't think I was very good at it, but Inda was a wonderful teacher and I understood what she taught, and its purpose. I didn't take advanced Eurhythmics. When I returned to teach, Inda was still here, but I didn't focus on Eurhythmics."
When Howland retired, a replacement wasn't found. "It was like trying to replace God &emdash; you couldn't do it," said Henke. "In 1976, I realized what a shame it was that students weren't receiving Eurhythmics training, so I decided to use my sabbatical to study Eurhythmics at the Rotterdams Conservatorium in Holland.
Henke returned from Holland and began teaching Eurhythmics at Oberlin while continuing to study the technique himself. He earned a License in Dalcroze Eurhythmics from Carnegie-Mellon University in 1989, and has published numerous articles and taught Eurhythmics seminars around the world.