Oberlin House of the Lord


251 Hollywood Street
Oberlin, Ohio 44074
A History of Oberlin's Youngest Church
<![if !supportEmptyParas]> <![endif]>
By
Jonathan Grossman & Natan Lipton-Lubet
<![if !supportEmptyParas]> <![endif]>
<![if !supportEmptyParas]> <![endif]>
<![if !supportEmptyParas]> <![endif]>
Special Thanks:
Phyllis Yarber Hogan and Pastor A.G. Miller
<![if !supportEmptyParas]> <![endif]>
In the Autumn of 1998, Oberlin College Professor A.G. Miller and Phyllis Yarber Hogan, a member of the Oberlin Black Alliance for Progress, had a conversation about church. The topic of this conversation was on the need for more dialogue with pastors during their sermons on biblical topics. Although the Pentecostal faith encourages testimonials and individual expression during the service, neither Mrs. Yarber Hogan nor Prof. Miller, each of whom identify with this faith, were satisfied with the ability to ask questions and actually discuss the topic of the sermon. They desired more than just amens and hallelujahs.
Their solution was not to cease attending their churches. Instead, Prof. Miller began holding a bible study group at his house on Sunday evenings. The meetings were purposely held late in the day so that those who wanted to could still attend their individual churches in the morning.
For the next three years, the study group met at Prof. Miller's house in Oberlin, OH. Beginning in Luke, the group discussed one biblical passage per meeting. Although often led by Professor Miller, these discussions were anything but lectures, as interaction was the main focus. Together, the group also offered prayed, mostly on social and political issues facing their community(s). There was neither singing nor any testimonials.
Slowly the study group grew from just two members, Phyllis and A.G, to fifteen. The growth of the group coincided with another progression. Originally meeting late Sunday evening, the meeting time had gradually inched to as early as 11 am by early 2001. This time slot put the study-group in direct conflict with other church services around Oberlin. Recognizing the changes in the own organization – the group had also expanded the scope of their meetings to include a larger prayer service, testimonials, and singing – it was clear to all that they were no longer a study-group, but rather a "Worshiping Fellowship."
Later that same year, Professor Miller and the "group" petitioned for official membership in the House of the Lord Pentecostal Church. Their case was heard, and at the National Convocation of October 12, 2001, Oberlin House of the Lord Fellowship became an official member church.
In the two years that passed between that momentous Saturday afternoon and the writing of this history (Fall 2003), Oberlin House of the Lord has continued to modestly grow and expand. While their official church membership holds steady at fifteen, Pastor Miller estimates that they have another ten active contributors, plus a substantial number of visitors.
House of the Lord Pentecostal Church

Bishop C. M. Grace
The national House of the Lord churched emerged at the intersection of two men whose lives were intimately involved in the spiritual journey of Black people. The first, Bishop Charles Manuel Grace, belongs to an extraordinary group of denominations known as the "Charismatics" who emerged in early 20th century America mostly in the Pentecostal sects. The second, and more important, Bishop Alonzo Austin Daughtry, founded the House of the Lord out of his conflict with Grace, and initiated his family's leadership of the sect that continues to this day.
Grace was born Marcelino Manoel da Graca in Brava Verde, the Cape Verde Islands on January 25, 1881. His family moved to New Bedford, MA in the early 1900s, where Graca initially took on odd jobs, ranging from a railroad line cook to odd salesman and where in 1909 he married Jennie J. Combard, whom he divorced in 1920. Resettling in the nearby town of New Bedford, MA, he founded the United House of Prayer for All People, which opened its first church in 1921.
Supported mainly by the force of his particular personality, the United House of Prayer grew exponentially in the coming years, with churches appearing in Egypt in 1923, and North Carolina in 1926. By 1927, Bishop Grace incorporated the House of People on the Rock of the Apostolic Faith in Washington, D.C.
Throughout the nation, Grace's church relied on the ability of his personality to overcome his followers with reverence. His fiery sermons and captivating presence allowed for him to take on elevated stature within the churches. As one of the nation's charismatic church sects, the House of People was peculiar for the absolute control Grace held over its administration and beliefs. Soon after he founded his first church, Grace began to be known as "Sweet Daddy Grace" and his stature grew in the eyes of his parishioners. Drawing support largely from impoverished Black ghettoes, Grace offered a messianic figure to uplift the spirits and hopes of a denigrated populace. Aside from his spiritual abilities, Grace possessed a unique skill in appealing his organization to the masses of people. Church organization was such that fully 25 percent of its members held administrative office of some kind, allowing for the church to provide a wellspring of meaning to many people. Aside from having a congregation that stood fully behind him, Grace quickly became the beneficiary of his fundraising efforts, which were similarly unique in their advanced nature. The House of People featured several competing ushers at every church service, who loudly attempted to win the most contributions from the congregation. Beyond this, a great proportion of the national church's bylaws dealt specifically with money, a fact that pointed to future developments concerning Grace and his church. (After his death in 1970, the IRS charged his estate with nearly six million in back taxes, a testament to the amount of money his churches earned him during his lifetime.)
Regardless of Grace's motives, by 1927, his churches were fresh and exciting and held much of the impoverished population in a trance-like state of reverence. This is the stage that brought Grace and Daughtry together for the first time.
Bishop Alonzo Austin Daughtry was born February 17, 1896 in Rockyford, Georgia, to a family of some prestige and prominence in the local Methodist community. After military service in World War I, he was employed by the United States Postal Service. In 1919, he married Emmie Cheatham and settled in Savannah, Georgia. In this locale in 1926, Daughtry came under the influence of Sweet Daddy Grace at the Savannah House of People. In Pentecostal tradition, Daughtry was filled with the Holy Ghost and saved and became a member of Grace's church. Later in that same year he felt the Call to the Ministry and immediately showed unusual power of the spirit. His ordination as a minister marked him as the third generation of preachers in the Daughtry family, dating to his grandfather, who was a slave preacher.
Joining Grace's Pentecostal sect was seen as an affront to the more highly regarded church and society of Daughtry's and his wife's families. The Pentecostals, a relatively new phenomenon, were seen as the bottom rung of the social ladder even by other African-Americans. Daughtry never blinked at this seeming disrespect, and with his unusually strong sense of spiritual duty, he traveled to Augusta, Georgia to spread Grace's message.
With his skill and passion, Daughtry was able to overcome the doubters in Augusta and promote a soon-thriving church. With the congregation solidly behind Bishop Grace and his movement, events were soon to transpire that would engender the end of Daughtry's association with the House of People. While no one is fully sure if Grace himself first declared himself akin to God, or if this was the work of one of his followers, the following quote is attributed to Grace referring to himself:
At a service in 1929, Bishop Daughtry sought to end this undue praise for Bishop Grace with a sermon. Using a part of scripture that decries the allegiance of the converted to Paul instead of Jesus, Grace began to teach. He warned his congregation against exalting a man above that which is normal or necessary. No God is man, he assured them, and no man God. The result was uproar, with much of the congregation either walking out or verbally abusing Daughtry, who so callously denigrated the church's founder. Those still loyal to Daughtry joined him as he left the House of People forever and founded a new church.

This new church was known as the House of the Lord Pentecostal, and it required Daughtry to muster all his spiritual and administrative strength to lead. For a time, the church met in a converted storefront in Augusta, before building their first proper church in 1930. Daughtry's skill as a preacher ensured not just that church survived, but that it thrived, and soon, white as well as black parishioners began to appear. Although it was in careless flouting of local segregation laws, Daughtry refused to abandon his white converts, believing with Peter that "it is better to obey God than man." This set the precedent for a church that took an unusual interest in the social uplift of its people as well as their spiritual well being.

Daughtry's passion resulted in a number of churches being founded in Georgia and South Carolina in early years. Along with the churches, Daughtry always made pains to ensure the economic well being of his congregants, purchasing burial plots and opening stores to ensure the solvency of his creation. He unsuccessfully stood up to local insurers, who battled him for control over selling burial plots and the like. Although he lost the case, his battle ensured the further popularity of his church.

In 1942, the church moved north, opening branches in Harlem and Brooklyn, NY. Again, this was accompanied with the opening of church stores to ensure its profitability, among these a candy store and land-buying initiatives. For the next ten years, the church grew in its new northern urban environment, adding converts and doing substantial good for its parishioners' lives. By 1952, Daughtry had fallen in ill health, and gave the reigns of the church to Mother Inez Conry on his deathbed. Although she was unsure of her abilities, he assured her that one of his own sons would eventually come back to the Church and take the national leadership from her.




<![if !supportEmptyParas]> <![endif]>

The Reverend Dr. Herbert Daughtry
Six years after Daughtry's death in 1952, his fourth son Herbert, who had been converted to Pentecostalism while in prison, was ordained and installed as the Pastor of the Brooklyn Church. Within a year, he arose to be the church's third National Presiding Minister, in fulfillment of his father's prophecy. Throughout his leadership, Herbert extended the national prominence of the church by involving it in several major social causes. Aside from developing a constitution and by-laws for the church itself, he moved it into a more involved role nationally. Following a rash of police brutality towards Blacks, especially Black youths, the church took part in the founding of the Coalition of Concerned Leaders and Citizens to Save Our Youth. Focusing the attention of the nation on police brutality, the coalition also led to the formation of the Black United Front, a political activist organization. Involved in the upper echelons of leadership for both these organizations, the House of the Lord also served as a base of operations for a plethora of social activists, deepening the unity between church and society-based initiatives.
In the 1980s, the church became involved in several election campaigns, including successful US House of Representatives campaigns in 1980, the 1984 and 1988 Jesse Jackson presidential campaigns, and the successful election of David Dinkins as New York City mayor in 1989. Leaders of the church held positions in all of these campaigns, contributing moral and physical support.
Among the church's other prominent causes has been the international effort to end Apartheid in South Africa. As early as 1977, the Church founded the Commission on African Solidarity to focus attention on the plight of South Africans at a time when most wished to ignore it. In the mid-1980s, the church's women founded Sisters Against South African Apartheid, or SASAA, which specifically benefited the women and children suffering under that regime.
Recently, the church has remained focused on the building of institutions to further uplift its people. Efforts include the founding of mentoring organizations, housing development programs and local outreach for troubled youth. As a result of these and other projects, the profile of the church remains high and growing throughout the country.
<![if !supportEmptyParas]> <![endif]>
A.G. Miller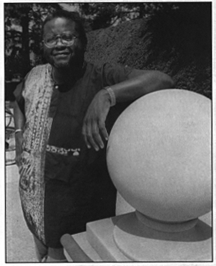 A.G. Miller grew up in a restrictive church. Their theology, focusing on the wrath and vengeance of G-d, had little to do with social action or community involvement. Members were not to participate in sports, dancing, movie watching, etc. According to Prof. Miller, the church would "scare you into heaven and out of hell."
Partly because of its anti-social action slant the Church leader had denounced Martin Luther King – A.G. left the religion for the streets. It wasn't until he went off to college, that he "reclaimed" his religion. At college, he met people who "did not see a contradiction between spirituality and social involvement."
He soon joined the House of the Lord Pentecostal Church, currently under the leadership of Herbert Doughtry. As mentioned above, the Church was very focused on helping the community and translating its religious doctrine into real social activism. A.G., still young at heart (even today) related to this call for activism and found himself at home in religion once again.
Since his move to Oberlin, OH in 1991, where he teaches religion at Oberlin College, Professor and Pastor Miller continues his focus on social activism. Through the Oberlin House of the Lord, Miller and his fellow members encourage people to ask, think and act on their conscience not only during biblical sermons but in their communities, offices, and in the world at large.