A History
By
Kevin Wahl and Katy Hedges-Goettl
Oberlin College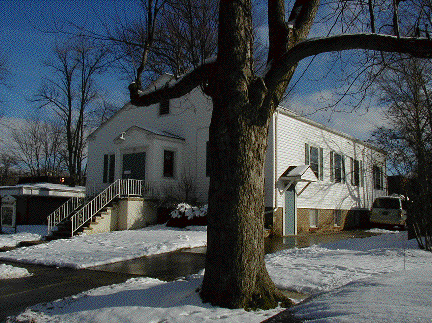 The Oberlin Christian Missionary Alliance Church dates its origins to 1905, when an interracial congregation came together in a home on Groveland Street. Rev. Howard Jones, today a pillar of the church, recalls hearing music coming from the services as he passed by the home long before he became affiliated with the Christian Missionary Alliance. When he met Wanda Young, who later became his wife, he found out that she had actually been in attendance at these early meetings.
Later, as the congregation grew, the church met at two other sites before eventually moving to the Pleasant Street site where it is located today. The first site was located near Plumb creek on the southeast corner of the intersection of what are today South Main Street and Vine Street in Oberlin. The second building the church occupied was downtown on Carpenter Court, behind the business buildings on West College Street.
In the early years of the church, Christian Missionary Alliance churches in Cleveland and Pittsburgh lent support to the Oberlin church financially and spiritually. Dr. Albert B. Simpson who founded the Christian and Missionary Alliance denomination in 1887 spoke at a nearby conference encouraging the Oberlin members to come together. Reverend Ed Burgess, the black gospel singer, also led revivals in Oberlin for the early members and performed in Oberlin with the Cleveland Colored Quartet.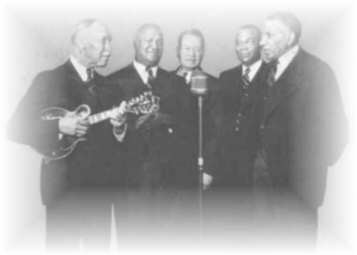 (Dec. 23, 2003)
According to Rev. Jones, Elsie Gatherer, a powerful speaker and an influential pastor in the Christian Missionary Alliance Church, played a critical role in bringing together the Oberlin church. Gatherer was a female evangelist who came from Scotland. She had spoken at meetings in Lorain, Elyria, and elsewhere throughout the county before coming to preach at Oberlin. The Oberlin congregation chose Gatherer to preach, but denominational leaders were not enthusiastic about issuing an invitation to a woman. But the Oberlin church was adamant about the appointment, and the Alliance officials allowed her to fill the position.
It was Elsie Gatherer who collected donations to obtain the materials and labor needed to construct the current church building on South Pleasant Street, which was completed in 1928. Most materials were donated by local merchants and labor was volunteered; funds were also raised through subscriptions. When the Oberlin Christian Missionary Alliance was incorporated on May 3, 1938; Elsie Gatherer, who was still serving as preacher, was a witness. Oberlin residents John Jones, Welcome Bowman, Emma Zebbs, and Ora Coleman served as trustees. Under Miss Gatherer's leadership, five men were called to become preachers. These five men included Aaron Hamlin now retired in Portland, Oregon, brothers Clarence and Roger Bowman, and Rev. Howard Jones.
In addition to the five ministers, two Christian authors were nurtured in Miss Gatherer's congregation: Howard and Wanda Jones. Howard had originally been a member of Mount Zion where his grandfather Henry Martin, a freed slave, had been instrumental in founding the church. Howard came to the Christian Missionary Alliance Church through Wanda Young, who had been attending since the church met in the home on Groveland Street. Young Howard and Wanda both attended Nyack Missionary College, a small school in New York State. After college the two were married and he ministered in New York City and Cleveland. Then the family moved to Liberia as missionaries in 1956. After the missions in Africa they returned to the United States and Rev. Jones became the first African American pastor on the Billy Graham team. He spent thirty-seven years in ministry with Billy Graham, and became the first African American inductee in the Broadcasting Hall of Fame.
In the early 1970s, Mrs. Wanda Jones felt called to re-open the Oberlin Christian Missionary Alliance Church after it had shut down for a few years due to dwindling membership. Mrs. Jones had been hospitalized for an illness; when she recovered, Mrs. Jones, with her sister, opened up the church that had been a part of her childhood. At first, Mrs. Jones taught Sunday school, and then, with her sister playing the organ, a hymn sing was added. Eventually enough people began to attend to constitute a congregation. Then began the search for a minister.
Rev. Charles Mayle officially began his pastorate at Christian Missionary Alliance on March 28, 1976, building on the work of Mrs. Wanda Jones and her sister. Rev. Mayle had been ordained as a Methodist minister and had been serving as an assistant pastor at Rust Methodist Church in Oberlin. He had already preached several times for Christian Missionary Alliance, which necessitated a Sunday morning itinerary that took him first to Rust's morning services, and then to Christian Missionary Alliance, which held its services in the afternoon. Thus already knowing Rev. Mayle, and realizing that he already owned a house on Groveland Street so he would not need a parsonage, the church decided to ask him to become their pastor.
In the early years of his pastorate, Reverend Mayle knew the church was low on funds. It could not offer to pay him much. Moreover, because the church had been condemned during the years of inactivity, the building was in bad condition upon Reverend Mayle's arrival. The vestibule needed repairing and everything needed a new carpeting and paint. Reverend Mayle hit upon a remarkable strategy to raise resources for his church.
Although the Oberlin Christian Missionary Alliance Church has been integrated from its birth, it was actually affiliated with the all-Black Conference of the Christian Missionary Alliance, a seeming anomaly since it had, before Rev. Mayle, employed only white pastors. Reverend Mayle knew that the Black Conference as a whole did not have much money and would be unable to offer much assistance to his church. So he made out application to the White Conference of the Christian Missionary Alliance, perhaps becoming the first Black church accepted into the White Conference.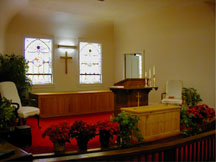 Interior of Christian Missionary Alliance Church, 2003
With the new certification by the White Conference, the church began exploring ways to improve the church building. Christian Missionary Alliance churches do not hold fundraising dinners or services; instead, they 'work with God' to find funds. The members did much of the actual labor on the church improvements themselves, and they canvassed businesses to donate materials. A local lumberyard contributed wood to keep the vestibule from sagging. Local college students helped the members paint the inside. Through donations of time and material, the church was fully repaired by 1976.
Rev. Mayle retired in September 2002; Rev. Jones now serves as the interim pastor until Lester Allen, who is currently a mail carrier for Oberlin Postal Department, can finish his ministry studies and can take over the church.
Rev. Jones explains that the church's beliefs are based on 'preaching the word, teaching the word, and living the word.' Focused on Evangelism and worship, the Church strives to provide a place of worship for its congregation. It is not concerned that membership may not increase; many people attend worship without formally joining the Church, and worshippers are welcomed from all cultures, reflecting its longstanding success as an integrated church. In Fall 2003, with an active Sunday school program, the congregation regularly numbers between 57 and 60 people, 29 of whom are pledged as members. Mission projects remain central to this belief system and the church is involved in missions around the world in over forty countries.
Today the church enjoys worshipping in many forms. It holds many traditional events such as holiday dinners, a men's day, a women's day, a Sunday school picnic and a Christmas program given by the Sunday school. It opens its pulpit to many different ministers, and sings many different hymns including favorites like 'How Great Thou Art' and 'What a Friend We Have in Jesus.'
At this time in its history, the Oberlin Christian Missionary Alliance Church is once again gathering funds for a new building. At the current building, the steps are hard on elderly members of the congregation, and parking is inconvenient since the original lot was sold during the difficult years prior to the re-opening in 1976. In its traditional fashion, the Oberlin church will turn to its members for generous donations. And the church has faith in God that money for a new building will be raised. The Oberlin Christian Missionary Alliance will thus fund its future building in much the same way that its current building was financed in the time of Elsie Gatherer.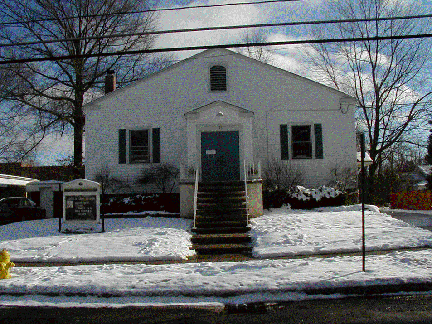 Exterior of Christian Missionary Alliance Church, 2003
Sources:
Special Thanks to the following people for interviews:
Reverend Howard Jones, November 11, 2003 11-11-03
Reverend Charles Mayle, November 11, 2003
Mrs. Florence (Bobbie) Carlson, December 7, 2003
Thanks also to Lynda Hicks for sharing current church documents with us.
Also helpful were: