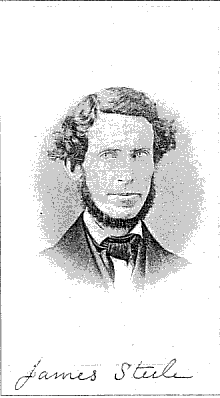 James Steele

James Steele was born on November 24th, 1808 in Hebron, New York (Semi-Centennial Register, 1833-1883). He attended the Rochester Institute (Fletcher, 55), studied at Oneida and enrolled in Lane Theological Seminary in 1833. He left for Oberlin in 1834 with the other rebels.
On November 11th 1840, the recent graduate James married Frances R. Cochran. Also an Oberlin student, Cochran had graduated from the Women's Course in 1840. Popular and beloved on campus, she was noted for her beauty. It is no wonder that her death on November 17th of the same year, only 12 days after her wedding day, was such a personal and public tragedy. James was devastated and his brother says that he "was never the same man afterward."

When he was offered to go with the returning Amistad Mission to Mendhi, wanting to immerse himself in God's work that left him little room for his thoughts, he agreed. This mission was returning the freed slaves to Africa and establishing a mission there. They sailed on November 17, 1841, exactly a year after the death of Frances Cochran. Once they arrived in Africa, Steele did a good deal of exploring with the freed persons to see if any of their former tribes would welcome them back or allow a mission on their territory. His findings were less than encouraging. The Amistad captives belonged to seven different tribes, some at war with one another. All of the chiefs were slave traders and authorized to re-enslave freed persons. These findings led to the decision that the mission must start in Sierra Leone, under the protection of the British colonizers. However, as the mission was being created, Steele started falling ill. As he lay sick in the throes of what was probably malaria, the doctor told him he would not survive another rainy season in Africa. Disappointed, he returned to America in 1842.
Upon his return, he immersed himself in missionary work in Illinois, and in a few years he married Minerva S. McConoughey. McConoughey. Minerva graduated from Oberlin in 1845 and they married on November 29, 1845. Together they had three children, James Cochran Steele, Edward S. Steele and Frances Cochran Steele. In August of 1856, they moved back to Oberlin where much of the Steele family were prominent members of the community and was considered for professorship at the college. He died in Oberlin on April 20, 1859.