---
---
Moses Fleetwood Walker (1881)
---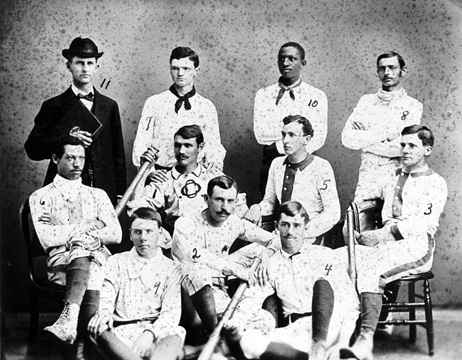 Moses Fleetwood Walker - #6, on the far left in the middle row.
Photograph courtesy of Oberlin College Archives.
From The Observer, vol. 12, no. 5 (Nov. 7, 1990):
Alumnus was first black major leaguer
by John Appley
Athletic director James Foels loaded a 350-pound granite tombstone into the back of his pickup truck last Thursday morning and drove it to Steubenville, Ohio. There, in the Union Cemetery, it was set up over the previously unmarked grave of Oberlin alumnus Moses Fleetwood Walker, the first black major-league baseball player.
Hall of fame
Among the speakers at a graveside ceremony honoring Walker--who beat Jackie Robinson to the majors by 63 years--were dean of student life and services Patrick Penn and Heisman Club representatives Samuel "Scotty" Cooper '36 and Mickey Cochrane '52. The Heisman Club--an alumni support group for athletics--selected Walker for induction into the college's athletic hall of fame last May. Research for that project eventually led to the location of Walker's grave and to the identification of his closest living relatives. The club donated the headstone and, at Thursday's ceremony, gave Walker's hall of fame plaque to his grandnephew.
Walker grew up in Mt. Pleasant-his father, Dr. Moses W. Walker, was one of the first black physicians in Ohio-and learned to play baseball from local Civil War veterans. The younger Walker enrolled in Oberlin's preparatory division in 1877 and two years later was admitted to the college, where his course of studies included Greek, Latin, German, French, rhetoric, astronomy, botany, geology, and zoology. Responding to a 1920 alumni questionnaire, Walker summed up his experiences at Oberlin in one word: "Excellent."
Perfect record
In 1881 "Fleet" Walker played on Oberlin College's first baseball team-a team that won three games and lost none. He left the college at the end of that year without graduating and played two years for the University of Michigan, taking time out to play one final game for Oberlin during commencement in 1882. A white Oberlin teammate, pitcher Harlan Burket, class of 1882, went on to play professional baseball in Toledo, and Walker joined him there in the summer of 1883. The following year the Toledo team moved up to the American Association-then a major league-and Walker became the first black major leaguer. His younger brother, Weldy Wilberforce Walker, who had played with Moses on Oberlin's 1881 team, joined him briefly with Toledo as well.
Gloves were not used then and contemporary accounts describe Moses Walker's swollen hands and split, bleeding fingers, which got worse as the season progressed. That was not the only abuse he endured: crowds in some of the league's southern cities hissed and insulted him, several hotels would not put him up, and opposing teams occasionally refused to take the field against a black player. By the late 1880s, in a reflection of growing segregationist policies nationwide, blacks were barred from major-league baseball, although Walker and several others hung on for a few years in the minor leagues.
Movies and murder
Out of baseball after 1891, Walker bought the Union Hotel in Steubenville. He owned a "moving-picture" theater in nearby Cadiz (applying for patents on several inventions for motion-picture equipment) and published a weekly newspaper, The Equator. He also stood trial for second-degree murder and was acquitted by an all-white jury, which shared Walker's opinion that his white attacker had sufficiently provoked him. In 1908 Walker published a 47-page book on race relations titled Our Home Colony: A Treatise on the Past, Present, and Future of the Negro Race in America, in which he despaired of any real harmony between blacks and whites in America and advocated a back-to-Africa policy for blacks, writing that "separation of the races is the only true solution."
Letter of recognition
Walker's baseball accomplishments were generally forgotten, his historical significance relegated to an occasional newspaper article or mention in the Oberlin Alumni Magazine-although he was an item in the first edition of the board game Trivial Pursuit. His status seems to be changing. In advance of last week's ceremonies major-league baseball commissioner Fay Vincent sent his official congratulations to Walker's family, and on Thursday the president of the Ohio Baseball Hall of Fame read a letter recognizing Walker's accomplishments to a crowd of about 60 that included the mayor, state and US legislators, NAACP officials, and the local press. The new headstone, reading in part "First black major league baseball player in USA," was lowered in place before the ceremonies.
"We were surprised and pleased at the turnout," said Walker's grandniece, Sara Freeman. "The family always knew that Moses was a ballplayer, of course, but we never really realized how important he was."
Now it's written in stone.
---
---