---
Athena Tacha: With /In Nature (1975-2013)
Grounds for Sculpture, Hamilton, NJ, October 5 2013-March 30, 2014
An exhibition of over 70 works, juxtaposing large photographs and small models of Tacha's environmental public sculptures, with her small sculptures of grand sites of nature, and with large photo-works that she made of comparable natural themes.
Green Acres (1985-87), 3 x 77 x 85 ft., with sandblasted photos of N.J. endangered nature, Dept. of Environmental Protection courtyard, Trenton (N.J. Council on the Arts, 1% for Art).

Wave (2004-05), lead sheet and white silicone sealant, 11 x 20 x 18 in. Katzen Collection, Washington, DC.
Petrammos (Petra/Sand) - Jordan (2011-13), Digichrome print, 36 x 60 in.


Labyrinthos (2011-12), mixed media, 7 x 26.5 x 30 in., proposed to be built as a temporary sculpture with granite blocks and bamboo around the pond at Grounds for Sculpture, New Jersey.
---
Athena Tacha: From the Public to the Private
State Museum of Contemporary Art (CACT), Thessaloniki, Greece
January 16 - April 11, 2010
A traveling 40-year retrospective (co-sponsored by THE J. F. KOSTOPOULOS FOUNDATION), over 100 works in various media -- sculpture, drawings, photoworks, conceptual art, films (on DVD), interactive PPTs, art books -- with a temporary installation, Athena's Web, white fiber dry-wall tape, specifically conceived for CACT's space.
Bilingual catalog, 164 pp., 113 color illustrations, with essays by curators Syrago Tsiara and Katerina Koskina.
Second venue: Municipal Gallery - Katsigras Museum, Larissa, April 22 - June 30, 2010 -- with a new temporary installation, RiverCloud, white fiber dry-wall tape.
Last venue: Athens School of Fine Arts ("Nikos Kessanlis" Exhibition Venue), October 22 - November 28, 2010 (256 Peireos St., 182 33 Rentis, Athens).
---
"Polyglossia" - Inaugural exhibition (30 expatriate Greek artists)
Onassis Cultural Center, Athens, Greece
March 15 - June 30, 2011 (with a bilingual catalogue)
A temporary installation by Athena Tacha, Pull, white fiberglass plasterboard tape, ca. 15 x 22 x 15 feet. (Assistants: Yannis Mouravas and Richard Spear).
Tacha initiated her "tape sculptures" in 1978, when Wright State University, Dayton, Ohio, and later Mattress Factory, Pittsburgh (1982), invited her to create solo installations. Responding to their galleries, she selected a low-cost architectural material, plasterboard tape, to connect vertical and horizontal features of the building in a variety of ways, transforming their spaces. In site-specific installations for her 2010 retrospective at the CACT, Thessaloniki and the Municipal Gallery, Larissa, she first used a self-adhesive fiberglass tape whose possibilities she explored further at the Onasseion.
In Tacha's Pull, the tops of two walls are pulled by 40 stretched tapes wrapping around a powerful column - like a fisherman gathering his nets. The tape flowing down the walls evokes foaming waves, riverbeds, clouds, galaxy clusters and quantum fluctuations, as well as organic shapes: delicate vines, flowers and sensuous body forms.
Pull (in Greek Elxis) can be conceived as the attraction of opposites on many different levels: As massive column vs. ethereal material; as rectilinear ceiling strips vs. spirals on the column and curlicues on the walls; as clarity vs. ambiguity or shifting complexity; as fixed vs. open-ended, multivalent forms; as 'order' vs. chaos - ultimately, as a tug of war between contrary systems or forces.
---
Shields and Universes was Athena Tacha's first one-artist show
at the MARSHA MATEYKA Gallery, Washington, DC, November 5 - December 16, 2004
It included some pieces from her 2001 New York show (entry below), together with new works in the same series (www.marshamateykagallery.com)
Feather Shield for Thalia, 2001, wine corks, miscellaneous feathers and hot glue, diam. 44 in.
17-Year Shield (detail), 2004, Gigacicada exoskeletons and tinseled hot glue on expanded aluminum, diam. 32 in. (Katzen Collection, Washington, DC)
---
Rock and Water: New Photoworks by Athena Tacha, Marsha Mateyka Gallery, Washington, DC, Nov. 7 - Dec. 18, 2008
---
Watersteps - Dominica, 2007, Digichrome print, 30 x 54 in.
Cascade - Bellano, 2007, Digichrome print, 30 x 40 in.
Rippling - Roatan, 2008, Digichrome print, 30 x 55.5 in.
PineRock - Bandelier, 2008, Digichrome print, 30 x 55 in.
---
2013 - ATHENA TACHA DRAWINGS: PUBLIC AND PRIVATE (1977-2007), Marsha Mateyka Gallery, Washington, DC, April 6 - May 25
---
A. Tacha before her show opened at the Mateyka Gallery, with ground-plans of her Central America Memorial and her Philadelphia "Connections" park (and an recent aerial photo of her design, now named Mathias Baldwin Park, by Jim Fennel).
Flarings, 2003, 2-sheet (and 2-sided) drawing, orange acrylic ink with airbrush, 28 x 40 in.
SunCopper, 2000-01, drawing with brass and copper powders in silicone on black watercolor paper, 23 x 31 in.
ComoWaves - Dark, 2007, black hot glue drawing on black watercolor paper, 20 x 28 in.
Quantum, 2003, 2-sheet drawing, white and silver acrylic ink with airbrush, 28 x 40 in.
Intervals (Homage to the Tao), 1977, India ink and graphite on archival vellum, 43 x 61 in. Ground-plan for a park (or playground) step-sculpture, to be built with concrete or brick, plus rocks and sand or pebbles in-between the step formations (scale: 1/4 in. = 1 ft.).
---
SMALL WONDERS: New Sculpture and Photoworks by Athena Tacha
American University Museum, Katzen Arts Center, Washington, D.C.
September 6 - October 29, 2006
---
Wave, 2004-05, lead sheet and white silicone, 11 x 20.5 x 18 in. (Katzen Collection, Washington, DC)
Volcano, 2003, copper sheet and black hot glue, 6 x 16.25 x 11.25 in.
Waterfall, 2004, lead sheet, clear silicone, slate, 14 x 16 x 10.75 in. (Katzen Collection, Washington, DC)
Pink Canyon, 2003, extruded polystyrene, 8.25 x 24 x 9.75 in.
Range, 2005-06, extruded polystyrene and red sand, 4.75 x 13 x 18 in.
Athena Tacha's solo show at the American University Museum (Katzen Arts Center), Washington, contained over 30 new works - half sculptures and half photoworks - and was accompanied by a richly illustrated catalog designed by Jim Trulove. Anne Ellegood, Associate Curator of the Hirshhorn Museum, is author of the main essay, and landscape architecture critic Brenda Brown contributed a portion of her article on the artist from the October 2006 issue of Sculpture.
This show, particularly inspired by the American South West, was a celebration of nature's beauty and grandeur before it disappears through human intervention. Following her life-long interest in the forms of natural phenomena, Tacha faced a challenge familiar to 19th c. landscape painters but new to sculptors: how to capture the awesome scale of a natural site and the passage of time as a three-dimensional object.
Her small sculptures of archetypal canyons, volcanoes, caves, waves and waterfalls, made with an innovative mix of materials, were accompanied by Tacha's photographic works and silent films (DVD versions on plasma screens), exhibited for the first time in Small Wonders. Her serial photographs contradict their grids and the inherent rectangularity of the medium with an unexpected fluidity that characterizes all of Tacha's art.
Strata - Arizona, 2002/05, Digichrome prints, 27.75 x 42 in. (Collection Agnes Gund, New York)
Snowcracks - New Zealand, 2005, Digichrome prints, 27.75 x 42 in.
Mudboil - Te-puia, Rotorua, 2006, Digichrome prints, 27.75 X 56 in.
Bark - Senegal, 2006, Digichrome prints, 42 x 37.5 in.
Some new photoworks:
Cecrop - Dominica, 2007, Digichrome print, 30 x 40 in.
Earcrop 1972/2006, Digichrome print, 24 x 36 in.
Crossing, Sardinia, 2007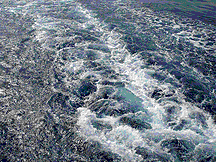 ---
A reduced version of SMALL WONDERS was shown at the Kouros gallery New York, February 1 - March 3, 2007
---
Vulnerability: New Fashions by Athena Tacha
---
The following body sculptures were part of an installation mimicking a fashion show at the Franklin Furnace Gallery, New York, April 8 - May 7, 1994. The illustrated catalog, a conceptual art book by Athena Tacha, is a critique of the fashion industry.
Brain Cancer Headdress for Maro (1992)
Baby oyster shells, polyurethane foam, grey clay and hot glue on expanded aluminum (Spencer Museum of Art, University of Kansas, Lawrence)
700 Aegean Dives: Double-sided Shield for Ellen (1992)
Greek abalones, broken glass and silicone on aluminum screen
Shield (back) ............ Shield (front, detail)
Artist's Statement
"In 1992, my two best friends died from cancer (one of them unexpectedly) and I confronted, for the first time so intensely and directly, suffering and death. These works were generated in my effort to cope with the loss and pain, and to understand death. As the series developed, I did become reconciled with death, and the pain moved from the personal to the social level, while the vulnerability that I had experienced in the human body extended to encompass the entire life-system on Earth. From the start I used natural materials that I had collected over many years (occasionally combined with recycled human-made materials). But it was perhaps the physical debilitation of my dying friends that led me to wearable sculpture: armors that cannot protect, masks that reveal more than they conceal, shields that are too floppy or scratchy to defend - powerless, like the shells of the dead mollusks that are reversed to show their delicate interior. Generally, these works are riddled with contradictions, not the least of which is their ambivalent relationship to fashion design. Akin to it in their beauty, they nonetheless critique, if implicitly, the frivolity of fashion. Private memorials to tragic individual deaths, they move into the realm of the public through their references to social ills, to ecological threats and to corporate exploitation, specifically the exploitation of the female body and psyche by the industry of fashion." A.T.
---
Feather Armor for Ellen (1992)
Feathers on expanded aluminum, and brass chain

Armor for AIDS (to Aggie) -- 1992 .......... Details
Oyster shells and silicone on hardware cloth, and steel chain

Rape Armor for an Adolescent Girl (1992)
Greek limpets on expanded aluminum, and steel chain (Nelson-Atkins Museum of Art, Kansas City, MO)

Breast Cancer Patch for Chloe (1992)
White baby clams on expanded aluminum, and steel chain

230 Tantalon Bends: Rape Armor (1992)
Scottish limpets on expanded aluminum, and steel chain

Armor for a Battered Woman (1994)
Pink and copper-color thread, and bronze spills on plastic grid; red pumice and black thread on expanded aluminum (F.R. Weisman Art Museum, University of Minnesota, Minneapolis)

Homeless Fur Cape (1993-94), fish nets on chicken wire
---
New York Show, Oct. 12 - Nov. 21, 2001, Foundation for Hellenic Culture (7 W 57th St.): New Sculptures and Drawings
---
Athena's Shield, 1999-2000, N. Carolina oysters and hot glue, diam. 37 in.

Singularity #2, 2000-01, graphite on black paper, 22 x 30 in.

Shields and Universes: Artist's Statement (in catalog)

Thymari Dives, 2000, Greek limpets and hot glue, diam. 25 in. (National Museum of Contemporary Art, Athens)

Singularity #3, 2001, silver ink on black paper, 22 x 30 in.

Decoherences , 2001, silver ink and silver powder on black paper, one of eight sheets, each 20 x 30 in. Detail
---
Public Art Commissions by Athena Tacha (Selected)
---
Streams, Oberlin, Ohio (1975-76). Front view
Sandstone, pumice rocks and lake pebbles, 10 x 30 x 20 ft.
Ripples Federal Office Building, Norfolk, VA (1978-79). White concrete, 3 x 30 x 80 ft.
Four views at ground level

Twist, Case Western Reserve University, Cleveland, OH (1980-81). Sandstone, 8 x 14 x 18 ft.

Curving Arcades (Homage to Bernini), University of Arizona, Tucson (1980-81)
Painted corten steel, ca. 16 x 50 x 74 ft. (National Endowment for the Arts). Four details

Blair Fountain, Arkansas River, Tulsa, OK (1981-82). Close-up
Concrete, rocks and water, ca. 30 x 60 x 80 ft.

Blair Fountain was destroyed in 2005

Ice Walls, Museum of History and Art, Anchorage, AK (1983-84). Front view
Glass blocks and water, 4 x 26 x 20 ft.

Marianthe, University of S. Florida, Fort Myers (1985-86)

Open brickwork, cedar benches, planter and light, ca. 9 x 45 x 55 ft.

Marianthe was destroyed in 2000

Double Star Antares, Hyde Park, Cincinnati, OH (1986-88)
Open brickwork, wood benches, ca. 10 x 56 x 64 ft.

Cincinnati also destroyed its Double Star

Merging, Case Western Reserve University, Cleveland, OH (1985-86).

Detail of waterfalls
Red and grey granite, and water, ca. 8 x 71 x 83 ft. (Mildred Andrews Fund). Dog in waterfalls

Green Acres, aerial view, Department of Environmental Protection, Trenton, NJ (1985-87), commissioned by the NJ State Council on the Arts.
Closer-up aerial view. Detail..............

Ground-level view
Buff brick, green slate, photo-sandblasted green granite, rocks and plants. Pavement details

Connections, 2-acre park, between 18th & 19th Sts. at Hamilton St., Philadelphia (1981-92). Brown stone planters, rock clusters, trees, ground-covers, paths and lawns. Built by Heiser Landscaping, with engineering by Gaudet Associates. View from Museum Towers when first planted, 1992
Aerial views with snow, 2008 and 2009. Four Close-ups in bloom (all photos by Jim Fennell)


Transit, Department of Transportation, Hartford, CT (1991-93)
Pink concrete, black granite and sandblasted photos, 18 x 30 x 55 ft.

Eco-Rhythms, Department of Ecology, Evolution and Behavior, University of Minnesota, St. Paul (1994-96)
In collaboration with Franklin H. Barnwell and other science faculty.
Images and texts sandblasted on 280 slabs of black granite, lower lobby and corridors, ca. 9 x 256 x 112 ft.

Victory Plaza plan, American Airlines Center (sports arena), Dallas (2000-2001)
Concrete and granite pavement with jet fountains, ca. 20 x 115 x 325 ft.

Victory Plaza, Dallas


Hearts Beat (one phase of RGB animation), sky bridge ceiling, 300 x 15 ft., Strathmore Music Center, at Grosvenor Metro station, N. Bethesda, MD (2000-04). RGB tubes by LEDeffects, California. The rhythmic series of LED tubes on each side of the bridge are programmed to pulsate at different speeds, one side based on a female heart beat (70 pulses/min.), the other side on a male heart beat (60 pulses/min.)
Another phase of RGB animation. And....... A third phase

STOP and GO, an art plaza for the new Washington, DC, Metrorail's Morgan Boulevard station (which received an AIA 2005 distinction award), Prince George County, MD (2001-04). Dedicated to Garrett Augustus Morgan, the inventor of the first mechanical crossing traffic sign.
Aerial view of plaza . Concrete, 5 color tiles, planters, red and green animated LED signs on five poles.
Pavement close-up.......... Stop and Go LED signs
Restored in 2009, with colored concrete replacing tile on the curving paths and planters.


Riding With Sarah And Wayne (2004-06), a mile-long artwork (in collaboration with Parsons Brinckerhoff) commissioned by NJ TRANSIT for the new Light Rail in Newark, NJ (with advice from the NJ State Council on the Arts). Between the rails of the five station platforms, Tacha designed a granite pavement inspired by the scores of melodies sung or written by Newark jazz stars Sarah Vaughan and Wayne Shorter. The lyrics of the songs are sandblasted in granite along the platforms of Center and Broad Street stations.
Center Street Station, in honor of Sarah Vaughan's "Body and Soul", the song that launched her career in 1943
Broad Street Station, in honor of Sarah Vaughan's "Send in the Clowns", one of her favorite songs, written by Stephen Sondheim in 1973
Atlantic Street Station, in homage to Wayne Shorter's "Night Dreamer", composed in 1964
Washington Square Station, in homage to Wayne Shorter's "Footprints", composed in 1967
Drawings for Send in the Clowns..........Footprints


Water Links II, University of Wisconsin, Graduate School of Business, New Wing, Madison, WI (2006-08). Sponsored by Sallie and C. Webb Williams.
Black and white granite and water, ca. 16 x 27 x 5 ft. (in collaboration with Zimmerman Architectural Studios). Close-up
A replacement for Tacha's Water Links step-sculpture fountain, built with the same sponsorship (1995-97) in the School's courtyard, which disappeared under the new wing. First model of Water Links II, 2006

---
Later public art commissions by Athena Tacha
---
In Wisconsin Place, a 5-acre development at Friendship Heights Metro station, Washington, DC /Chevy Chase, MD (2000-09), Tacha (in collaboration with Arrowstreet Inc. and Carol R. Johnson Associates of Boston) designed the Friendship Plaza in front of a new Bloomingdale's. Its pavement design with planters radiates from a central granite waterfall crowned with an LED obelisk -- the Light Obelisk Fountain -- and continues under the adjacent shopping arcade.

Animated LEDs in four colors stream continuously on the sides of the 24-foot-high black aluminum Light Obelisk. The green and blue run downwards with changing patterns evoking water, while the yellow and red, on opposite sides, stream upwards, with a 12-minute text by the artist on the nature of water and its importance for life on Earth (Water as Life).
Tacha also designed the animated RGB ceiling of the shopping arcade, which she titled Light Riggings because of its elaborate steel cable and aluminum rod construction needed to withstand up to 70-mile/hour winds. Its 4-minute animation was conceived by the artist and executed by Color Kinetics.
Light Riggings, as well as the Light Obelisk and Tacha's 35-foot-high WWW-Tower at the Willard Ave. entrance of Wisconsin Place, were fabricated and installed by Art Display Co. of Washington, DC. For a brief video of the three animated sculptures of this "light avenue" type and click Athena Tacha on YouTube
(http://www.youtube.com/watch?v=QDAWX8QIuFw)

At the Muhammad Ali Plaza of the Ali Center in Louisville, KY (2002-09), in collaboration with EDAW of Alexandria, VA, Tacha designed on the upper level of the plaza a glass waterfall, and on the main level a sculptural amphitheater with a water runnel crossing it towards a large star-shaped fountain, whose twisting "arms" of glass columns create the spiraling pavement design around it.

View at main level plaza of Dancing Steps amphitheater and Star Fountain, with the Ali Center's building. Close-up views of Dancing Steps and of its water runnel.
At dark, Star Fountain is illuminated with a multicolored animated LED/RGB display designed by the artist and executed by Color Kinetics.
Both fountains were fabricated by Architectural Glass Arts Inc. of Louisville, KY. Amphitheater and fountains were published in 1000x Landscape Architecture Berlin: Braun, 2008, p. 289. See also Multiple Views of Star Fountain
For short videos of Star Fountain's RGB animation, type and click Muhammad Ali Star Fountain on YouTube (http://www.youtube.com/watch?v=OJ1DiETgSZY)
In violation of VARA (Visual Artists Rights Act of 1990) and with no notification to the artist, the water and light program of Star Fountain were permanently turned off and the fountain converted into a planter.
---
Proposed Memorials to Massacres of Civilian Populations
(all of Tacha's models for Memorials to Massacres are in the collection of the Museum of Contemporary Art, Thessaloniki, Greece, except for the Hiroshima-Nagasaki Memorial, in the University Art Galleries, Murray State University)
---
"...These are memorials that do not celebrate or glorify any causes or individuals. They are intended to preserve in our memory some of the most destructive human cataclysms that happened during my life-time..." Athena Tacha, 1984

Jewish Holocaust Memorial (1983), concrete, volcanic red rocks and gravel, sandblasted photographs and inscriptions, ca. 40 x 200 x 200 ft. Close-up
Hiroshima-Nagasaki Memorial (1983), white concrete, black volcanic gravel and rocks, sandblasted photographs and inscriptions, ca. 35 x 200 x 250 ft.

India-Pakistan Memorial (1983), red granite, evergreen ground-covers, sandblasted photographs and inscriptions on column, ca. 60 x 120 x 160 ft.

Vietnam, Laos and Cambodia Memorial (1983-84), white concrete, sandblasted photographs and inscriptions on white marble, ca. 45 x 100 x 200 ft. Entering

Central America Memorial (1983-84), white concrete (or limestone), colored tiles, sandblasted inscriptions, ca. 16 x 150 x 200 ft. Different view
---
---
Tacha's competition panel, ABSENCE AS PRESENCE

In the summer of 2003, Athena Tacha participated in the international anonymous competition for the memorial to the victims of the 9/11/2001 terrorist attack that destroyed the World Trade Towers in New York City. She proposed to enclose the two towers' footprints with a glass waterfall wall, around which would be sandblasted life-size photos of the nearly 3000 victims, forming huge rings of faces.
Close-up of panel.
Close-up of glass waterfall wall.


Window wall with explosion image (see Panel and Statement).
---
---
The Meat Industry, FAVA Gallery, Oberlin, OH (1992)
"Reuse/Refuse" exhibition, Honolulu Academy of Arts, Hawaii (1994)
Photo-negatives, astroturf, chicken feet, pig ears, cattle horns and lambs' wool

Corral, Animal Science Building, University of Nebraska, Lincoln (1987-90). Sandblasted photographs on black slate, ca. 4 x 64 x 80 ft.

The Meat Industry, another view. Close-ups of walls

The Order of Chaos, crumpled architectural velum, site-specific installation for Tacha's RETROSPECTIVE EXHIBITION AT THE HIGH MUSEUM OF ART in Atlanta, 1989 (hors catalogue), conceived by the artist in response to the hard-edge geometric spaces of Richard Meier's building ................ Section penetrating three floors through skylight

Memory Temple, (2000), architectural paper, silver ink inscriptions, blue lights, ca. 13 1/2 x 20 x 38 ft. Site-specific temporary installation for the exhibition "Citizens of the World", Eikastiko Kentro Synchronis Technis, Larissa, Greece.
Over 100 hand-written inscriptions (executed by Efi Malaki and her students) narrated a history of the artist's hometown, Larissa, from the present (at the front left column/scroll) to the remotest past of Earth and the cosmos, spiraling inward to the center of the "temple". View diagonally from center.

Sealed Memories (to E.H.J.), one-artist show/installation at the University of Florida Art Gallery, Gainesville, FL, May 15 - August 10, 1998 -- view of outer chamber upon entering, with blue spots and light-frieze reflected from the openings of the intermediate chamber
Sealed Memories, center room, partial view showing hanging postcards and their reflections on the floor's mylar "pathways"
Sealed Memories (det.), view of hanging postcards with their shadows and reflections on the walls


During her residency at the Bellagio Center (Italy) in April 2007, Tacha created an installation with over 1,000 feathers, When All the Birds Are Gone, (Copyright Athena Tacha 2007)
It was made impromptu, in five days of work, documented at each stage. First stage and Fifth stage
Detail with random names of birds from all over the world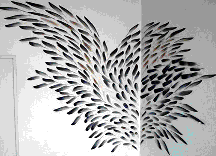 ---
A proposed multidisciplinary installation with the collaboration of Jean-Francois Hochedez, solar physicist (Brussels Royal Observatory), Bogdan Nicula, electronic engineer (Brussels R. O.), and Joshua Fried, composer (New York).

Sunbursts, 2001-05 (PowerPoint Show)
Sunbursts, 2001-03 (movie version)
---
Chaos (1998 - in progress)

---
---
---
36 Years of Aging (1972-2007) at the Ellipse Arts Center, Arlington, VA, Nov.- Dec. 2008, with the artist

The Beauty of Aging (2008) (PowerPointShow). The Beauty of Aging (title page)
His & Hers (In-Out), 2014, photo-work, 30 x 60 in.
This is her newest body-work, executed after photographing for 4 months the daily bowel output of two individuals who ate the same food.

His & Hers (In-Out), 2014, detail.


Athena Tacha's series of "pocket books" were started in 1972 -- tiny intimate texts printed in pastel color papers and folded inside clear plastic pockets (available at Printed Matter, New York, www.printedmatter.org): some early examples below (as of 2020, 27 pocket books have been published).

My Childhood Garden (Visual Memory Excavation #1), 1997/2001

My Childhood Home (Visual Memory Excavation #2), 1997/2001>

My Youthful Photo-Album (Visual Memory Excavation #3), 1998/2001

Turning Sixty-Five (The Process of Aging III), 2001

Different Notions of Thriftiness, 1978/2005

Different Notions of Time, 1979/2005

Different Realities, 1982/2005

Life's Layering, 2005

A handful of Pocket Booklets
---
Early digital art:

Mammograms Are Not Enough (1995)

Death Is Life?(1997)
---
---
Global Warming or Extinction? (2010), Web art, 12 x 24 in. TIFF


The Military-Industrial Boa (1971), silkscreen poster

The Dead of Iraq (2008), Map, green pin and microbeads, 32 x 32 in. Close-up: 1 bead = 1 dead (ca. 1 million)

The Arab Emirates Trilogy:

Baghdad & Abu Dhabi (2008), PowerPoint Show. Baghdad & Abu Dhabi (title page)

Dubai and the Arctics (2008), PowerPoint Show. Dubai and the Arctics (title page)

AbuDhabi - Guggenheim - Louvre: Cross-Colonization (2008), PowerPoint Show. Abu Dhabi- Guggenheim - Louvre: Cross-Colonization (title page)

The U.S.A. Trilogy:

American Pets (2009), PowerPoint Show
America Eats (2009), PowerPoint Show

American Waste (2009), PowerPoint Show
---
The Human Body: An Invisible Ecosystem (1996)
---
A conceptual art CD-ROM by Athena Tacha, rendered in Macromedia by Kym Serrano
Only for Macintosh (MacOS 8 or 9)

CD Cover Image +
One can visit specific sites and see over 200 images and videos of bacteria, viruses, fungi, yeasts, protozoa and mites that colonize the healthy human body. A dictionary of all the micro-organisms offers succinct information on each. The artist describes the work as follows:

"The Human Body: an Invisible Ecosystem is a digital 'conceptual art' work that reveals the incredible universe of micro-organisms living as permanent residents on and inside our body, interdependent with each other and with us.

"Most areas of the normal human body host, on a regular basis, hundreds of species of bacteria, viruses, fungi and yeasts that are either harmless or become pathogenic only under specific conditions. In this art project, the body is visualized as parallel to the planet Earth -- an environment with varied climate zones, comparable to cool dark woods (the scalp), sparsely inhabited deserts (the forearm), heavily populated tropical forests (the underarm), hot moist jungles (the nose and mouth), and oceans teaming with life (the intestinal and urinal tracts).

"The new medium of interactive CD-ROM (as multi-directional and open-ended as the Internet, even though within a closed system) turned out to be the perfect vehicle for what I intended: to let people experience through surprise, disgust, wonder, delight and humor this invisible micro-universe that teams with life and interacts with us -- because we depend on these tiny creatures almost as much as they depend on us. The number of bacteria normally living on and inside each of us exceeds by far the number of our own body's cells!

"The CD-ROM offers multiple layers for images and textual information that can accommodate the body's different areas (skin, eyes, mouth and nose, gastrointestinal tract, genital areas, urinal and fecal tracts), allowing interpenetration from one to the other at many levels, just as the micro-organisms communicate from area to area. It also allows surprises and unpredictable juxtapositions, individual connections and discoveries, and an interactivity and fluidity that are paralleled by the actual conditions in the body."

Eye with some micro-inhabitants
Mouth ................ Mouth with some micro-inhabitants
Vagina/Penis with micro-inhabitants
---
Earliest Works of Athena Tacha
---
Lake Erie (1964), glass-pebble mobile, ca. 2.5 x 2.5 x 1 ft., with the artist


Flower Garden (1964), wood, encaustic, stainless steel, ca. 18 x 18 x 12 in., Allen Memorial Art Museum, Oberlin, OH


Ocean Box (1964), clear and colored glass, and wood, 10 x 23 x 17 in., formerly Coll. Katherine White Merkel Reswick


Clear Galaxy (1965), clear Plexiglas and wood, 14 x 14 x 14 in., formerly Coll. Robert Light


Double Echo (1966), clear and colored Plexiglas, wood, UV lights and motors, 18 x 32 x 12 in., formerly Coll. Ellen H. Johnson


Mondrian Pool (1966-68), clear Plexiglas and fluorescent dyes, 8 x 8 x 8 in., formerly Coll. Molly Anderson, Oberlin, OH


Orange Fall, II (1967-68), clear Plexiglas, fluorescent orange and pink mylar, wood, and UV lights, formerly Coll. Thalia Gouma Peterson


Anti-Gravity (1967), clear and colored Plexiglas and Epsom salts solution, 12 in. diam.


Floating (1968), clear Plexiglas, castor oil and silicone fluid, 8 x 8 in. diam., Coll. Parks and Christie Campbell, Fort Worth, TX


Dripping (1969), clear Plexiglas and silicone fluid, 12 x 12 in. diam., Coll. Agnes Gund

---
Athena Tacha Bio, Museum collections and Bibliography

Statement: Rhythm As Form, published in Landscape Architecture, May 1978, pp. 196-205

Dancing in the Landscape: A 2000 book on Athena Tacha's public sculpture

AT Catalogue: A catalogue of Athena Tacha's entire oeuvre in chronological order (1945 to the present), compiled by Richard E. Spear, with citations of main exhibitions and illustrations of the individual works

(Website created in 1995 by Joseph Romano, Curator of Visual Resources, Art Dept., Oberlin College; last revised by artist August 2014)