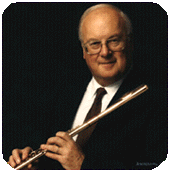 Photo by H. Ascherman, Jr.
(Cleveland, OH)



Michel on flute from Mozart's Concertos for Flute and Orchestra no 2. (Allegro aperto.)

Warning: this is a large file, and will take some time to download if you are using a low-bandwith connection.
One of the premier flutists of the French school, he attended the Conservatoire de Paris, and studied with Jan Merry, Gaston Crunelle, and Marcel Moyse. He has won the major international competitions for his instrument (Moscow, Prague, Geneva, Munich, Turin).

For many years, he was Principal Flute in the "Orchestre de Paris" under music directors Munch, Karajan, Solti and Barenboim. He has toured the United States as a soloist every year since 1963. In addition, he succeeded Jean-Pierre Rampal as Professor at the Conservatoire de Paris.

Debost has recorded most the flute repertoire on LPs and CDs, for a variety of labels including: EMI, Angel, Flute Traversiere, DGG, Kontrapunkte, Skarbo and others. He now lives in the United States with his wife Kathleen Chastain. Both teach at the Oberlin College Conservatory in Oberlin, Ohio.

Michel Debost is Consulting Editor for Flute Talk where he writes a monthly column, "Debost's Comments".

Early this year (1998) will see the publication of Michel's new book, "une simple flute..." in America and France. It has just recently been published in Japan.

Recent CDs include Mozart's "Concertos pour flute/Concerto pour flute & harpe" (Concerts for flute/Concert for flute & harp -- see audio sample above) on EMI Classics, "Flute Panoramas I, II, III, IV" on Skarbo (French Music for Flute 1900-1950), and "Entracte" (Music for Flute and Harp) on Kontrapunkte, all available through Flute World and flute shops.



---
DISCOGRAPHY

CONCERTOS POUR FLUTE - CONCERTO POUR FLUTE & HARPE, Mozart. (Michel Debost Flute, Lily Laskine harp, Orchestre de Chambre de Moscou/Rudolf Barshai)

ENTR'ACTE (MUSIC FOR FLUTE AND HARP) Ibert, Berlioz, Faure, Gaubert, Debussy, Ravel

FLUTE PANORAMA, NO.1 (Faulisi) Widor, Reinecke, Gaubert, Karg-Elert, Faure

FLUTE PANORAMA, NO. 2 (Faulisi) Poulenc, Ibert, Sancan, Dutilleux, Messiaen

FLUTE PANORAMA, NO. 3 (Faulisi) Faure, Enesco, Casella, Gaubert, Ganne, Gaubert, Taffanel, Perilhou, Bčsser

FLUTE PANORAMA, NO. 4

TELEMANN, SIX SONATAS, OP. 2 Sonatas for 2 flutes, with James Galway, cassette only

---

Michel Debost and the Amici Trio
are represented by:

Mariedi Anders Artist Managment
535 El Camino del Mar,
San Fransisco, CA 94121
Ph: (415)752-4404
Fax: (415) 752-7451
E: maaminc@aol.com