The Muria Gond people of Bastar District, Chhattisgarh
INDIA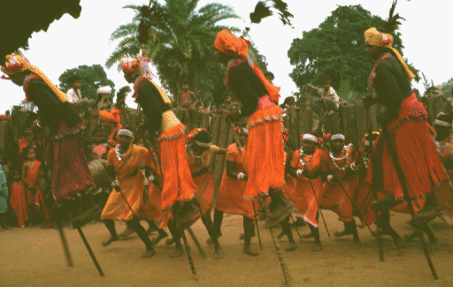 The Muria are one of many subgroups of the Gond people who are spread widely around Madhya Pradesh and Chhattisgarh. They live at the southernmost tip of Chhattisgarh, a new state created from the eastern and southern part of Madhya Pradesh. They are one of India's more famous tribal groups. In this photo, taken in Nayanar village, they are dancing the Dito Endanna, or Stilt Dance. Verrier Elwin wrote an encyclopedic book about the Muria in the 1940s entitled The Muria and their Ghotul.
I visited the Muria in 1978 and produced an LP with notes, Tribal Music of India, FE 4028. It is now available on CD under the number 04028 from Smithsonian/Folkways.
To hear a recording of this performance in Nayanar village, click here.

Return to homepage.