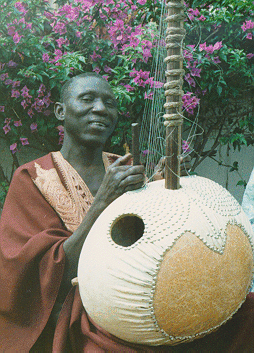 Jali Nyama Suso, The Gambia's legendary kora player
Jali Nyama died in 1991, but for twenty years he was well known for his weekly program on Radio Gambia. In the 1980s he toured in England, France, Sweden, and Germany. I studied with Jali Nyama in Gambia in1970, and in 1971 invited him to teach with me at the University of Washington, where he recorded the first solo kora album, released on the OCORA label as Gambie: Mandinka kora par Jali Nyama Suso.
This recording has recently been re-released as a CD. The new title is Gambie: l'Art de la kora--Jali Nyama Suso, OCORA C-580027. The CD contains three new items recorded with Jali Nyama and other musicians in Gambia in 1970, and I have revised and updated the notes.
Please note that the earliest copies of this CD, which appeared in May 1996, contain a flaw in No. 7, Cheddo. The flaw was corrected in May 1997. If you have already bought or plan to buy this CD, please examine the timings printed on the jacket. The two versions of the CD look identical in every way except for the timings. Shown below are the two versions. If you have the flawed version, please contact your vendor for a replacement.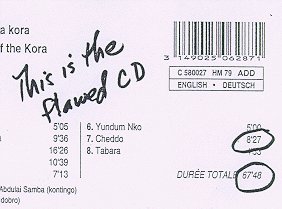 This is the flawed version. Note the timing of 8:27 for Cheddo and a total time of 67:48. The first minute and a half of Cheddo is missing.
To hear the missing part of this album, click here.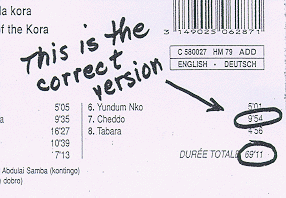 This is the re-issued version. Note the timing of 9:54 for Cheddo and 69:11 for the total time. This is the recording as originally released in 1972. Note that the timings printed on the jacket are the ONLY WAY visually to tell the corrected version from the flawed version. The timings printed on the corrected disc remain incorrect.
The correct version of the recording begins with nearly one minute of instrumental introduction, followed by the opening words of the song:
"Marolu jang mafele bang? Marolu malula, ali jang mafele bang?"
(Warriors, will you look at this place? Oh, defamed warriors, look at this place!)
Those who knew Jali Nyama Suso remember him not only for his definitive playing and vast repertoire, but for his gift as a teacher and for his wonderful friendship. May his spirit live on through this recording.
---

While Jali Nyama Suso was in Seattle, Dr. Robert Garfias and I made a 16mm film of him. This 20-minute film has been released as a VHS videotape, produced by Original Music. The videotape is available direct from me, with proceeds going to Suso's family. Please see VIDEOTAPES for further information.

Return to homepage.