SOURCES AND GENERAL RESOURCES ON LATIN AMERICA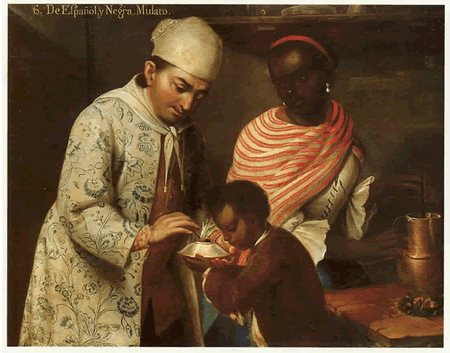 (De Espanol y Negra, Mulato - 18th Century Casta Painting)

 ATTENTION: PLEASE NOTE NEW URL AND CHANGE YOUR BOOKMARKS 
ACCORDINGLY: http://www.oberlin.edu/faculty/svolk/latinam.htm

Compiled by Steven Volk, Department of History, Oberlin College
Last updated: 12 August 2007
If you have additions or suggestions, please email to: steven.volk@oberlin.edu
---
NOTED SITES OF THE MONTH: Timely News Stories on Latin America
News from Latin America: I have reorganized the section on "News from Latin America" and included a number of reliable blogs delivering news and reports from and about Latin America. This is now the first section on the site.
The CIA's "Family Jewels": A 702-page compilation of 25 years of the CIA's misdeeds first compiled in 1974 and released to the National Security Archive on June 21, 2008, 15 years after the Archive filed a Freedom of Information request. The full document is available and searchable on the NSA's website.
NACLA News: Frequent reports from correspondents around Latin America.
Relics & Selves: Iconographies of the National in Argentina, Brazil, and Chile, 1880-1890 (The first interactive exhibition of the Iberoamerican Museum of Visual Culture on the web, hosted and administrated by the Postgraduate Programme in Spanish and Latin American Visual Culture at Birkbeck College, London)
---

NEWS (CURRENT) FROM AND ABOUT LATIN AMERICA
Listings of Online Newspapers and Journals
Regional Sources Reporting Latin American News
Latin Americanist Blogs
ARCHIVES and LIBRARIES
BIBLIOGRAPHIES
---

FOREIGN LANGUAGE AIDS FOR LATIN AMERICA AND IBERIA
---

LATIN AMERICAN DATA BASES AND INDICES
---

LATIN AMERICAN HISTORY
Outstanding Historiographic and General Resource Sites
(Please note that many journals are now available on "JSTOR" if you have proper access)
General:
Andes:
General
The National Period: Sources by Country
GENERAL
PRIMARY SOURCE MATERIALS (WRITINGS & SPEECHES) BY INDIVIDUALS
U.S. Releases Argentina Documentation. In response to nine separate requests for information on human rights abuses 
in Argentina during the military dictatorship in that country (1976 -1983), the Department of State reviewed files from 
the 1975 to 1984 period and identified 4,677 documents for release in part.
Reports on the Argentine Crisis, 2001-2002
CENTRAL AMERICA
COSTA RICA
DOMINICAN REPUBLIC
ECUADOR
EL SALVADOR
GUATEMALA
GUYANA
HAITI
HONDURAS
JAMAICA
NICARAGUA
PANAMA
PARAGUAY
PERU
PUERTO RICO
SURINAME
URUGUAY
Reports on the Venezuela Crisis (December 2002)
The National Period: The Church - Liberation Theology and Radical Pedagogy
The National Period: Human Rights and Democracy Issues (Southern Cone)
Human Rights Resources: General
The National Period: Basic Electronic Resources for the Study U.S. Policy in Latin America
I. Government Sources
Thomas: Excellent for locating any Congressional legislation, committee reports, etc. It has a search capacity, via which one can find congressional information on a variety of sources.
American Memory: An extremely rich collection of photographs, sounds, and other archival materials concerning the United States.

Congressional Internet Services (CIS): Major gateway into congressional information sources.

Central Intelligence Agency. Among the CIA's more useful sources are the:

National Archives and Records Administration. Information on Executive and Legislative branch.

Presidential Branch Records
II. Non-Governmental Sources and Specific Issues
Other Helpful Foreign Policy Sites:
---
LIBRARIES WITH SPECIAL LATIN AMERICAN COLLECTIONS
---
MAPS
Mapping Techniques
Contemporary Political/Relief Maps:
Historical Map Collections:
---
CINEMA, VIDEO, MAGAZINES, AND OTHER MEDIA FROM AND ABOUT LATIN AMERICA
GENERAL SITES:
Cinema, Video and Television:
Specific Films
General Cultural Sites and Publishers:
---
ORGANIZATIONS AND PUBLICATIONS OF INTEREST TO ACTIVISTS WORKING ON LATIN AMERICA
---
ORGANIZATIONS SPECIALIZING IN LATIN AMERICA

(Jose Guadalupe Posada, "Gran fandango y francachela de todas las calaveras" - 1913)