The Frederich R. Selch Collection of American Music History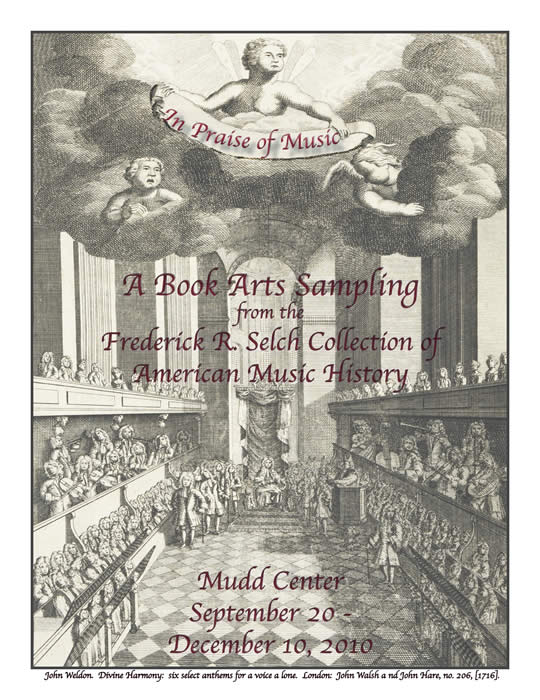 In Praise of Music: a Book Arts Sampling from the Frederick R. Selch Collection of American Music History
The exhibit was on display at Oberlin College's Mudd Center (first floor) from September 20 until December 10, 2010.
Frederick R. Selch was a collector, scholar, performer, advertising executive, Broadway musical producer, Ovation magazine publisher and editor. He also organized musical events and exhibitions (including two at New York's Grolier Club), and created and served as president and artistic director of the Federal Music Society. He enjoyed binding books, arranging music as well as building and repairing musical instruments. Selch was a lecturer and teacher, a great party giver, and most of all beloved raconteur, who knew something about almost any subject, earning a Ph.D. at New York University in American studies just before his death, having written a highly praised dissertation: "Instrumental Accompaniments for Yankee Hymn Tunes, 1760-1840." In short, Eric (as he was known) did it all.
Eric Selch the collector is recognized in this exhibition. Featuring a selection of first and early edition books, instruments, paintings and prints representative of his collection, the exhibit depicts the following themes:
Case 1. Monuments on Musical Instruments
Case 3. No Two Copies of an Early Title are the Same
Case 5. The Evolution of Music Printing
Case 6. 16th- and Early 17th-Century Music Theorists
Case 7. Musical Instrument Tutors
Patricia Bakwin Selch, his wife, and their family gave Oberlin the collection comprising more than 700 instruments; 6,000 books, manuscripts and printed music; as well as paintings, prints, drawings, and photographs depicting musical subjects from all corners of the world, but focused primarily on American music.
For additional information about the Frederick R. Selch Collection of American Music History, see the Oberlin Conservatory Magazine (2008).
For additional information on bookmaking and binding see The Book as Material Culture: the parts of books, processes of bookmaking and book coverings by Barbara Lambert, Curator of the Selch Collection.
---