Acknowledgments
Project team members (Oberlin College):  Ann Sherif, Professor of Japanese; Bonnie Cheng, Art Department Co-Chair, Associate Professor of Art and East Asian Studies; Carl Jacobson, Director (1981-2012), Oberlin Shansi Memorial Association; Ken Grossi, College Archivist and Anne Salsich, Assistant Archivist.  Student project assistants:  Alyson Halpert, Class of 2013 and Amanda Tobin, Class of 2011. 
Other library staff members who provided vital assistance include Alan Boyd, Associate Director of Libraries; Xi Chen, East Asian and Web Development Librarian; Sarah Richardson, Digital Projects Intern; Cecilia Robinson, Electronic and Continuing Resources Assistant; and Forrest H. Rose, Oberlin Center for Technologically Enhanced Teaching.
Related Links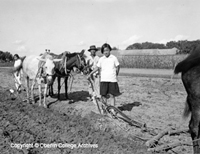 The Shansi Agricultural Department and the Industrial Department cooperated in creating new equipment such as plows to improve crop yields. Here a female student shows that women could do plowing as well as men, using the new plow, 1936.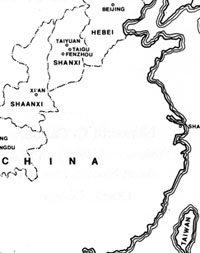 Source: Ellsworth C. Carlson, Oberlin in Asia: The First Hundred Years, 1882-1982, © Oberlin Shansi Memorial Association, 1982.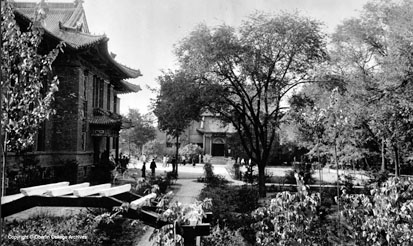 View of the Ming Hsien campus in Taigu, Shanxi Province, late 1920s. The Kung Library is on the left; auditorium in center.
The Oberlin Shansi Memorial Association, the Oberlin College East Asian Studies Program, and the Oberlin College Archives and Library present this online digital collection that documents the activity of Oberlinians in Asia from the 1880s to the 1950s. This teaching and research collection contains materials from the Oberlin Shansi Memorial Association Records and personal paper collections, and it represents a small percentage of the total amount of materials in the College Archives that relate to the work of missionaries and Shansi Representatives in China and as well as other countries.
To learn more about the collection, please read the full introduction to the Oberlin in Shansi digital collection.