Charles Clinch Bubb II Collection of Private Presses
Scope and Contents
A "private press" is an exclusive printing operation – usually extensively hand operated – that allows the owner to create small projects that can have high personal, material, and design values. Conception, control over the components and layout, and execution of the finished product are normally the task of the same person or persons. Relieved of some of the pressure to manage themselves like a business, private presses are often more agile and their output more experimental than that of strictly commercial operations. Edition sizes are generally small, usually numbered, expensive, and targeted at friends, book collectors, and the art market. Oberlin College Library's Special Collections has identified hundreds of individual private presses distributed within its holdings (from among the thousands listed in the International Register of Private Press Names) ranging from single item samples, to presses with nearly their complete list represented.
---
History of the Collection | About the Donor | Inventory | Historical Context | Additional Resources
---
History of the Collection
Following the death of his widow Emma Mary Aston Bubb in Oberlin in December 1939, a portion of Charles Clinch Bubb's voluminous library was donated (1940) to the Oberlin College Library through Librarian John ("Jack") Saeger, the executor of Mrs. Bubb's estate. Special Collections still has the library accession books of this notable book collector, with his handwritten notes cataloging his collection. The gift included not only output of Bubb's own Clerk's Press, but also what we presume is the bulk of his modern library of hundreds of uncommon private press books. The more antique portions of Bubb's collection appears to have been sold at auction, while some fine items were given as gifts to friends. As recently as 2009, a gift from George Haley (O.C. class of 1948) included hand printed works from the Clerk's Press which had been given by Saegar to Haley as a gift (when Haley was a student). Of this small set of 11 Clerk's Press titles, 8 were missing from our holdings and so presumably can be traced back to Bubb's private set. It is in Charles Clinch Bubb's honor that our Private Press Collection is named.
Bubb's books were printed on hand-made Tuscany and Japan vellum paper, and most were sewn into heavy rose or gray paper wrappers. Many of the books in the collection contain interesting initial borders, head and tail pieces, and some even display hand-colored initials and ornaments done with elegance and economy in Bubb's own hand. Bubb chose from many typefaces, including Jenson, Caslon, Bruce, Civilité, Caxton, Porson Greek, and Unical Greek. His printing subjects varied widely, from a close association with the Imagist school of poetry, corresponding with Ezra Pound, printing Hilda Doolittle's first book and other works by Richard Aldington, to translations from Greek, Latin, Italian, French, and Russian. Special Collections owns manuscript and typescript versions of a few of Aldington's translations.
About the Donor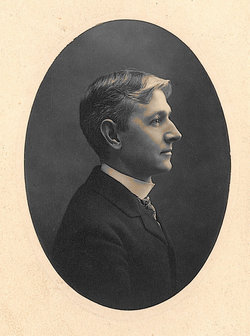 Charles Clinch Bubb (1876-1936), or "Canon Bubb" as he preferred to be called, was a notable American amateur printer. Today we would associate him with the Arts and Crafts movement. As a curate and later rector of Grace Parish Church in Cleveland, Charles Clinch Bubb began the Clerk's Press using a hand press and operating within the Church. The name of the press comes from Bubb's consideration of himself as a "Clerk" (pronounced in the British manner) in Holy Orders. Bubb was also a member of the bibliophilic Rowfant Club in Cleveland from 1912 to the early 1920s. Between the years 1908 and 1919, Bubb produced more than a hundred small editions of beautiful volumes. Bubb would move on to become rector of St. Paul's Episcopal Church in Fremont, Ohio in 1921, at which time the output of his press appears to have ceased. Bubb lived in Fremont until his death in 1936.
Inventory
No complete inventory of our private press holdings is currently available, however our comprehensive collections include: Clerk's Press, and Peter Pauper Press (gift of the Beilenson family), each with over 100 items on our shelves, and we are well represented with such notable early 20th century private presses such as Mosher, Nonesuch, Shakespeare Head, Cuala, Merrymount, Ashendene, and others. Users should keyword search the name of the press and restrict the results to "Main Special Collections". In some cases these searches are already embedded as links in this document. Some small portion of our holdings are not yet searchable on OBIS; contact Special Collections for further information.
Historical Context
Printing with moveable type that began in the Renaissance was initially a highly skilled craft, often with very elaborate design, that had to compete aesthetically with hand decorated medieval manuscripts. However as printing became more commonplace in the 16th and 17th centuries, intrinsic aesthetic values generally gave way to the public's preference for lower production costs and the printer's zeal to maximize profit. We can date the revival of conscious attempts to beautify printing and experiment with graphic design mostly to the 18th century. In mid-18th century Great Britain following the loosening of restrictions governing printing, we observe Robert Foulis of Glasgow, and John Baskerville of Birmingham who introduced innovations aimed at improving the quality of books and used leading punchcutters to create new typefaces. These new faces were a catlyst for our contemporary preference for fine and strongly vertical Classical lines and owe a debt to a couple of centuries of copperplate engraving. The resulting books much impressed Benjamin Franklin who carried the new look back to North America. Other private presses in England ranged from those started by wealthy art enthusiasts such as Horace Walpole with his Strawberry Hill Press in Twickenham, to those of impoverished artists such as the visionary William Blake. In France, during the last years of the French Ancien Régime the monopoly over typecasting given to the Imprimerie du Roi was also ended. French typecasters such as Firmin Didot and the Didot family offered fresh looking typefaces in 1784, followed quickly in Italy by Giambattista Bodoni. Examples of "transitional typefaces" from all of these 18th century printers, many donated by Frederick Artz, can be found within Special Collections.
William Morris and the Arts and Crafts Movement
The application of industrial technology and mass production in the 19th century, while it drastically lowered costs and raised quantities, did not advance the craft of fine printing. Traditional craft printers began to disappear and were being replaced by factory machine operators. Some traditional hand presses resisted the trend; examples include the Middle Hill and Daniel Press of which Special Collections has samples. However, by the second half of the 19th century the disintegration of quality in machine-made goods was alarming to connoisseurs. In response, the "Arts and Crafts Movement" arose to protect the applied and decorative arts and keep quality handicraft alive in labor of all types. The most prolific and influential among the Arts and Crafts adherents was Englishman William Morris. Morris, who had worked at furniture and textile design, was further motivated by Emery Walker's 1888 lecture condemning commercial book design, and henceforth channeled his passion into founding the Kelmscott Press in 1890. Morris attempted to create books which were works of art in themselves in the belief that, in congruence with their text, they could transmit the values and ideals of their creators through their eye-popping visual beauty.
Kelmscott's books recall medieval manuscripts, and the Romantic Movement's emphasis on decoration, floral borders, and other gothic revivals. The singular achievement of Kelmscott Press lay in its emphasis on hand craftsmanship. Morris designed the typeface and drew the letters, stops, initials and borders himself. Illustrations appeared throughout in relief, woodcut, or wood engraving. The glorious title page of Kelmscott books often spanned two full pages, with decorative borders, initials, ornaments, and intricate medieval style colophons. Using only the finest materials, the books were produced on thick, mold-made paper with the deckle edges left untrimmed, the whole often bound in simple limp vellum. British houses that adopted Morris' gothic style included the Vale, Eragny, and Gregynog Presses, and several American houses, including the Village and Grabhorn Presses. Still other presses followed the example of T.J. Cobden-Sanderson's and his Doves Press which pursued a neo-Classical restraint in its design and based the typography on older Roman alphabets. The output of these presses and many more can be found in our Special Collections holdings.
Private Press Movement
The books of Kelmscott still serve as benchmark for lavish printing, and their fine examples launched a group of followers that cumulatively became known broadly as the "Private Press Movement" that was an artistic force before World War II. The Private Press Movement explored the book's unique relation to art, poetry, and prose. The Private Press Movement made use of the book's physical form, layout, and movement as a visual performance of a text. These books borrow from the artistic fashions of their day; Craftsman, Art Nouveau, and Art Deco influences are easily discernible. The frequently anti-establishment nature of private presses further afforded then untested authors, for instance: James Joyce, Laurens van der Post, and T.S. Eliot, an outlet for their work.
Private press works also showcase stunning examples of the freelance illustration and graphic design work of the likes of Will H. Bradley (Wayside Press), Rockwell Kent, Rudolf Koch, Bruce Rogers, Joseph Blumenthal (Spiral Press), Eric Gill, Giovanni Mardersteig (Officina Bodoni), Gotthard de Beauclair, Hermann Zapf, and Henry Van de Velde (Cranach Presse) and others. Oberlin College owns numerous period publications on typography and book design by notable figures such as by Theodore Low De Vinne, Jan Tschichold, Stanley Morrison, Frederick Goudy (Village Press), and Ruari McLean.
Contemporary Private Presses
Private presses have begun to revive since the 1960s, but have given up the fight against mass production by machines and are more content to coexist in the small niche they have defined, often working in association with Fine Art schools, small poetry publishers, and book collecting clubs. The column "Fine Presses" in Fine Books & Collections, vol. 5 no. 1. (Jan/Feb 2007) p. 31 quotes Rollin Milroy of Heavenly Monkey Press saying: "The contemporary private press field can act like the couture houses in fashion, the place where things get tried, things that aren't constrained by markets or material costs or mechanized production limitations. There's never a huge audience for this kind of thing. There's no place for it most peoples' lives. But for those it does have a place with, it plays a central, almost defining role."
Ironically, it may be the current shift to online forms of texts that has added to the seduction of finely crafted, independent hand presses. Along with other interests in all things related to the Book Arts, private presses have begun to reappear within the context of MFA programs and American colleges with and interest in Book History and the Book Arts. "Artist Books," unique or very small edition conceptual text experiments are particularly fashionable. Oberlin College's Art Library owns a growing collection of contemporary Artist Books that are also available for viewing with the permission of the Art Librarian.
Written by Ed Vermue
Additional Resources
Oberlin College Library Letterpress Studio
Fine Press Book Association Has a list of contemporary private presses and links to related organizations
College Book Art Association Links to workshop and conferences, opportunities, news, and information.