The Missionary Correspondence of Eileen J. (O'Rourke) Kuhn
Brief Biography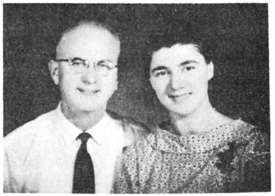 Eileen O'Rourke was born on March 21, 1925 in Glenside, Pennsylvania. A registered nurse, she joined the China Inland Mission Overseas Missionary Fellowship in 1949, just one year before CIM decided to halt all work in China due to Communist hostility towards missionaries. An organization aimed at interdenominational evangelization, CIM began channeling their energies towards Southeast Asia instead. Eileen was disappointed at not being able to work in China, but was cheered when she arrived in northern Thailand in 1952 to find herself working with the Lisu people, who were ethnically Chinese. She stayed amongst them until 1956. In 1958, Eileen married a fellow missionary, John Kuhn. They traveled and worked together in Laos and Singapore until John's death in 1966, after which Eileen went on to teach at the Singapore Bible College until her retirement in 1991. The following is a brief chronological guide to Eileen's Southeast Asian travels:
1952-1956: Chiengmai/Chiengrai, Thailand
1958-1960: Savannakhet, Laos
1960-1965: Singapore
1966-1974: Singapore
For more biographical information on Eileen Kuhn, visit the Wheaton College Archives.
The Collection
This collection of 76 letters consists largely of prayer letters sent from Eileen to her missionary headquarters in Wheaton, Illinois. Beginning in May 1952 and ending on May 6, 1974, the letters span the years leading up to and encompassing American involvement in the Vietnam War. The letters are arranged here in chronological order, but due to the lack of identifying dates on some, the chronology may not be absolutely accurate. The collection was acquired by purchase in June 2006 to support curriculum work on Christian missionaries in Asia.
Highly readable and charged with enthusiasm, Eileen's letters concentrate on her relationships with the local people and the general progress of missionary work in Southeast Asia. The latter includes frequent reports on the translation of the Bible into Lisu. Eileen also remarks on local culture, politics, and customs, documenting particularly revealing instances of cultural exchange. Amongst other things, there are two transcripts of interviews with local converts about their understanding of Christian doctrine, descriptions of local people expressing both hostility and welcome towards missionaries, and an evocative comparison of funeral rituals in Thailand and Singapore.
The collection also includes some personal letters, a couple items of missionary ephemera, and a few letters written by people within Eileen's circle of acquaintances.