Home
>
Special Collections
>
World History & Culture
> Mithila Drawings
Mithila Drawings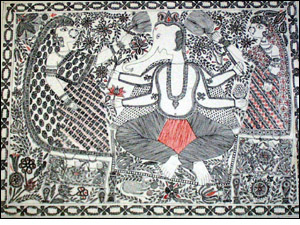 The origin of these drawings can be traced to the Madhubani region of India and Nepal that includes the towns and villages of Jitwarpur, Madhubani, Darbhanga and Saharsa in India and Janakpur in Nepal. Mithila (or Maithili) — the language spoken there — includes linguistic features from Hindi and Bengali. This region is replete in history with the birth of Gautama Buddha in Kapilavastu, his enlightenment in Bodh Gaya and the teaching of his first sermon in Sarnath just north of Varanasi. Lord Ram and his wife Sita — the central figures in Valmiki's great Hindu epic, the Ramayana — were both born here. Mithila artists draw inspiration from their geographic and historical closeness with these epic characters.
The drawings are highly symbolic in that they illustrate scenes from everyday life, from anecdotal myths and from the epics. Tantric principals (focusing on female forms of divine power and on the primacy of the feminine principle that infuses energy into otherwise lifeless matter) are also depicted. Some scholars have speculated that Mithila wall and floor drawings and tantric arts and rituals involving wall and floor drawings go back to some common source. Observers familiar with Freudian symbolism lend a Freudian interpretation to the Kohbar drawings of Mithila. Awareness of details of the lives and settings in which the artists have created their works is however considered to greatly enrich the interpretation process.
Mithila drawings were originally wall and floor drawings made by village women on the mud walls of typical village homes. These drawings were periodically washed away by rains and thus had to be continuously re-done. In the 1960s, the onset of a drought caused crops to fail and left the region deep in poverty. In order to help the inhabitants fend for themselves, Baskar Kulkarni, an artist from Delhi, was sent by the All India Handicraft Board to the Madhubani district to analyze the income yielding potential of these wall and floor drawings. He took drawings made by the locals on heavy paper back to Delhi and exposed the exquisite artwork to a receiving market. The reputation of the Mithila artists spread quickly and demands for their work grew. Once the drawings descended from walls to scrolls, the artists began to exploit the opportunity for individual artistic expression and experimentation provided by the availability of paper.
In 1977 the Master Craftsmen's Association of Mithila was established to encourage Mithila artists and support fair prices for the artwork created locally. The project was a great success. Not only did it help alleviate the poverty that had befallen the region but also brought national as well as world-wide fame and recognition to its people.
A thirty-four piece collection was gifted to Oberlin College on December 20, 2000 by Joann F. and Joseph W. Elder, the latter an Oberlin Alumnus and the recipient of the Oberlin College Alumni Association Distinguished Achievement Award. Since then, the library has added eighteen additional drawings.
Last updated:
November 20, 2017