Seal Press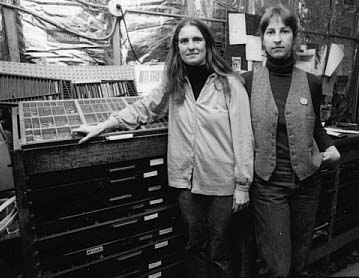 Barbara Wilson and Rachel da Silva (1979)
Historical Sketch
Founded by Barbara Wilson (now Barbara Sjoholm) and Rachel da Silva in 1976, the Seal Press was one of the most enduring feminist publishing houses to emerge from the women's press and independent press movements of the 1970s. Over its 25-year history, Seal grew from a small, regional Pacific Northwest outfit focused on local authors into a national mainstay of independent publishing, releasing such best-selling titles as Getting Free; The Black Women's Health Book; Barbara Wilson's own mystery novels, including Gaudí Afternoon; and the third wave feminist classics Listen Up, Cunt; and Adiós, Barbie.
Wilson and da Silva printed the first Seal books on a letterpress in da Silva's parents' Seattle garage. Beginning in 1978, intermittent NEA grants helped defray costs, but early staffers were unpaid until about 1981, and fundraising persisted on a grassroots level. As requests from authors multiplied, offset printing gradually supplemented and then replaced the labor-intensive manual typesetting. In 1977, Wilson attended a women's writers' conference and, inspired by lecturer June Arnold, returned to Seattle to begin to guide Seal in a more explicitly feminist direction. The anthology Backbone: Northwest Women's Writing appeared that same year and was followed by three further volumes spanning 1977-1982. After the success of Getting Free, Ginny NiCarthy's self-help guide for abused women, in 1982, Seal entered a period of growth and restructuring that saw the publication of Wilson's Murder in the Collective, the departure of Rachel da Silva, and Faith Conlon's official start as co-publisher with Wilson. The press reached out internationally to publish translations of works by Norwegian, Egyptian, Japanese and Korean women, and also began offering titles on health and relationship issues designed specifically for women of color.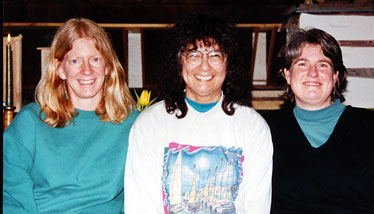 Faith Conlon, author Teri de la Peña, and Barbara Wilson c.1992
Throughout the 80s Wilson and Conlon continued to connect Seal with a network of independent feminist bookstores, presses and journals, establishing contacts at ABA and NWSA conferences as well as the first international feminist bookfairs in London, Oslo and Frankfurt. In 1987, Seal won the Pacific Northwest Booksellers Association Special Award for Excellence in Publishing, and the Bumbershoot Bookfair Award for Most Significant Contribution in 1989. This recognition, together with the move to large-scale trade distributor Publishers Group West, helped move Seal into a new decade of visibility, and towards successes like Evelyn C. White's groundbreaking Black Women's HealthBook, Barbara Kingsolver's bilingual poetry collection Another America, and Ellen Hart's lesbian detective novels. Several themed series developed in the wake of New Leaf (focused on 80s-era domestic abuse titles), including Adventura, about women in sports and the outdoors, and Live Girls, devoted to pop cultural and young feminist issues. Women in Translation, Wilson's Seal side project on translations of international feminist literature into English, had been initiated as early as 1984, but was incorporated as a separate non-profit entity in 1989. Wilson stepped down at Seal in 1994 to pursue Women in Translation and her writing career full-time, and Conlon continued as sole publisher.
Seal played a large role in the definition and development of third wave feminism in the late 90s, allowing a new generation of women to voice their concerns in anthologies, fiction and manifestos like Yentl's Revenge, Chelsea Cain's Dharma Girl, Michelle Tea's Valencia, and Bhargavi C. Mandava's Where Oceans Meet. In 2001 Conlon and Wilson negotiated the asset sale of Seal Press to the Avalon Publishing Group, a subsidiary of Publishers Group West. Soon afterwards Oberlin College Library expressed interest in the Seal archives, still preserved by Wilson after the Avalon sale, and purchased them in 2002. The complete archives were moved to their permanent home in Oberlin College Library's Special Collections. The press lives on today as an Avalon imprint, and most Seal books remain in print.

Search OBIS for published books in the Seal Press archive
Scope and Contents:
The Archives of The Seal Press contain 92 linear feet of materials spanning from 1976 to 2002. The materials document the growth of the Seal Press from a small, regional press to a nationally recognized publishing house, until its sale to Avalon Publish Group in 2001. The records are organized into twelve series: Publicity and Promotional Materials; Editorial Files; Contracts, Legal Documents, and Business Plans; Manuscripts; Memorabilia; Foreign Press Correspondence; Production; Ephemera and Scrapbooks; Posters and Mechanicals; Slush; Financial Records; Women in Translation. Series XII, Women in Translation (a press dedicated to publishing translations of international feminist literature in English), is further organized into 5 subseries: Organization, Editorial Files, Production, Publicity, and Financial Records. The Archive includes a complete library of Seal Press publications as well as those publications licensed by Seal Press to mass-market and foreign publishers and publishers of anthologies.
Initial processing and inventories compiled by Elizabeth Ehrenhalt, Wallis Adams, and Elinor Anderson. Collection reviewed and edited by Haley Antell in 2016.