---
LEMON BATTERY
---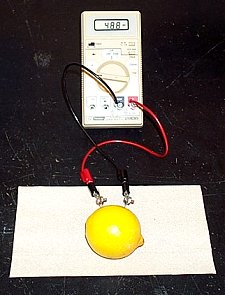 ---

APPARATUS
| | |
| --- | --- |
| lemon | IGA |
| zinc and copper strips | 113-02-D5 |
| DMM | 214-01-B |
---
DESCRIPTION
Measure emf of voltaic cell consisting of zinc and copper strips inserted in a lemon. Measure current to show that the internal resistance is large. Lemon battery can be used to power a buzzer.

NOTES




Use Radio Shack buzzer # 273-065. Buzzer will sound with as little as 0.5 V, 0.03 mA.
Lemon: V = ~0.9 V, I = ~0.5 mA. Maximize current by rolling/pressing lemon on table, putting metal strips in deep and close together.



REFERENCE



TPT 28(5),329