---
FAN CART WITH SAIL

---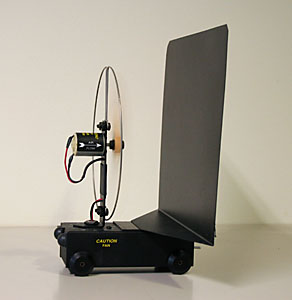 ---

APPARATUS
| | |
| --- | --- |
| fan cart | 101-05-B6 |
| metal sail | 101-05-B6 |
| track with end stops | 113B |
---
DESCRIPTION
Without the sail in place, turn on the fan and the cart will accelerate in the direction opposite the air flow. It is possible to vary the force by using the high or low settings, or changing the angle of the fan.

With the sail in front of the fan, the cart will have a small acceleration in the opposite direction.


REFERENCE
Pasco fan cart manual.