| | |
| --- | --- |
| Oscillations and Waves > Sound Reproduction > Microphones | DCS# 3E30.xx |
---
LIQUID TRANSMITTER

---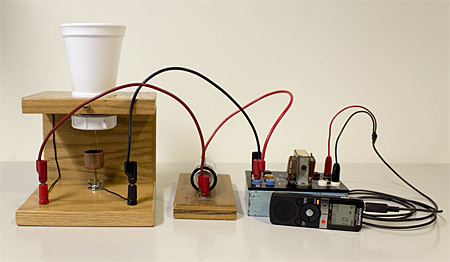 ---

APPARATUS
| | |
| --- | --- |
| liquid transmitter | 202-19-B6 |
| vinegar | 202-02-A |
| 1.5 V battery | 202-02-D1 |
| audio transformer | 202-08-B2 |
| amplifier/speaker or digital voice recorder | 202-20-B2 |
| long audio cable | 113-03-C6 |
---
DESCRIPTION
This is a model of an early telephone transmitter and is the one at the center of the Alexander Graham Bell and Elisha Gray telephone patent controversy.



A wire connected to the diaphragm of the transmitter extends into the copper cup filled with vinegar and just barely makes contact with the liquid. As the diaphragm vibrates, the contact area varies and with it the resistance. The signal can be sent to the speaker/amplifier or recorded and played back. The audio quality is not good but spoken words are discernible.

NOTES

Use a dropper to fill the copper cup with vinegar until it is just barely in contact with the wire, while monitoring the resistance with a meter.

The cone is secured only by friction so that the transmitter can be disassembled.

REFERENCES

http://www.antiquetelephonehistory.com/scienceliquid.html