* fall 2003 concert pictures *

Match the crazy leg to the Treb! Wacky bottoms was our outfit theme for our Study Break Concert, Oct. 15th at the usual time and place

Erica aka JT

Halloween Show 2003: (back) Arianna the typical New York Jewish grandmother, Erica the vampiress, Lydia the 70s chick, Elizabeth the schoolgirl, Meg as Halloween, Jenny the aviator, Emily B. as David Bowie, (front) Meghan the fairy, Emily P. as Dots (like the candy), with Alicia as Trinity shooting the picture (dodge this.)

Warming up for our Parent's Weekend show, we're trying to be as quiet as possible by singing into the farthest corner wall and covering our mouths. This is not ridiculous at all.

All the Trebs lookin' HOT in our button-downs and ties for this year's Parent's Weekend Concert with the Offbeats. (back) Em B, Alicia, Meg, Arianna, Erica, Lyd, Em P, (front) Liz, Meg 2, and Jenny.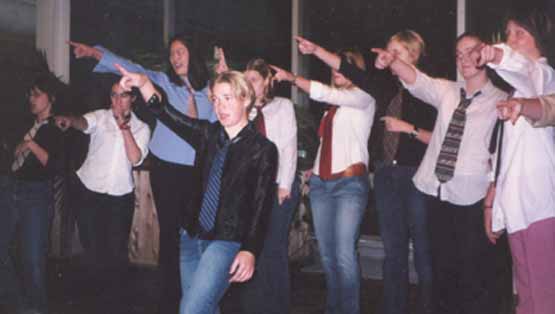 "You don't have to say what you did, I already know, I found out from HIM!"

Standing around and hanging out and getting ready for our final show for this semester at Lydia's house, where we all wore HOT suits.

For example, Lydia looks very sophisticated in her accountant-esque suit from Goodwill. $13 goes a long way, my friends.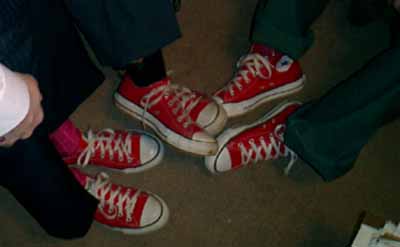 Lydia, Jenny, and Meg all wore matching red Converse shoes (or Chucks, if you will).

Warming up around Lydia's magnificent apple cobbler in her kitchen before the big show!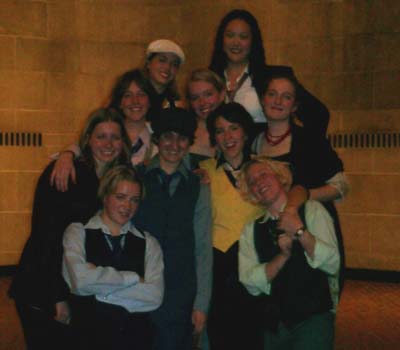 And here is the hotness in all Treb glory. From the top down, it's Elizabeth in a not-so-well-seen-in-this-picture-but-really-was-hot shiny Britney ensemble, Alicia in a wide pinstripe with pink tie, Lydia in her amazing accountant suit, Arianna in sexy sparkles under her suit, Emily in tails!, Meghan in burgandy, Jenny in her Newsies suit, Emily in a spunky thrift store ensemble, Erica in a hot 3-piece, and Meg in her totally green suit.