---

Visit by Kwame Ture sparks discussion
Many students angered by anti-Zionist message
by line Geoff Mulvihill
Kwame Ture's three hours of speeches in Finney Chapel March 11 were the root of a large campus dialogue between supporters of Zionism and of proponents of a free Palestine for the rest of the spring semester.
Ture, a former prime minister of the Black Panthers and founder of the pan-Africanist group, the All-African People's Revolutionary Party, talked about Zionism and the pan-African movement. It was the anti-Zionist speech that elicited an Oberlin response.
Through mid-May the Review's letters to the editor columns were filled with defense and condemnation of both Ture's speeches and his presence on campus. Several speakers brought to campus over the course of the semester have dealt with Palestinian-Israeli topics. President Nancy Dye sent out two all-campus on the speeches; her letters generated another dialogue.
Ture was one speaker in a series on people of color sponsored by Third World House. The president's office and several academic departments helped fund the speeches.
The Speeches
Ture last spoke at Oberlin in 1989. Then, Jewish students protested his anti-Zionist views as anti-Semitic. In March of this year, he expounded the same views and was met with a similar protest. Around 30 of approximately 400 students who attended Ture's first speech March 11 stood up and turned their backs to Ture.
Some students also handed out two flyers - one warning that Ture's messages are not harmless and the other with information about Zionism, which is the belief that Jewish people should have a homeland.
Ture's first speech was the more controversial. He restated his belief that "the only good Zionist is a dead Zionist." Ture said he said that as a political statement rather than a personal one.
"If you were to ask any Jew, `Do you believe the only good Nazi is a dead Nazi?' They'd agree."
Ture spoke fast and sharply, weaving together social and political ideas.
"Of course, you know I'm a revolutionary. Our primary objective is to raise the consciousness of the people until they become self-conscious," he said. "If the Zionists want to protest against us, that's fine. It will make them turn against Zionism."
Ture also said that black Oberlin students have a special responsibility. "African students at Oberlin, you have a task before you. You have to teach yourself about Africa," he said. "You have to teach the unconscious, ignorant masses about Africa."
Ture's second speech centered on pan-Africanism, the movement to unite all people of African ancestry.
"Unity is an evolutionary process, from the family to the tribe to the clan to the nation. [In Africa] this process was thwarted by colonialism and slavery," he said. "Since it was stopped, unity can only be achieved by revolution, by destroying capitalism."
Ture stressed action over discussion and he emphasized the importance of working against a common obstacle. "In struggle, you can come together," he said. "Otherwise it's just talking and there ain't nothing going on."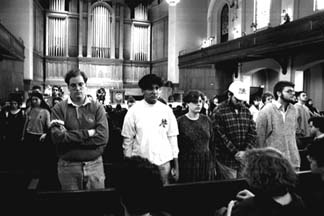 Reaction
Following Ture's first speech, rooms in Wilder Hall were opened for discussion. Not much discussion, however, occurred.
Discussion did go on in less formal settings, such as the Snack Bar. Two days after Ture's speech, a group of Jewish students sponsored a teach-in about Zionism. Israeli emissary Zohar Raviv spoke at the teach-in; he cited the Bible in his defense of Zionism.
---
Photo:
The posture of protesters: Students stand with their backs to Ture during his speech. (photo by David Reeves)

---
"Israel is the only place in the Bible God promised to a specific group of people," Raviv said.
Many Jewish students were critical of the approach Raviv took in the teach-in. They felt that he did not explain Judaism accuraely.
After Raviv left, however, discussion continued among 30 students for more than an hour and one-half.
The discussions were not all calm. In clumps, students and staff talked and sometimes shouted ideas at one another. Tears were shed during some of the discussions.
Senior Avi Lipman stood near the back of King 306 during the teach-in, "It's really too bad it takes something like this to get students who ordinarily wouldn't talk to each other to interact with each other," he said. "This is what it's all about."
"I'd say it was a start," Rabbi Shimon Brand, Oberlin's Jewish chaplain, said after the discussion. "I think the whole thing was just very good." Dye's letters
The day Ture spoke, a letter from Dye appeared in every student mailbox. In her letter, Dye said she did not invite Ture to campus herself, as some people had said. She described some of the free speech issues involved in Ture's speaking at Oberlin and she encouraged students to have meaningful dialogues.
In the second letter, dated March 12, Dye criticized the content of Ture's speeches and characterized him as "a man consumed by rage."
"I personally deplore Kwame Ture's hateful speech," she wrote, "and emphasize that Oberlin College in no way condones anti-Semitism or the advocacy of violence."
The second letter drew responses in the forms of campus meetings and in many letters to the editor of the Review and one in the Observer, Oberlin's faculty and staff newspaper.
One of these letters was from junior Kyo Freeman and senior Ryan Maltese, the co-chairs of Abusua, Oberlin's black student union. "It is your responsibility as director of this institution to listen to the views of the entire community, not to express the views of a single community. We feel that this letter is filled with ignorance and unfounded personal views. Had an Afrikan-American person in a position such as yours written a letter in support of the views of Kwame Ture, there would have been riotous reaction and an immediate demand for their resignation," their letter stated.
In an issue of the Observer published following Ture's visit, 71 faculty members signed a letter supporting Dye's letter.
Dye met with Abusua members March 17. Dye said she thought the issues stemming from the discussion helped her to understand other perspectives better.
Students at that meeting felt that Dye was favoring the feelings Jewish students. "No one is saying that students did not deserve support for whatever threat they felt," junior Diepiriye S. Kuku said, "But why are we selectively supporting a particular group?"
Other speakers
Since Ture's visit, his speeches and the reaction to them have lingered in Oberlin's consciousness. The conflicting ideals were especially evident in late April during the week that was both Palestinian Awareness Week and the week of Israeli Independence Day and Holocaust Memorial Day.
As in past years, Jewish students celebrated Israeli Independence Day in Wilder Bowl while members of Students for a Free Palestine handed out information on the Free Palestine movement. During the side-by-side tabling April 24, there were more discussions and arguments between supporters of each view.
A speaker brought to campus by Students for a Free Palestine sparked more controversy during that week. Kaukab Siddique, a professor at Lincoln College in Pennsylvania gave a talk called "Zionism and the Current `Peace Process.'" He distributed pamphlets that included advocacy of a boycott of businesses whose owners support Zionism. Other materials he distributed were Holocaust revisionist.
Students for a Free Palestine distanced themselves from the offensive content of Siddique's speech. Still, many other students felt the group had a responsibility for their speaker's words and for the literature he distributed.
The College brought Jacob Herring, OC'65, to campus in late April to mediate between groups surrounding the dialog that emerged from Ture's visit. Herring is a specialist in human relations who usually works at workplaces. He visited for three days and met with students of the African American community and the Jewish community.
Dye said that the dialogue was successful, and that Herring will probably return in the fall.
---
Copyright © 1996, The Oberlin Review.
Volume 124, Number 25; May 24, 1996

Contact Review webmaster with suggestions or comments at ocreview@www.oberlin.edu.
Contact Review editorial staff at oreview@oberlin.edu.