---
Greek life important to members
Members feel misconceptions hurt their image
by Susanna Henighan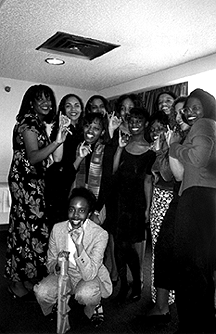 College sophomore LJ Watkins enunciated the name of his fraternity proudly: "Alpha Phi Alpha Fraternity Inc., Pi Chapter, Cleveland City Chapter, founded 1906. The oldest and the coldest," he said.
Other members of the traditionally black sororities and fraternities said the names of their organizations with equal pride. Juniors Andrea Clark and Nakisha Heard are members, along with nine other women, of the Pi Omicron, Oberlin City Chapter of Alpha Kappa Alpha Sorority, Inc. (AKA), the oldest black sorority in the nation, founded in 1908. Clark is the acting president and Heard is the treasurer and membership secretary.
Senior Diepirye S. Kuku is a member of Phi Beta Sigma Fraternity, Inc., founded 1914 and goes to meetings in Cleveland as does Watkins.
There are members of two sororities and two fraternities among the students, staff and faculty of Oberlin. In addition to the Oberlin chapter of AKA, there is a chapter of Delta Sigma Theta Sorority Inc. chartered through the town of Oberlin. The chapter is the Rho Kappa chapter.
Kuku and Watkins are the only two fraternity members among Oberlin students. They both commute to meetings of their fraternities in Cleveland. According to Joy Williams, senior and president of the Delta Sigma Theta chapter, that is how the Oberlin sorority chapters started as well.
The sororities have had chapters in Oberlin for only a few years. The Oberlin City chapter of Delta Sigma Theta was started in '91, and AKA in '92 after three years of organizing work.
The rules of the College prohibit secret societies at Oberlin. The rules state "No secret society is allowed at Oberlin, and no other societies or self-perpetuating organization is allowed among students, except by the permission of the faculty. This is to be understood to include social and rooming-house clubs."
Heard and Clark said their organization is not secret, and that anyone who is interested in it should feel free to ask them about it. "Just ask someone," Heard said. "Interest and questions are welcome."
They also said the sororities and fraternities are community service based, not socially-based.
"We are less secret than Pi Beta Kappa, which has a chapter at Oberlin," Kuku said. Phi Beta Kappa is an honor society to which you must be invited to to join.
President Nancy Dye said her understanding of the rule is that its development was directed at the Masons. She said Charles Finney, the second president of Oberlin, insisted the rule be included. Finney was a famous anti-Mason of the time.
Dye said her interpretation of the rule is that it prohibits "exclusive, secret organizations that keep their identities, purposes and agendas secret." Watkins said he could understand the College's problem with secret societies affiliated with the College, but that if the College demanded students not belong to an organization he thinks that goes too far. Kuku agreed. "The College should not have the audacity to tell you what to do."
"It is hard for me to see a College sorority or fraternity as a `secret' society," Dye said. "On the other hand I think Oberlin has a lot of good reasons for not wanting Greek organizations on campus."
Dye said she thinks Oberlin takes pride in the openness and diversity of its student associations. She also said Greek organizations are sometime linked with unproportional political and social power.
Professor of Politics Ron Khan said his concern with sororities and fraternities was exactly that. "I think sororities and fraternities tend to have a negative effect on our open community," he said. "We can't have both exclusivity and openness."
Williams said the sororities may be exclusive in some sense, but no more so than Oberlin College itself. "Everything is exclusive when you look at it," she said.
Membership requirements for the sororities and fraternities are generally based on academic performance and community service. Williams said the ultimate decision of who is a member is made by the regional office of her sorority so it does not come down to personal dislike.
Williams said however that expenses as well as concern about time commitment are what most often dissuades women from joining a sorority. "It is expensive," she said. Members must pay national as well as local dues.
"And some women just aren't into sisterhood," Williams said.
Heard and Clark said the sorties and fraternities are careful to follow College rules. The sororities meet in only off-campus locations, and the charter is through the city, not the College. "We follow College rules to the tee," Heard said. However, the members are not free of frustration about these limitations.
"It is almost to the point of discrimination; no College space is available to us," Heard said.
The members also talked about the hypocrisy they see between what the College says it values and allows. "It is offensive to me that a school such as Oberlin, which has a motto `Learning and Labor is so dead-set against these organizations. It is hypocritical for me," Clark said.
"[The College] finances things like the S&M club, but we can't do community service on campus," Heard said. Members of the sororities and fraternities said another source of negative reaction to their organizations comes from a misunderstanding of what they do.
"People don't understand what black sororities and fraternities are about," Heard said. "They never come and talk to one of us about it. Immediately people vilify us because we have letters on."
Kuku said that the common stereotypes of sororities and fraternities being about getting in and drinking do not hold for black sororities and fraternities. He said all sorority and fraternity related parties are non-alcoholic and that the emphasis in these organization is not the "rush" process of getting in, but the activities once you are a member.
The members also stress that their primary purpose is to do community service in the black community as well as provide brotherhood and sisterhood among members.
"The reason for the founding of my fraternity is that there were black men on a white campus. It was hard to be in the atmosphere of a white campus," Watkins said. Kuku said, "It still is hard. People don't realize that."
Clark and Heard agreed and Watkins nodded, continuing, "I feel so much more brotherhood now that I am in a fraternity than before."
After talking about their experiences in a black sorority for an hour, Watkin's statement brought tears to the eyes of Heard and Clark.
Many members also talked about the historical importance of fraternities and sororities in the black community, as well as the big role they play in the community today.
"Members are leaders in the community," Heard said. "And look at the caliber of graduates. I don't think the College realizes the number of women nationally who are members of AKA," She named Eleanor Roosevelt, Coretta Scott King and Rosa Parks as members of her sorority.
"Look at who we are; all of us have been on the executive council of Abusua [the black student union]," Kuku said.
Members name not only student leaders who are members but also administrators and faculty, including Dean of Student Life and Services Charlene Cole-Newkirk.
Cole-Newkirk joined the Cleveland chapter of Delta Sigma Theta when she was a student at Oberlin, and is an active member of an Oberlin alumni chapter now. "I joined because the organization is about service to one's community. The social aspect is not its primary goal," she said.
According to Cole-Newkirk other Oberlin alumni and administrators are members including Director of Residential Life Deb McNish and Johnetta Cole OC `57.
Cole-Newkirk said she thinks college is a time when students can make up their own minds, and joining a fraternity or sorority is no exception. "My associations are my choice," she said.
The network created by these many members is a reason many people join the Greek system. Watkins said, "I can go anywhere, to any state, and be able to stay with a brother."
Clark mentioned the numbers of her sisters in the government and in high level jobs is impressive. "The scope is overwhelming," Heard said.
Williams said being president of Delta Sigma Theta has given her a lot of skills, including organizational skills, interpersonal skills and interaction with the community. "It goes on my resume," she said.
Both sororities have sponsored many service programs in the community. The projects include tutoring, mentoring, after-school programs, blood marrow and blood drives, a book scholarship, and Habitat for Humanity.
Members have varying degrees of negative feelings about the reaction in the Oberlin College community to them. Kuku said most of the people who react negatively to students who are members of sororities and fraternities are white students. Heard and Clark said they have experienced discrimination from faculty and lower-level administrators as well.
"I make a distinction between how black people react and how white people do. White people react from an only white context. It isn't really important what they think," Kuku said. "Blacks understand that yes we are a service organization and yes we are members for life."
Clark described an incident she found offensive in which a professor questioned her membership in AKA in front of a class. "I was very, very offended. What he did was call me out in class because I was wearing a shirt with my sorority name," Clark said. She said this reaction makes her uncomfortable because he has to give her a grade in her course.
Despite the offense and frustration the students expressed about the reaction they receive, they also feel some administrators and faculty are supportive.
But despite any concern about the reaction to their groups on campus, they said the groups are in no danger of dying out.
"Wherever there are black people we're going to be here," Clark said.
Watkins said that membership grows by example. "If someone sees you doing some community service or trying to do your best in something, they will want to join. Actions speak louder than words," he said.
The members said that membership in one of the four national black sororities or five national black fraternities is a membership for life. "It isn't only for two years of your life," Watkins said.
Watkins had been a member of Alpha Pi Alpha in high school. "It was there to be a role model when I didn't really have one," he said. "It helped me get into college."
Watkins summed up what the fraternity does. "We take care of business and have fun," he said.
Clark added, "We take care of each other too."
---
Photos:
Greek greetigs: The 11 members of AKA welcomed new members at the Oberlin Inn recently. Student are also members of another sorority and two fraternites. (photo courtesy Nakisha Heard)
You're in: A new sorority member found this sign on her door before Spring Break. (photo by John Matney)

---
Copyright © 1997, The Oberlin Review.
Volume 125, Number 18; March 28, 1997

Contact Review webmaster with suggestions or comments at ocreview@www.oberlin.edu.
Contact Review editorial staff at oreview@oberlin.edu.