---
Bippy!: deconstructing an angst-ridden generation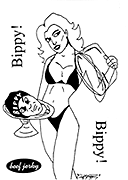 Once again, Oberlin's finest and most underappreciated punk band flips the bird up at consumer culture, vegans, jocks, self-righteous radicals and love, with their latest release, Beef Jerky.
Bippy, a long-time staple on the Oberlin band scene, has, in their seventh semester together, clearly achieved a mature, tight sound. Despite some rocky changes in the lineup, the band has emerged more close-knit then ever, with frontman veteran and senior Art Ettinger and guitarist Larry Szmulowicz, also a senior, still as strong as ever. The newer members, junior Nachie Castro on drums and junior Chris Stanfield on bass, maintain the band's unique, scathing sensibility.
The new album is a pleasing mix of five new songs, two covers and some old favorites that any junior or senior is sure to recognize. While well-produced and performed, the album is unfortunately far inferior to their live performances, since such high energy cannot be reproduced on a cassette. But for all Bippy fans, this is the quick fix when you can't get the real thing.
The controversial and thought provoking themes range from social commentary to political critique to somber reflections on love. Many of their songs are enigmatic, like the obscure "39," which, although the title refers to the recent Heaven's Gate mass suicide, the lyrics have nothing to do with it. The paradoxical "Hey Go Away" demands the listener to 'hey go away - now come back!' "Birthday" wishes 'Carrie' a happy twenty-first birthday. Whether Carrie is a real person or a metaphor for the angst-ridden college youth remains unseen. But the cryptic nature of these songs only reinforces the fact that Bippy, more than just a simple punk band, is capable of invoking such ambiguous complexities.
Many of their songs are obvious vehicles for their hard hitting political commentary. Nowhere has a more snappy, yet scathing critique of American consumer culture been achieved than on their song "Mall": "And when I wanna play, she's gotta go...she went to the mall." But they delve even further into the American male psyche, deconstructing the myth of masculinity in "Closet Jock-O Man" and the anti-date-rape manifesto, "Up To Bat."
Bippy's refusal to ignore the political divisions within the insular Oberlin is again commendable. On such hard-liners like "False Radical," "Beef Jerky" and the classic "All Dressed Up," they really tell it like it is, condemning the hypocrisy and vanity of many students on this campus.
Yet of course they are not afraid to show some real feelings. In a range of songs expressing everything from fear, boredom, distaste, rage and lust - from the "Bright Red Pony," "Came Undone," the haunting "Fuck Everybody," "Happy Punk Song" and "Worm" to the aching, tentative love expressed in "Neat" and "The Flu Song" - Bippy masterfully manages to explore the commonality of human experience that we all share.
Rarely does Bippy disappoint. In a humble tribute to their alternative and ska roots, Bippy revs it up with their savage covers of the R.E.M. song "The One I Love" and the Circle Jerks "World Up My Ass." Perhaps one of the more sentimental songs on the album is their paen to the classic 1980s sitcom in "Jacking Off to Three's Company" - something that we all, surely, at one time or another, can relate to.
Certainly much of their new-found maturity has resulted from their touring outside of Oberlin. They have played numerous times in such staple Cleveland clubs as the Euclid Tavern, Peabody's, Riot 101, and Speak In Tongues. And even more impressive, they have opened for such popular punk bands like The Crucifucks, Murder Junkies, Sicko, Anti-Flag, Tribe 8 (at the controversial November 'Sco show) and the Quincy Punx. Bippy's next performance will be at the Hardcore fest this Saturday at Harkness.
It is important also to give specific credit where credit is due, for certainly without the soaring vocals and provocative lyrics of Ettinger and the edgy twang of Szmulowicz's guitar much of the potency of the music would be lost. We can only guess as to what will become of the band when the two graduate in a few weeks. But regardless of the future, Bippy has been solidly established into the Oberlin legacy of campus bands. And in the immortal words of Ettinger, who in his most touching power ballad is perhaps speaking of his four years at Oberlin: "I landed with a kiss on a cushion of your sighs."
-Ariana Souzis
---
Copyright © 1997, The Oberlin Review.
Volume 125, Number 24; May 9, 1997

Contact Review webmaster with suggestions or comments at ocreview@www.oberlin.edu.
Contact Review editorial staff at oreview@oberlin.edu.