---
Guided by Voices keep their cool all night
by Joshua Leeman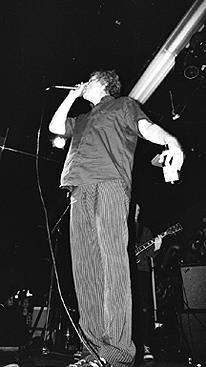 Almost two years to the day after their first appearance at Oberlin, Dayton pop mavens Guided By Voices returned to the 'Sco for another concert Wednesday night. With a completely new backing band (Cleveland's Cobra Verde), Robert Pollard sang his way through a huge set of rousing melodic anthems.
Bob Bannington, guitarist for the opening band, Tono Bungay, prepped the crowd for GBV saying, "They want to play 200 songs. I think they're going for a record or something." Guided By Voices then proceeded to play a massive, rambunctious set that contained a mix of songs from the new album Mag Earwhig, singer Robert Pollard's solo album Not In My Airforce and earlier albums.
Although the original lineup of Guided By Voices has broken up, with Cobra Verde filling in as the new backup band, GBV's sound has not changed much. The set sounded like Guided By Voices pretending to be an arena rock band - the volume level was boosted up to ear-bleed level and the overall playing was tighter than ever.
Throughout the set, Pollard would yell a quick "1-2-3-4" after swinging his microphone around wildly, and his fellow band members would kick in without blinking an eye. Despite the boosted intensity of the performance, GBV's familiar melodic catchiness was still ever-present. Backing band Cobra Verde has a lengthy history that parallels GBV's, going back to guitarist Doug Gillard's Death Of Samantha and various other Cleveland projects. Gillard was actually a DJ at Oberlin's WOBC in '84, around the same time that Come guitarist Chris Brokaw was doing a show.
Guided By Voices began in '83, and since then they've gone through numerous line-up changes and albums. Their first four albums (Devil Between My Toes, Sandbox, Self-Inflated Aerial Nostalgia, and Same Place The Fly Got Smashed) were released on a small Dayton record label. After developing a small, yet dedicated following (a writer for Spin expressed his desire to be in the band in print, and became GBV's bassist a little while later), Guided By Voices gradually came to be appreciated by a larger audience.
Cleveland's Scat Records picked them up and released Propeller, Vampire On Titus, and Bee Thousand, all of which received kind praise from the media. In a pre-show interview, Pollard mentioned that Vampire On Titus is probably his favorite album they've recorded. "I played drums on the whole thing. It was really challenging. It was a really pretty record that was buried in noise, so I think it's more enduring," Pollard said. Matador Records, a comparatively giant independent label (with the help of Atlantic distribution), released GBV's most recent albums, Alien Lanes and Under The Bushes Under The Stars.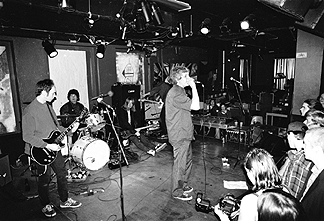 Past albums by Guided By Voices are an endearing mix of '60s pop with a more recent lo-fi aesthetic. When asked how he views himself within the current rock scene, specifically in regard to the so-called "indie" scene, Pollard said, "I'm almost the old crazy uncle [of indie-rock]."
Pollard has always enjoyed talking about his love for music. "I used to write 'Platter Chatter with Bobby Pollard' for my school paper," he said. It has been rumored that Guided By Voices songs are sometimes named by Pollard before they are actually written. "Lyrics are usually better if I come up with them first...It's important to have strange, analytical lyrics with the music," said Pollard. He hopes that the newest Guided By Voices album, Mag Earwhig, will "seem conceptual," like David Bowie's Ziggy Stardust.
Pollard said he finds shows at colleges interesting because they are a break from the regular bar/club gig, which he feels more at home with. "My impressions of colleges are always weird," said Pollard. Hopefully, Guided By Voices will make Oberlin shows a tradition of sorts, and return after another album or two.
Tono Bungay, the opening band, were an interesting contrast to Guided By Voices. They played a unique improvisational and mesmerizing set, receiving a warm crowd response. Their eclectic 10" on New World Of Sound Records was intriguing, but their set revealed a much more refined and structured approach. Although their music often had an improvisatory feel, the two guitarists contained their meanderings within relatively strict limits, and the drummer subtly adjusted the dynamics of the performance.
---
Photos:
Who are you calling a rock star?: Robert Pollard, front-man for low-fi rockers Guided by Voices, balanced on stage with the mic in one hand and the requisite beer and smoke in the other. A new backing band, Cobra Verde, provided a tighter sound than expected, but the wild microphone swing was still intact. (photos by John Matney)

---
Copyright © 1997, The Oberlin Review.
Volume 125, Number 24; May 9, 1997

Contact Review webmaster with suggestions or comments at ocreview@www.oberlin.edu.
Contact Review editorial staff at oreview@oberlin.edu.