---
Women's lax brings home conference gold
Team dominates NCAC breaking records all along the way
by Dave Bechhoefer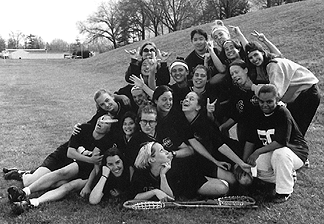 Domination. Annihilation. Conference champions. They're not words normally associated with Oberlin's sports teams, until now. Last Saturday an Oberlin team dominated and annihilated Ohio Wesleyan University's Battling Bishops 18-4 in the North Coast Athletic Conference (NCAC) championship game at Kenyon College. They're here, they're walking among us and they're redefining Oberlin's athletic vocabulary. They're the 1997 NCAC women's lacrosse champions.
The Yeowomen advanced to the final after beating up on Kenyon 19-6 away. Coach Mindy Manolovich felt the Kenyon game was more competitive than the final against OWU. "Kenyon played stronger with us than Ohio Wesleyan," she said. "They played goal for goals with us with the first three goals. With the score 4-3 and less than 12 minutes left in the first half we felt more pressured."
Oberlin soon realized that Kenyon was no match for them and proceeded to bang in five more goals to Kenyon's one to finish the half. "Athlete to athlete we just have more talent," Manolovich said. "At the beginning they matched up to us really well. Our passing game wasn't on."
The team bounded back with a vengance in the second half, outscoring the Kenyon Ladies 10-2. "In the second half we found our niche. We didn't have a good first half but we came out strong in the second. It was an exciting game."
"They came out really strong," goalkeeper junior Alysia Oakley said. "They really improved from when we played them before." Part of the reason for this was because their assistant coach is Katherine Readey OC '96 who played for the lacrosse team last year. "They knew us and knew our players' strengths and weaknesses," Oakley said.
Against Ohio Wesleyan the Yeowomen opened with a scoring burst. "We had five goals before they had even one," Manolovich said. In the first 10 minutes senior Kate Williams grabbed a draw and headed down the field. A quick pass to senior Bepi Barry resulted in a goal. "Kate had six draw controls in the first half. We transitioned off of them well and scored," Manolovich said.
The coach felt that OWU really wasn't in prime shape to play the final game. Their semifinal game was called because of weather with them up 8-9 against Denison and so they had no win to give them a boost. "They weren't coming off of a big win and they were a little nervous," Manolovich said. "Their key people weren't producing and we capitalized on their weaknesses."
Still, even with an demoralized and anxious opponent, the Yeowomen played their brand of lacrosse and ran the Bishops into the ground. "We didn't allow them to score on transitions, marked out their key players, and we had some really good shots. We played a really pretty game."
The team outshot OWU 36-13, and the goalkeeper, conference goalie leader Tracy Scott, was not playing up to her potential. "Our offense really intimidated her from the beginning," Oakley said. "She was really frustrated."
Another game-winning tactic was to prevent any ball possession in the midfield. "On all of their midfield passes we marked them well and denied them opportunities to get the ball," Manolovich said. "When finally they got on attack we tried to not let their cutters get in front of us because then they would quickstick us. We just played our hearts out to keep them from getting in front of us."
But 15 minutes into the game there was a heart-stopper. With a yellow card already, Barry was red-carded and thrown out of the game. It was the graduating seniors final game, a championship game, and she already had scored three goals.
"It was a really bad call," Manolovich said. There is a new rule that says certain kinds of fouls warrant an automatic yellow card and Barry already had a yellow card from slashing at OWU's goalkeeper while pressuring the goal and the second came from a dangerous follow-through called on Barry as she tried to dictate an attackers shot. "Some refs get slash-happy and only look for dangerous-follow-throughs and these other kinds of fouls," Manolovich said.
"It didn't occur to me until after the game that in another game with that ref she called a dangerous follow-through. I looked over at the other ref and yelled 'What kind of call is that?' and she shrugged her shoulders. The official didn't know she had a yellow card and didn't handle it very well. Unfortunately she took a senior in her last game out of the game. [Barry] was really said but I told her she set a precedent for the game and maybe we wouldn't have had the confidence without it."
The precedent continued immediately following Barry's ejection. "The other team was really excited," Oakley said. "They were jumping up and down all over the field. But [sophomore] Melissa Ross just picked up the ball, ran down, and shoved the ball through the goalkeeper. OWU just hung their heads."
"It was a really absurd call," junior Anne Ewens said. "I was a little worried but we had enough people who can step in and step up."
The team had no problems putting the Battling Bishops away in the second half. "We stepped up in the second half and outscored them 12-1," Manolovich said. "OWU just laid down to a point where mentally and physically they weren't giving 100 percent. It felt really good to put Ohio Wesleyan in their seats."
"We fucking kicked their asses," Oakley said.
Oakley played a great game in goal with a 69 percent save average. "Alysia had a great game," Manolovich said.
The game ended with Manolovich carried off of the field by her team. They didn't dump a water cooler on her. "Thank God," Manolovich said. "It was cold."
Oakley cited a certain pre-game ritual as the secret of their success. "Mindy has this thing called the clubber. Before the game we all sucked the clubber. I can't tell you what it is, it's a secret."
This year the lacrosse team had an exceptionally deep array of talent.
Barry leads the conference in scoring and is one player most goalkeepers wouldn't want to see hurtling towards them at warp speed ready to score at will. "She's a scoring machine," Assistant Coach Blake New said. "Several teams double and triple-team her. She will be sorely missed." Barry broke the records for both most goals in a season with 65 and most goals in a career with a 204.
Of her role, Barry said, "It's always nice to have good give-and-go's and have some freestyle within the eight."
Junior Katherine Roberts is one of the most versatile players in the conference. "She is probably the best player in the conference in terms of stick skills and handling the ball," New said. "She can score, she can defend, and she can possess the ball. She made the sacrifice this year to play more defense. She steps up in big games. She is probably the best, if not the best of our overall performers." Roberts was seventh for scoring in the NCAC with 24 regular season goals and she tied with Williams to lead the conference in assists with 27. She added to her old record for the most assists in a career, bringing it from 39 to 66.
Roberts said, "I had to be a defender and at the same time be a part of the offense. I had to run a lot."
Barry said, "It's nice to have one of the best assisters in the conference on your team. Katherine will always hook you up."
Williams has dominated at center this year. "She probably plays the most important role on the field, because in lacrosse, especially good games, are usually decided by draw controls," New said. "She has been unbelievable as a senior and has dominated every other center in the conference. She is always able to win the draw and that is so crucial." Williams has the second most goals on the team with 42 and tied with Roberts for the most assists in the conference. She had 121 draw controls this year, and has had 117 total for her previous three years to make 238 draw controls for her career.
Oakley is second in the conference among goalies. She had a .602 percent save average and has added to her old saves record, bumping it up from 253 to 384. "Alysia is much more consistent and solid as a goal keeper this year," Manolovich said. "We had much more depth to our defense and that helped her a lot. She had some great games this year and has a great attitude. She is not the type to hang her head when scored on, she just figures out how not to let it happen again."
Junior Kaelyn Stiles acted as the designated mark-up woman on other teams top performers. "Kaelyn definitely made a big sacrifice on defense this year," New said. "She usually got the assignment of marking other team's stronger players. She had 54 ground balls and less than five turn-overs in 17 games. That's incredible. Some people average five turn-overs a game."
Sophomore Kim Allen is the silent, deadly type. "Kim is the kind of player that doesn't receive as much attention as she should," New said. "She is a very consistent performer and the kind of player that can do it all. She's very much like Katherine Roberts in that respect. They're the key to our mid-field. She could be very quiet in a game but then she'll come out of the woodwork and score six goals. She was out maybe ten minutes of all of our 17 games. She'll be studying abroad next year and will be sorely missed. Kim's an exciting player to watch."
Ewens is "another one of those players who is just a steady performer," New said. "She'll go unnoticed if you don't pay attention to her, but she will always score three to four goals a game and rolls the crease very well. She's left-handed but works equally well with her right hand and teams always have a hard time figuring out how to defend her."
"I've had pretty consistent positioning," Ewens said. "I stay on the circle on defense and I'm usually behind the goal leading the attack. I'm pretty transition oriented."
"She's never complained," New said. "We've moved her into the defense, up and back. As seniors leave she will need to step into a bigger role and of all our players I can't think of anyone better at doing that."
Senior Nicole Miller played lacrosse for her first time as a first-year and grew to be a key player for the team this year. "Nicole is our success story. She started out never having played lacrosse and is now one of our key defenders. She's been very consistent and made a couple of excellent decisions in major games. She is the kind of person that typifies the person with athleticism and a desire to learn who can become a very important part of a team."
Senior Jessica Resnick has never played lacrosse before this year but still managed to play and even start on occasion through sheer athletic talent. "This is her first year ever playing, " Manolovich said. "She brings a lot of athleticism and has picked the game up quickly. She is still picking up passing skills but brings a lot of conceptual awareness, aggressiveness, defensiveness, and the ability to cut and get open. She scored in the semifinal game. Jessica told me it was very rewarding to be able to play."
These players comprise the majority of the starting line-up. "The starting line-up is pretty consistent," Manolovich said. "The location of a person might change but not significantly. During the last home game I'll try and start all the seniors."
These are the players that just stand out," New said. "But everyone on the team from day one when we stepped out on the track for a two-mile run talked about the conference championship and going for an NCAA bid, which has never been done."
"These people helped to set a precedent for people who are going to be starters," Manolovich said. "They set the roles that are going to need to be fulfilled."
There is some disappointment within the team and on campus about not getting a NCAA bid. The Yeowomen are fifth in the North-Central Region according to a national NCAA poll. The North-Central Region is largest region with 34 teams. Eight teams are invited to the NCAA tournament and three went from our conference. The team would probably have gotten a berth had they beaten Ithaca College who is going.
"It's too bad," Barry said. "I would have liked to see how we played in Nationals."
The team was ranked 11th in the country two years ago as a result of the Brine-poll, a poll conducted by coaches. "Out of the toughest region we fell fifth," Manolovich said. "I think that is significant and more significant than the Brine-poll because the NCAA is a nationally governing body. We beat out a lot of New York schools for that spot and that's where the name of our college is going to be made."
Next year the NCAA will be switching to a sixteen-team tournament format. "There is no doubt in my mind that we would have gone if that were the case this year," Manolovich said. "We needed to beat Ithaca."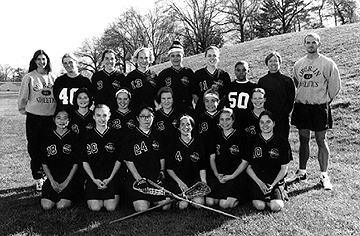 The team is expecting similar results at the end of next year. "Our experience this year was definitely an advantage," New said. "Our schedule was a tough one and that definitely helped us win the conference championship. I think we're going to lose a lot of key people this year but we have other key people that will have to step into their shoes and will be able to. Next year the games may be closer because we won't have that offensive punch, but we're definitely looking forward to next year."
Six of Manolovich's top-picked recruits have enrolled and though some are deferring for a year, all are committed. "Recruiting is going pretty well," Manolovich said. "My prime recruiting area is Maryland and the East and so far I have six very good players enrolled. They'll be pretty significant. Last year I recruited for field hockey and this year it's lacrosse."
"Next year will definitely be good," Oakley said. "We have such a deep bench and have some good first-years coming in."
"We had a lot of young people and they really improved over the course of the season so I think we can do it," Ewens said. "What can you say? We were undefeated in the conference."
Manolovich has a harder time getting athletes than some other schools because of Oberlin's commitment to a diverse student body and because it doesn't give out any merit-based or athletic scholarships.
"Since the campus looks for a diverse population a lot of Caucasian females get bumped out," Manolovich said. "We're losing a lot to schools who give merit-based and athletic scholarships. It's neat because Oberlin doesn't buy athletes, but unless they get a lot of financial aid I lose a lot of people that way."
Student athletes have helped out a lot with recruiting. "It's the personal contacts that players have made to take people over the edge and choose Oberlin," Manolovich said. "I can't say how many times players have been in [my office] talking to athletes. They will be successful by having their own influence on the program and by having the love and commitment to keep the sport going."
Manolovich wants anyone interested in playing next year to try out. "We want people who have a desire to play to join us next year," she said. "If you've never been part of a college team or played High School ball, then you've never learnt all the team has to teach you about life. That's what's neat for me. It's not just love for the sport but an opportunity to see people grow and go out into society knowing you've helped to shape them."
"I learn a lot and am a better person through the experience they have given me," Manolovich said. "I try to give them things to be successful and in return I get more back than I ever would have expected.
"It was one of the best seasons I've ever had the opportunity to be involved in," New said. "The team is a very close team and fun to be around. That showed in the final game. The final was the apex of the way we wanted to play. It didn't seem like anything could stop them. They just fought through all adversity."
Manolovich and the rest of the team are very grateful for the support given to them from the campus. "I want to thank my department, the people on campus and the professors. They've showed support for the experience our women are having here by coming out to games and by the numerous calls we've received. It makes a difference. Thanks to all the fans and friends that came out to support and to all the other teams as well," she said. "It makes a difference to the women out there who are working hard."
"We got a lot of support from the administration," Oakley said. "We definitely had some fans at every game and had more towards the end of the season. We had our die-hards as well."
The 1997 women's lacrosse team is going into the history books as one of the best teams ever to play for Oberlin. They set a new conference record for most goals in a season with 254 and most assists in a season with 132. They had a record 14 assists in one game against Wittenberg University.
Stiles, Roberts, Barry and Williams all made the All-NCAC first -team and Oakley and Allen both made second team. Ewens got an honorable mention. Manolovich was picked as Coach of the Year for women's lacrosse.
"Our coaches are awesome," Ewens said. "It was a really exciting season."
"We did it all," Manolovich said. "We won eleven straight games in a row, swept the conference and won the championship."
"It's amazing. It's still overwhelming. It's just wonderful," Oakley said.
---
Photo (top):
Yeolaxers relaxing:After a long hard season of shut-outs, blow-outs and nary a loss, the women's lacrosse team deserves a little lounge session. Is that Mindy strangling sophomore Melissa Ross? (photo courtesy of the Athletic Department)

Photo (bottom):

We are the champions:Here are your 1997 NCAC women's lacrosse team champions. Get used to the hoop-lah because they're probably going to do it again next year. (photo courtesy of the Athletic Department)

---
Copyright © 1997, The Oberlin Review.
Volume 125, Number 24, May 9, 1997

Contact Review webmaster with suggestions or comments at ocreview@www.oberlin.edu.
Contact Review editorial staff at oreview@oberlin.edu.