Earth theme of all-campus convocation
Gary Snyder speaks to a packed Finney Chapel
Sean Davis
Last Tuesday, renowned poet and environmental conservationist Gary Snyder delivered the keynote address at the Fall semester convocation ceremony. The program included a prayer led by Rev. Manfred Lassen, a performance by the Oberlin Sextet, welcomes by College president Nancy Dye and OC '98 Class President Joy Smith, and Snyder's speech.
Oberlin students, faculty, and residents filled Finney Chapel to capacity. "Snyder's views of ecological conservation and interest in Zen Buddhism reflect many of the values shared here at Oberlin," said first year Elena Shore.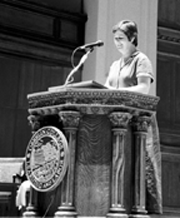 "Gary Snyder was just terrific," Dye said. "He's a wonderful person to have here at Oberlin given the fact that we're going to break ground for the Environmental Studies Center."
Snyder, an American poet and member of the Beat Generation of the 1950's, is famous for his environmental activism and practice of Zen Buddhism. He has studied Chinese and Japanese language, literature, and culture and spent many years in a Buddhist Monastery in Japan. He has also become a leader of a community of farmers that attempt to have as little impact on the land as possible. He has written many books including Turtle Island, which won the Pulitzer prize for poetry in 1975, and his latest book, Mountains and Rivers Without End.
Snyder spoke on the theme of finding one's place and digging in. He began his speech by telling the story of how he found his place in Northern California, where he built a log home from the trees of the land, cultivated bees and planted apple trees to sustain himself and his family. Snyder emphasized finding a home and place for oneself by respecting the land and all "non-human neighbors" first.
"If we put the shared ground first and agreed to love the land, then our differences and problems would be solved, "Snyder said. He continued his speech by talking about the importance of knowing one's place in time and respecting the history and cultures that came before us. "We must be available to a multichronic view and open our minds to the cultures of deep past, "he said. On this note, Snyder closed his speech.
Audience members enjoyed listening to Snyder's speech. "I thought he was a great speaker. He gave us many a lot of things to think about," said senior Tom Pruiksma.
But Snyder did have his critics. One student questioned the ability of people with low incomes to practice Snyder's teachings. "There are people who work two jobs to support their families and don't have enough time or re sources to get in touch with nature," said first-year Sylvia Tufts. Snyder replied by saying that people with low incomes were actually more tied to the land than those of higher incomes. According to Snyder, people with higher incomes travel too frequently and don't spend enough time in one place to get acquainted with the land.
---
Photo:
All ears: President Nancy Dye introduced renowned poet Gary Snyder at an all-campus convocation Tuesday. (photo by John Matney)

Back // News Contents \\ Next
---
T H E O B E R L I N R E V I E W
---
Copyright © 1997, The Oberlin Review.
Volume 126, Number 1, September 5, 1997

Contact us with your comments and suggestions.