Field Hockey outnumbered
by Benjamin Clark
With a small roster of players, Oberlin's field hockey team expects a tough season ahead.
The Yeowomen enter this season with a 15-woman roster. In comparison, some of the Yeowomen's opponents have as many as 32 players, including reserves and junior-varsity athletes.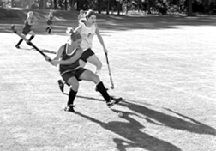 Coach Mindy Manolovich expected to head into this season with a 21-woman roster, but unforseen circumstances have chiseled that number down to 15.
"My ideas have changed since earlier this summer," Manolovich said. "Our other players will have to make up for the lack of personnel."
The Yeowomen arrived on campus on Aug. 19, and have practiced every day, three times a day, since that time. Manolovich hopes superior conditioning and a more defensively minded system will aid the team against deeper and more talented opponents.
"Our game plan is to not allow the opposition to split our defense. We want to congest our defensive zone and force turnovers that lead to scoring opportunities," Manolovich said.
She believes that opponents will attempt to play a fast tempo game against them, exposing their short bench. Possession and tempo are key to the Yeowomen's season. If they are unable to dominate these two areas, they will suffer another losing season, similar to last year's 10-11 mark.
The team graduated five players from last year's squad. Out of the 15 players, ten players are returning, including team captains seniors Brooke Fuller and Jessica Toubman.
Team chemistry could be questionable with the lack of experience they have together, but the Yeowomen showed their mettle in a series of scrimmages at Denison University last week.
After losing their first two matches, the team bounced back to tie their next two games.
Manolovich was pleased with the team's progress during these scrimmages, especially against Wittenberg University. Against this strong divisional opponent, the team managed a tie, and will face them again this Saturday.
Opening their season at home, the Yeowomen are banking on their home-field advantage. Wittenberg usually plays on an Astroturf field so the grass fields that the Yeowomen proudly call home should give them some difficulty.
First-year Julia Rosenberg agrees with the difficulty of playing on an unfamiliar surface.
"I played on Astroturf in high school. The transition is hard. You need to hit the ball harder and the game is slower on grass," she said.
Wittenberg is also under new leadership this season which should play into the Yeowomen's favor. "Wittenberg has a talented team, but they have a new coach this season," Manolovich said.
Assisting the coach this season is Frank Rosen. Rosen brings his experience as a member of the German junior national team to the fold and his experience will definitely be relied upon this season. "He brings culture to the game," Manolovich said.
Rosen has already aided in practices by allowing Manolovich to focus her efforts on individual units of the team, therefore spurring on unified development. Rosen's background has also brought some diversity to the team.
Manolovich has set the team's goals at reaching the regional tournament. Whether or not that goal is attainable is uncertain. The team's small roster and threat of injuries looms over their chance of success.
First-year left wing Annabeth Macy claims that the team has good chemistry, despite their lack of collective experience. "It's been a lot of fun, despite all of the hard work. The advantage of having fewer players is that we have all been pulling for one another."
Manolovich echoes this statement: "Since we need every player to contribute, I have not had to worry about competition amongst my players."
It would seem that the Oberlin Field Hockey Team faces an uphill battle with its reduced roster. Any success this season will certainly be based soundly upon a strong team ethic, discipline and stamina from all 15 players.
Back // Sports Contents \\ Next
---
T H E O B E R L I N R E V I E W
---
Copyright © 1997, The Oberlin Review.
Volume 126, Number 1, September 5, 1997

Contact us with your comments and suggestions.