Oberlin's history: progressive or passive?
An examination of the roots of Oberlin's progressive reputation
by Hanna Miller
---
This article is the first in a series of articles addressing issues of diversity, race and class at Oberlin. Each week there will be an open roundtable discussion about the topic we are writing on that week. We hope members of the Oberlin community will come to the discussions and share their opinions and experiences. The following is a schedule of topics. The location of the roundtables will be printed in upcoming issues.
October 31- What are Oberlin's progressive roots? A preliminary look at Oberlin's reputation as a progressive institution.
November 7- How does Oberlin support students? Administrative mechanisms of providing institutional support will be examined, including Program Houses, the Bonner Scholar Program, Financial Aid, the Multicultural Resource Center and Student Academic Services. Wilder TBA 4:30 p.m. Wednesday, Nov. 5
November 14- How does Oberlin support faculty and staff? An exploration of recruitment and retention issues facing faculty, staff and administrators of color.
November 21- Welcome to Oberlin. A look at the interactions between the College and community. Race relations and formal linkage programs such as the Host Family Program will be examined.
December 5- Is the Conservatory different? The experiences of minority students and faculty in the Conservatory.
December 12- Student profiles.
---
The first clue that Oberlin has cemented its national reputation as a progresive institution showed up in the New York Times. Right there, under 56-Down, it said, "First college to admit women."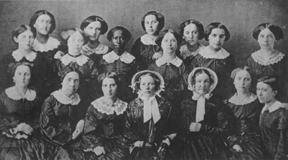 "Our progressive nature is a clue now," said Vice-President for Public Relations Al Moran. "It's out there."
Oberlin's reputation as a progressive institution has been out there ever since Oberlin's founders wandered west to set up shop in the deep forests of Ohio. The first advertisement of the founding of Oberlin College, published in the New York Evangelist, told of a school which would "provide for the body and heart as well as the intellect."
Oberlin has perpetuated its reputation through promotional materials, including the video Follow the Morning Star: Breaking the Color Barrier in Higher Education, which celebrates Oberlin's historic commitment to diversity.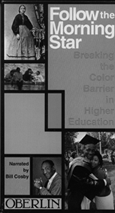 "Why are we supposed to sit back and promote multiculturalism?" asked senior Andrea Clark at a forum held to discuss Cole-Newkirk's resignation before Fall Break. Clark and others suggested recent developments have been at odds with the picture of Oberlin painted by Follow the Morning Star.
"Nowhere do we say this is the most wonderful place in the world," Moran said. "There is no way we will sell or market what doesn't exist."
Anne Ferguson advises high schoolers at the Hathaway Brown School in Shaker Heights. Ferguson, director of college counseling, rarely suggests Oberlin to her students. Even among the few students who are willing to spend the rest of their educational careers in Ohio, Ferguson doubts she could find many students who could adapt to Oberlin's reputed liberal environment. "Maybe two of my kids would feel comfortable there. They don't have the freer kind of spirit," she said. "[Oberlin] certainly sells themselves as a more liberal, more forward-thinking institution. Absolutely, you get that feeling."
"I don't see anything in our admissions materials that labels Oberlin as progressive," College President Nancy Dye said. "The values of this institution which are remarkably continous we label now as progressive."
Professor of History Geoffrey Blodgett, OC '53, said he believed Oberlin has retained two major values throughout its history. "There is the 19th century tradition of moral radicialism and the tradition of academic distinction," Blodgett said. "Those two are not incompatible. If Oberlin endures, its tradition will endure. The process of recharging is to announce that they're lost."
Oberlin was founded as a seminary in hopes of producing ministers. The religious convictions which led to Oberlin's establishment profoundly influenced Oberlin's character in the nineteenth-century. John Barnard, author of From Evangelicism to Progressivism, quotes one female student who sent a letter home to her family in Kansas exclaiming, "I've never seen a more religious place in my life." Students spent their days wandering in and out of prayer meetings. Professors were required to forsake the use of tobacco.
"You are not only educated," Charles Finney exhorted Oberlin's first graduating class, "but educated in God's College - a College reared under God, and for God."
Oberlin had adopted a commitment to Christian Perfectionism, an unusual doctrine which suggested that perfection could be attained on earth.
"If you believe that, boy, it drives you to do all sorts of things," Blodgett said.
In the relentless pursuit of perfectionism, Oberlin waged battles against the great sins of modern society. Driven by an unquestioning adherence to Christian values, Oberlin students engaged themselves in the struggles against slavery, sexism and alcohol. According to Blodgett, Oberlin received most of its national accolades for its role as a temperance leader. After the national experiment of Prohibition proved to be an abysmal failure, Oberlin no longer paraded its temperance past.
The strides made against sexism and slavery have since assumed a much more important place in Oberlin's collective imagination. Although Oberlin established itself as the nation's first co-educational college, the distinction did not immediately translate to any sort of utopia. Women did not receive the same course of instruction as men, nor were the sexes allowed to mix socially. Men and women were allowed to walk together in public only if chance had led them to travel in the same direction. In order to avoid sexual scandals that would doom Oberlin's efforts to spread the gospel to women as well as men, men and women were formally kept apart.
Efforts at inclusion were not universally embraced. An editorial published in the Review in 1894 asked, "Is it nothing to the world to preserve in all its pristine vigor the grand old Anglo-Saxon race?"
Until the late nineteenth century, there were few other alternatives for women and blacks hoping to pursue higher education.
"In the 1880's, if you were a black or female college graduate, chances are you went to Oberlin," Blodgett said.
One of the women to attend Oberlin was Winifred Rauschenbush, daughter of Walter Rauschenbush. Rauschenbush, a leading theologian, was among Martin Luther King Jr.'s greatest influences. Young Winifred, upon arriving at Oberlin, founded Oberlin's first socialist club.
"Oberlin didn't lose its moral edge, but it lost its religious edge," Blodgett said. Oberlin's values became secularized. Although God was removed from the equation, Oberlin continued to confront social issues.
"The level of tolerance and social conciousness is one of the reasons I went to Oberlin," said Amy Steingardt OC '86. Steingardt recently completed a term as co-chair of the Lambda Association, the organization of Lesbian, Gay and Bisexual Alumni. "It was the first school to admit blacks and women, and people identify it with that."
"Oberlin is truthful to its traditions in many ways," Professor of African-American Studies Yakubu Saaka said. "It's better in some eras than others. Since the 1970's it hasn't done as well as its reputation suggests."
"Oberlin is on some cutting edges," Dye said. "It is by no means on all cutting edges and it never has been."
Oberlin has recently come under fire by students who have criticized Oberlin for its delinquency in establishing ethnic studies departments and low retention rates for students and staff members of color.
"You can look at Oberlin as a thing as itself and measure Oberlin against ideal standards of right and wrong and find it at fault on issue after issue," Blodgett said. "The other thing you can do is compare Oberlin to other schools out there and we fare pretty well."
---
Oberlin's reputation as progressive is one of its distinguishing factors. The following excerpts were taken from college guidebooks and describe that reputation.
"As long as there has been an Oberlin, Oberlinians have been changing the world. As an institution and as a community, Oberlin is charged by a heady spirit of idealism. Students' vision and progressive thinking allows them to seize every opportunity as a learning experience."
- Making a Difference College Guide: Outstanding Colleges to Help You Make a Better World (1995)
"If you want a solid education in an atmosphere in which social and moral responsibility counts for a great deal, and where you will be part of an extraordinary legacy, Oberlin may be for you."
- 100 Best Colleges for African-American Students (1993)
"Amid the cornfields of the Midwest lies Oberlin, an institution whose tradition is to be non-traditional. Oberlin students are proud of the way the college encourages diversity and acceptance of the unconventional."
- The Yale Insiders Guide to the Colleges (1996)
"The town of Oberlin, Ohio is not exactly the place where you'd expect to find one of the most progressive mid-size colleges in the country. Oberlin College was founded in 1833 by independent thinkers with unconventional ideas. Today, consistent with this progressive tradition, Oberlin offers more courses than institutions twice its size."
- Fiske Guide to Colleges (1996)
---
Oberlin's celebrated achievement of being the first college to admit blacks does not mean the College has always had a diverse student body. In the nineteenth century Oberlin enrolled slightly more than 300 black students. The numbers started to increase only during the Civil Rights movement of the 1960s. The following statistics of enrollment of students of color are from the Office of Institutional Research.
1961: African American enrollment: 60 out of 2,208
1970: African American enrollment: 172, Asian American enrollment: 63 out of 2,526
1980: African American enrollment: 227, Asian American enrollement: 58, Latino enrollment: 31 out of 2,788
1990: African American enrollment: 237, Asian American enrollment: 231, Latino enrollment: 90 out of 2,840
1997: African American enrollment: 224, Asian American enrollment: 244, Latino enrollment: 128 out of 2,907
---
Upper Photo:
Before their time: Female Oberlin graduates in 1855. (photo from American Education by Robert Fletcher)

The Star: The video Follow the Morning Star documents history of African-Americans at Oberlin.

Back // News Contents \\ Next
---
T H E O B E R L I N R E V I E W
---
Copyright © 1997, The Oberlin Review.
Volume 126, Number 7, October 31, 1997

Contact us with your comments and suggestions.