Miroshav Holub mourned by literary world, Oberlin
by Rumaan Alam
The Oberlin community, indeed the world community, lost a significant voice this summer with the death of the poet and scientist Miroslav Holub. Holub died on July 14, at the age of 74, in Prague, his native city in the Czech Republic.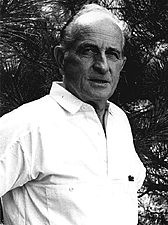 Holub held strong ties to Oberlin. His first American translator was the poet Stuart Friebert, Professor Emeritus of Creative Writing. Since 1982, Holub's translator was David Young, Longman Professor of English and Creative Writing, himself a poet. Field magazine, an Oberlin publication, features three selections of Holub's work in its distinguished Translation Series. In 1996, his most recent residency at Oberlin, Holub was the focus of the Guest Writer course in the Creative Writing Department. He had been a resident at Oberlin several times since his first visit here in 1979.
Holub was regarded as one of the premier contemporary Eastern European writers - including Milan Kundera, Zbigniew Herbert, and Nobel Laureate Wislawa Szymborska. Holub himself was frequently short listed for the Nobel Prize.
His work was a unique blend of science and art, a synthesis of his poetic sensibilities and his scientific training. In fact, Holub, particularly respected for his work in immunology, gained recognition first as a scientist and, later, as a poet.
The combination of poet and scientist is a rare one, and Holub's work is distinctively his. He uses the language of science to discuss the emotional world, or to examine the world of science and fact as a metaphor for the poetic and human.
Holub, speaking of the disparities of science and art said, "I have a single goal but two ways to reach it. I apply them both in turn. Poetry and science form the basis of my experience." And through the distinct languages of both, Holub strove to convey his experiences to readers.
Speaking of his friend and colleague, Young said, "We have lost one of the stalwart spirits of our century, a man who was able to survive first Nazism, then Stalinism, while managing to keep alive the rigorous self-corrections of the practicing scientist and the fierce, unquenchable spirit of art - in other words, the two domains of the human spirit that our century's tyrannies and horrors have not been able to destroy."
This is a powerful way to remember Holub: as a symbol of civilization, an emissary of science and the arts. His powerful legacy will continue to resonate in the words he left behind.
---
Photo:
Miroslav Holub:World-renowned poet who died this summer had ties with Oberlin. (photo courtesy Public Relations)

Back // Arts Contents \\ Next
---
T H E O B E R L I N R E V I E W
---
Copyright © 1998, The Oberlin Review.
Volume 127, Number 1, September 4, 1998

Contact us with your comments and suggestions.