Philosophy professor retires
by Kitiya LeHuu
When Professor of philosophy Robert H. Grimm started teaching at Oberlin College in 1965, he didn't give any thought to how long he would be here. Now, almost 35 years later, he is planning to retire.
Grimm's daughter is in her last year of college, and he wishes to be able to spend time with his family and enjoy that year, which would be virtually impossible if he were to remain a faculty member at Oberlin. Furthermore, he wishes to devote more time to his research and writing.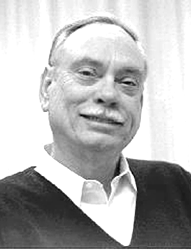 Grimm said, "I view retirement as an extended research leave."
While at Oberlin, despite the great demands of teaching, Grimm maintains that there have been great opportunities and time for research and writing, especially in topics connected to courses he has taught.
He has been working on, and plans to continue after his retirement, a book which defends and expounds a thesis of metaphysical realism with regards to beliefs, desires and other "propositional attitudes," exploring and explaining their connections to human actions as well. He also plans to contribute related articles bearing on certain skeptical challenges to such realism, as well as work in the history of philosophy, especially on Descartes and Aristotle.
Grimm said, "I chose to teach at Oberlin because I was attracted by the opportunity to be part of a first-rate philosophy department at an outstanding liberal arts college."
His career, both as a professor and researcher, has been focused on metaphysics, the theory of knowledge and the history of philosophy. His teaching has put him in contact with students of various interest levels, from the introductory level to the senior philosophy majors on honors projects, with whom he has especially enjoyed working. Many of his students have already gone on to become philosophers at other colleges and universities.
Having received his undergraduate degree from the University of Miami, Grimm proceeded to take up his graduate studies at Duke University, where he earned both his M.A. (1959) and Ph.D. (1963). Before being invited to join the faculty of Oberlin in 1965, he taught at Duke University and the University of Iowa. During his career here at Oberlin, Grimm had a sabbatical in Israel, which was followed by his service as Director of the GLCA Program and Visiting Professor in Philosophy at the Hebrew University School of Overseas Students in Jerusalem.
Grimm has achieved many accomplishments in his time at Oberlin. He has authored essays in leading philosophy journals as well as edited or co-edited several volumes of proceedings of the Oberlin Colloquium in philosophy. At Oberlin, he taught courses in ancient and medieval philosophy, metaphysics and the theory of knowledge, and helped to shape and sustain the Oberlin colloquium in philosophy. Grimm commented that throughout the years the philosophy students have remained extremely capable, and he continues to be impressed by the abilities and motivation of Oberlin students in general.
Oberlin was sure to be near the heat of the issues. However, Grimm maintains that despite the fact that the times have changed from the activism of the late 60s and early 70s, some things about Oberlin have remained constant. He said, "I believe that the liberal tradition is alive and well at Oberlin, and although Oberlin's academic reputation in terms of published rankings has diminished, I believe that it continues to be an outstanding liberal arts college. I believe that the College continues to maintain a distinctive balance of stability and change."
---
Photo:
Not a Grimm man: After spending 35 years at Oberlin, Professor Grimm will retire after the spring semester. (photo by Lea Morgenstern)

Back // News Contents \\ Next
---
T H E O B E R L I N R E V I E W
---
Copyright © 1999, The Oberlin Review.
Volume 128, Number 11, December 3, 1999

Contact us with your comments and suggestions.