News
Perspectives
Arts
Sports
Other
Volume 129, Number 13 &nbsp&nbsp&nbsp&nbsp&nbsp&nbsp&nbsp&nbsp&nbsp&nbsp&nbsp&nbsp&nbsp&nbsp&nbsp&nbsp&nbsp&nbsp&nbsp&nbsp&nbsp &nbsp&nbsp&nbsp&nbsp&nbsp&nbsp&nbsp&nbsp&nbsp&nbsp&nbsp&nbsp&nbsp&nbsp&nbsp&nbsp&nbsp&nbsp&nbsp&nbsp&nbsp&nbsp&nbsp&nbsp &nbsp&nbsp&nbsp&nbsp&nbsp&nbsp&nbsp&nbsp&nbsp February 9, 2001
Dolan Defends Logo That Students Call Racist
Indian's Owner Debates Logo with Students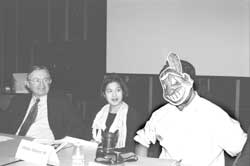 Indians within:Professor Will Wilson dons an Indians mask in an attempt to make Dolan understand the potential implications of the Wahoo mascot. (photo by Pauline Shapiro)
by Nick Stillman
&nbsp&nbsp&nbsp
The air was thick with tension when a small invitation-only group of students and faculty met with Cleveland Indians owner and Oberlin College trustee Larry Dolan Tuesday Dec. 19. Members who were chosen to participate in the discussion have criticized Dolan for continuing to use the Chief Wahoo symbol as the Indians mascot. Those in opposition see Wahoo as a racist caricature of Native Americans.
Quote of the Week:


"I don't see the difference except that this one doesn't have an Asian American Studies section, and they replaced the radical books with children's books."

-Shruti Sasidharan
College Sophomore

On the Barnes and Noble-owned Oberlin bookstore versus the old Co-op
Go to the Current Standings in Sports || Go to News Contents Page
*By following the links at the bottom of the page, or the arrows at the top, you will be able to circle through the entire issue.