Love Is in the Air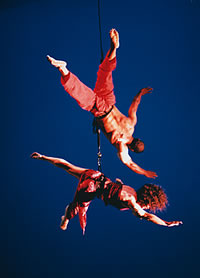 Dancers Nehara Kalev and C. Derrick Jones exchange vows in midair.
Los Angeles dancer Nehara Kalev '94 gave new meaning to "taking the plunge" while marrying fellow high-flier C. Derrick Jones in a public ceremony/ aerial performance in June.
Nehara and Derrick met in 1998 as grad students at UCLA and later became members of the acrobatic Diavolo Dance Theater. In planning for marriage, the couple chose to use their wedding budget to underwrite their first joint venture, a dance performance called The Wedding Journey: Vows in Midair.
The couple debuted their choreography while suspended from ropes from the theatre's 60-foot ceiling. "In different sections of the aerial dances, we were connected by harnesses, or by moving within a spinning aerial sculpture, or by holding on to each other," Nehara says. "At the climax of the evening, the scissor lifts raised us up to full height as we took our vows, reaching its peak before we leapt together in an 18-foot plunge."
Nehara and Derrick plan to take their production on the road, pairing it with educational workshops in dance and theater arts. "We plan to continue collaborating to bring real-life issues to the stage through the immediacy of highly physical, visual dance theater," Nehara says. "We hope to inspire our audiences to leap into life with abandon."
Visit http://www.theweddingjourney.com for more information.
Next Page >>