Around Tappan Square
Alumni Day of Service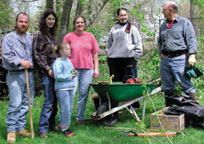 Oberlin On May 4, Obies rolled up their sleeves and cleared away trash at Plum Creek before heading over to the Amphitheater to do some gardening. Afterwards, alumni joined current students to watch the "Big Parade" and community fair complete with circus performers, games, and live entertainment in Tappan Square.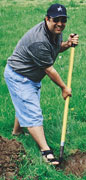 Lexington, Kentucky On April 20, alumni participated in the second annual tree planting in Alumni Grove at the Lexington Arboretum. For Arbor Day 2001, the grove was named in honor of the eight college alumni groups who have funded and planted trees. Local Oberlin alumni spearheaded the effort. This year the tradition continued, with seven institutions participating alongside members of the Daisy Scouts. The live drumming group Dave Ferris, Tripp Branton & Friends entertained tree planters.
Boston The Boston Service Day at the Food Project's organic farm in Lincoln, Massachusetts, was a great success with some 20 Obies and their children spending the morning planting two miles of potatoes, cantaloupes, and watermelons, and the remainder of the day weeding strawberries, scallions, and spinach. Before heading out to the fields, organizers conducted team building and educational exercises. "The Food Project is a remarkably well-run organization and felt like a good fit for Obies," says Melissa Cook '82. "Everyone from our group seemed to enjoy themselves. ... Our contact invited us back again anytime."
San Francisco, California The San Francisco Bay Area alumni participated in two separate Service Day events: a beach cleanup on the San Mateo Coast on April 20, and working at a San Francisco public elementary school for Rebuilding Together San Francisco on April 27. About 20 alumni turned out for these events.
At the beach cleanup, alumni joined local folks to clean five beaches, and one Obie helped clear out an old encampment of trash. The community thanked the alumni for a great day.
At Rebuilding Together San Francisco, the project was beautifying the grounds of a San Francisco public elementary school. The grounds had been neglected, and the group helped weed and plant drought-resistant plants.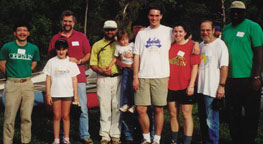 Washington, D.C. Clyde Owan '79, Steve Goldstein '72, Michel Cavigelli '84, Shana Ageloff '02, Bernie Arons '69, and Graylin Presbury '78 (left to right) joined family and friends in picking up trash along the banks of the Anacostia River during Earth Day. Graylin's hard work earned him special recognition.
After collecting seven bags of trash, Clyde attended the event's picnic and rally, where his daughter, Camile, 14, received the first-place award in the Anacostia Watershed Society's poetry contest. Her poem appeared on the back of the T-shirts that were given to all the volunteers.