Conservation Wars - Page 2
Conservation Versus Restoration
So if people in the art world have been arguing these issues for centuries, why was the recent campaign against the restoration of da Vinci's Adoration such big news? The controversy, and James Beck's ultimate victory, were fodder for dozens of newspapers worldwide over the past year.
For one thing, Botticelli, Picasso, and other artists are attaining rock star-like status as museums become must-see locations for tourists (there were also two best-selling novels about Vermeer in the last few years). As a result, controversies within the art world are no longer cloistered there–they tumble into the public arena. Also, the backdrop of historical perspective is usually missing in the media coverage of art-world frays, so they can seem like new phenomena. Finally, these controversies are often presented in the starkest black and white. Observers are left with the impression that those who want to save a work of art through careful treatment are pitted against those who would let it rot from neglect, or that those who would ruin said work of art using aggressive treatment are pitted against those who want to save it from its purported saviors.
And Beck seems content with the harsh dichotomy of the latter impression, reinforcing it with his own sensational comments. "Art historians stay silent and are willing to let the sacred objects they study all their lives go down the drain," he says heatedly. "I don't forgive them for that. We understand what can be lost when the Taliban bombed those 2,000-year-old Buddha statues in Afghanistan, but we've been doing the same thing for 30 years in restoration laboratories."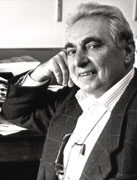 Beck took center stage in an ongoing controversy over art restoration in the early 1990s. Urged by a concerned colleague, he visited the marble Italian tomb of Ilaria del Carretto, sculpted by Jacopo della Quercia 600 years ago, that had recently undergone cleaning. Beck was incensed by the cleaning and was quoted in a newspaper as saying the tomb looked "as if it had been treated with acid, cleaned with Spic and Span, and polished with Johnson's Wax." He was sued for libel by the Italian restorer responsible for the cleaning and nearly jailed. In the aftermath of the trial, he founded ArtWatch, an international watchdog organization dedicated to the preservation of art. The group keeps an eye on the care and planned restorations of great works and has drafted a set of 11 points for its "Bill of Rights for a Work of Art." The first is, "All works of art have the inalienable right to an honourable and dignified existence."
"I'm an old man who has been ostracized for taking a position that was unpopular," Beck told The New York Times in February when plans to abandon the Adoration restoration were announced. "But now I feel I've done the right thing in Florence."
For all of Beck's disdain for others in the art world–and he sometimes sounds as if he's casting art historians, conservators, restorers, and museum directors alike as Philistines–many in this world have agreed with the ArtWatch principles for years, long before Beck even thought to formulate them. Many applaud his campaign, even though their profession is occasionally smeared by it. "I'm not an opponent of James Beck,"Podany says. "I don't always agree with him, and I sometimes think he's less than informed, but I also think some of the restorers he has challenged could have done a better job of explaining what they were doing and why. I welcome his presence as something that further develops my profession to stand firm for what it believes and helps flush out those people who are acting inappropriately."
Others echo Podany's concern that Beck is a less-than-informed critic. "Beck is a master at painting things in black and white," says Joyce Hill Stoner, the former 15-year director of the Winterthur Museum/University of Delaware Program in Art Conservation, one of three such master's degree-level programs in the country. Now a professor there, her special interest is the history of conservation with a focus on controversies. Stoner looked into Beck's background and found that even though he had worked at several places where there was a full team of conservators, he had never spent much time in an actual painting conservation lab to learn what they do.