Alumni Notes
Profile
Booking Across America
"Living in a van [and trailer] has its moments," laughed Aya Kanai '00, referring to nights spent in the shiny silver 1959 Overlander she, Ginger Brooks Takahashi '99, and other members of the Mobilivre-Bookmobile project managed to maneuver through Massachusetts, New York, and Pennsylvania before pulling into Oberlin last summer. "Someone has to sleep in the trailer to keep an eye on the books."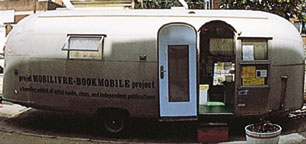 A traveling exhibition of artists' book works, 'zines, and independent publications, the bookmobile visits community centers, schools, festivals, artist-run centers, libraries, prisons, and remote regions where independent publications are hard to come by. A group of coordinators traveling with the exhibition facilitates a series of workshops, artist talks, and educational forums. Thus far, the project has exposed more than 1,000 visitors in the U.S. and Canada to its unique collection.
Kanai and Takahashi, who have a passion for handmade books, visited Montreal in 2001 and discovered a thriving bookbinding culture. Enthused about spreading the art form back home, the pair launched the bookmobile project; they were soon flooded with submissions by 500 eager artists. A small grant enabled them to buy a trailer from a Philadelphia farmer, and the Freecell design studio in New York outfitted the vehicle with curtains, clamp lights, storage benches, and elastic straps that secure the menagerie of books to the walls. Oberlin's art department donated $1,000 to help further their mission.
"Every day someone visits us and gets excited about making books of art," Kanai said, pointing out several one-of-a-kind 'zines inside the trailer's tight quarters. In one, an artist described her love of ice cream by fashioning a book out of cardboard and vanilla pages. "We had someone submit a book made out of bread," Takahashi laughed. "But that wouldn't have traveled well."
The Bookmobile's 2002 tour kicked off in June and will make stops through early November. For an itinerary and more information, visit www.mobilivre.org.
–Yvonne Gay Fowler