Alumni Notes
Profile
On a Mission
There is little to no rainfall in Nigeria from January through May, so Rawn Woodlief's middle school students could hardly sit still in anticipation of the year's first downpour. When the rain finally fell, they begged to look outside and stand or lie down in the fresh water.
"It's wonderful to see students rejoice in God's creation –in any land," Woodlief '91 wrote to family and friends, describing her work in the city of Jos as an English and social studies teacher to the children of Bible translators and local students.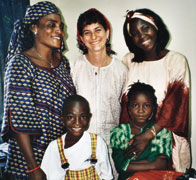 Woodlief (left, center)has been lending spiritual support to Bible translators since her first year at Oberlin and throughout her graduate and teaching work at the Newark Christian School in New Jersey. She then joined Wycliffe Bible Translators, an international organization working with 1,095 world languages. With continued financial support from family and friends, she journeyed to Hillcrest School in Jos, which houses several mission and church headquarters, and teaches students from more than 20 countries, visits with mission teams in remote locations, organizes monthly prayer sessions for translators, and is part of a 300-member Bible study group.
"I can't think of anything else I would rather do," Woodlief says. "The worldview of my students is much broader than most school settings in the U.S. They are caring, tend to be less concerned about material things, and are respectful."
This summer, Woodlief agreed to extend her teaching commitment for another year, after which time she plans to return to the U.S. before heading back to West Africa in 2004.
-Yvonne Gay Fowler