Alumni Notes
Profile
Sister President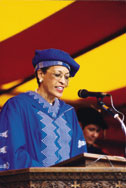 Johnnetta Betsch Cole '57 is something of a revolutionary in higher education. Her career reveals a devotion to curricular reform, minority student advancement, and community service, and she led to prominence Spelman College, the historically black college for women. Cole retired in 2001, hoping to continue her work in other fields, but a call from North Carolina's Bennett College pulled her out of academic retirement. The nation's only other historically black college for women, Bennett sought a president to pull it out of its financial troubles. Cole was happy to oblige.
The 65-year-old educator developed a passion for social justice at a young age, inspired by family members dedicated to community service and civil rights activism. "Growing up in the Jim Crow south, there was evidence all around me for the need for social change," she said.
Her Oberlin years fueled her passion for equality and diversity. "I came from the segregated south–where religious diversity meant Methodist or Baptist, and where racial diversity meant black or white," she said. "My insistence that the world is made better by multiple views was solidified by my college experience."
Following sociology studies at Oberlin and a Ph.D. in anthropology from Northwestern, Cole began a career as an author and professor. She directed the black studies program at Washington State University and the Latin American and Caribbean studies program at Hunter College. As associate provost at the University of Massachusetts at Amherst, she led a successful campaign to reform the general education requirements.

But it was her work as the president of Spelman that gained national attention, both for herself and the school. Tapped for the position in 1987, she accepted the presidency out of a desire to promote education for minority women.
"I didn't want to be the president of a college," she told a reporter in 1998. "But what kept standing out was that this was a place that dared to say it educated African American women well."
By all accounts, Cole improved on that legacy. As the first black female president in the school's 107–year history, Cole became popular with students who dubbed her Spelman's "Sister President." She was also popular with donors: During her 10-year tenure, Cole helped raise more than $113 million, tripling the college's endowment. She started a corporate partnership program, enlisting the help of 77 major companies through her charm and persistence.
Under Cole's leadership, the school soared to national prominence, noted as U.S. News and World Report's "Best College Buy" in 1992 and ranked by Money magazine as the best historically black college in 1996.
Leaders in the higher education community expressed their enthusiasm about Cole's appointment at Bennett, which began this summer.
"Dr. Cole is one of the most outstanding leaders in higher education in the country with a proven track record and the ability to transform institutions, taking them to a new level of excellence," said William H. Gray, III, president and CEO of the United Negro College Fund.
"A commitment to social justice is a commitment to work for it in every way and everywhere." With this philosophy, she has served on Bill Clinton's 1992 transition team, authored several nooks, engaged in the corporate world as a board member and diversity consultant, and consistently engaged in community service.
– Peter Meredith '02