Bookshelf
The Right Hand of Sleep
By John Wray '93
Knopf, 2001
Reviewed by Nicole Peradotto
How can we make peace with the traumas of our past when the future threatens grimmer days still? That question hovers over the protagonist in John Wray's scrupulously crafted debut novel, The Right Hand of Sleep. In his arrestingly evocative style, Wray creates a complex portrait of the proverbial "nowhere man," a shell-shocked World War I deserter who exiles himself from everything he knows only to seek it out again at a time when nothing looks familiar.
That's because Oskar Voxlauer has made his homecoming to the Austrian town of Niessen in 1938, the period of the Anschluss when Hitler's troops annexed its neighbor to the south into the German Reich. And unlike the young Oskar—the naive teen-age conscript who couldn't appreciate the horror of war until he was deep in its trenches—the world-weary veteran who returns 20 years later can see dark clouds massing on the horizon. In response, Oskar bids a hasty retreat from his embittered mother and the tension brewing in town, taking work as a gamekeeper on a remote piece of property. But just as he's settling into his hermitage—and even contemplating suicide as a complement to the spiritual death he thinks he has experienced—he falls in love with Else Bauer, the cousin of a high-ranking SS official, Kurt.
Like so many passages in Sleep, this one, in which Oskar begins recognizing his surfacing emotions, harvests the poetry from prose: "Over the next days and weeks his feeling of blank surprise and shock consolidated itself into something understood and manageable even as each surprise led obliquely to the next like views in a baroque garden, distracting and bewildering him until he felt altogether lost in its immensity," Wray writes. "That he could walk down at a given hour, cross the empty square at Pergau, turn up her drive and climb the villa steps to find her waiting for him in the narrow kitchen, calm and expectant, dumbfounded him each day as it had on the first."
In recent years, numerous writers have attempted to explain how ordinary citizens responded to the Nazi threat. For his part, Wray chooses to narrow the focus to a triangle of shifting loyalties and ambiguous motives created by Oskar, Else, and Kurt. Deftly alternating between past and present, he casts the two men as prodigal sons whose parallel journeys into disenchantment diverge upon their return home. Kurt develops an amoral passion for power that is only rivaled by Oskar's scorn for those who abuse it. Each is bound to the other by Else, who sees a future with Oskar but who shares the past with Kurt. Else has a more compelling reason for remaining loyal to her cousin, though that remains under veils until the last half of the book. Whether she harbors sympathies for the Black Shirts is also wrapped into the intrigue, which keeps Wray's narrative uncoiling to its subtle and satisfying conclusion.
A former reporter for the Buffalo News, Nicole Peradotto is a freelance writer in Buffalo.

Best Friends
By Martha Moody '77
Penguin Putnam, Inc., 2001
Of particular interest to Oberlin alumni is this first novel by an MD in Dayton, Ohio. Moody centers her story on two unlikely first-year Oberlin roommates in 1973 whose friendship endures through motherhood, disastrous marriages, and demanding careers. Clare, a cynical, hard-working, and jaded mid-western Protestant, is fascinated by Sally's well-to-do Jewish family in California. Envious of Sally's perfect family and enigmatic father, Clare is stunned to discover over the years the truth that lurks behind the credible façade. The story explores the shifts in loyalty and perspective that long-term friendships can experience and, nevertheless, survive. Moody, a recent finalist for The Best American Short Stories anthology, is married with four sons.
Flux: Women on Sex, Work, Love, Kids, and Life in a Half-Changed World
By Peggy Orenstein '83
Vintage Anchor Publishing, 2001
This book is essential reading for the married, unmarried, childless, parents, careerists, and stay-at-homes, both men and women. Orenstein spent four years interviewing more than 200 women across the country, both alone and in small groups, to get a sense of the key pressures they endured. Most held college degrees and ranged in age from 25 to 45. She explores the limits women still face and shares the nature of a woman's dilemma: the competing personal, political, and social forces that demand painful trade-offs. The reader may helplessly identify with some of these women and possibly begin to reevaluate personal lifestyle choices. Orenstein is an award-winning author and speaker on issues affecting girls and women and a contributing writer to The New York Times Magazine, Vogue, Glamour, Mirabella, and The New Yorker. She has also served as editor at Esquire, Mother Jones, and several other contemporary magazines.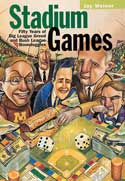 Stadium Games: Fifty Years of Big League Greed and Bush League Boondoggles
By Jay Weiner '75
University of Minnesota Press, 2000
A sports reporter with the Minneapolis Star Tribune, the author frequently delivers sports commentary on Minnesota Public Radio. He zooms in on the state's 50-year history with pro sports and the issues contributing to a bid for the Minnesota Twins new stadium, along the way providing a big-picture evaluation of national sports economics. In an unflinching account full of photographs, stories, scandals, and colorful personalities, Weiner divulges how powerful interests in the Twin Cities employed deceit and thinly veiled threats to push through a publicly funded baseball stadium. This is a lesson in politics and economics by a writer who believes that a city may well need a major league team to be major league, and who offers pragmatic suggestions on how fans can make this all work in their own best interests. At Oberlin, Weiner played for the baseball team and was sports editor for The Oberlin Review. He lives in St. Paul with his wife and two sons.
The Good People of New York
By Thisbe Nissen '94
Alfred A. Knopf, 2001
"A spirited and accomplished first novel" is a reviewer's consensus of Nissen's exploration of an unlikely marriage that takes second place to the couple's only child. The new mother's love for their baby daughter skews all other relationships, splits the marriage, and invites the reader to meet a changing cast of well-drawn characters with both unhappy and hilarious results. Nissen's descriptions of life in New York during the '70s and '80s are right on the mark. The reader follows the daughter through her wild and undisciplined teenage escapades as she attempts to become the focus of her own life. Nissen, winner of a short fiction award for Out of the Girls' Room and into the Night has shifted her focus to the novel. She is a graduate of the Iowa Writer's Workshop and a former James Michener Fellow. A native New Yorker, Nissen now lives in Iowa.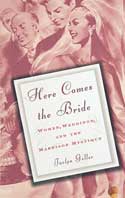 Here Comes the Bride: Women, Weddings, and the Marriage Mystique
By Jaclyn Geller '85
Four Walls Eight Windows, 2001
Is marriage an institution that young women should want to join? Geller examines modern marriage using histories of women, histories of marriage, and popular culture to arrive at the conclusion that marriage institutionalizes gender inequality. She calls into question some of the deepest-held beliefs about the tradition, using three sections: "Courtship and the Marriage Quest," "The Big Day," and "Living in the Plural." Not everyone will agree that marriage is profoundly hostile toward women and an empty and unrealistic dream, but the popular notion that marriage is a woman's destiny comes in for careful exploration. The author poses as a bride at Bloomingdale's and records the typical bridal registry experience with deep reservations. This is a book for both the bride-to-be and women's studies library collections that may set back the centuries-long, pro-marriage marketing campaign for nuptial bliss. Geller teaches English at New York University where she is completing her PhD. She is not married.