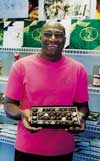 Attorney Brian Colbert '89 left his downtown digs last spring to live and work in a Westerly, Rhode Island, chocolate factory. Here are his thoughts about the transition and some little-known facts about this most decadent of desserts.
OAM: Until last year you were well ensconced in Manhattan, living in a comfortable apartment midtown and working at a well-respected law firm. What made you toss it all aside to move into a chocolate factory?
Brian: Unfortunately, my career on Wall Street wasn't entirely fulfilling. The nature of a large corporate practice was disappointing. I thrive on individual incentive and its rewards, and for me, practicing law was ultimately a dead-end street.
Even so, every day I do miss Manhattan and the incredible individuals from all walks of life; the social, intellectual, and cultural stimulation; my friends; and most of all, the food! But the opportunity to purchase a stake in a small firm with a fabulous product, tremendous pricing, and a trustworthy partner was too great an opportunity to pass up. Besides, change is good.
OAM: Spoken as a true Obie. What happened?
Brian: Ruedi C. Hauser, Sr., is a Swiss-trained chef. He and his wife came to the States in the early 1960s and started a catering firm and a bakery, and have been making gourmet chocolates for the past 25 years. I met their son Rudi in third grade, and since then we have been the best of friends. Over the last few years we talked about taking over the reins of the company, and last spring decided to do it--a changing of the guard, so to speak. We plan to purchase the entire company over the next few years.
OAM: Your majors at Oberlin were government and theatre. Are these disciplines helpful to you now?
Brian: Absolutely! My acting training has been an invaluable asset in communicating with everyone, particularly in expressing my ideas. My government studies gave me insight into how to understand and manage the competing interests that multiple parties bring to negotiations. And I'll always remember the professors who took a personal interest in me: in theater, James DePaul and Jane Armitage; in government, Paul
Dawson. And I can't forget Phyllis Gorfain, who taught me how to communicate through the written word--an unfortunately vanishing skill these days.
OAM: Should the Godiva people be worried about you?
Brian: What? You mean that Godiva isn't worried already? They should be lying awake nights. Chocoholics, however, should be elated; ours are much tastier and in elegant packaging--and at a lower price than theirs. Every truffle is handmade, so we have to maintain a highly skilled work force. Right now we employ between 10 and 15 people. We have ongoing chocolate classes because, as we see it, the more educated our staff is, the better and more delicious our chocolates.
OAM: Your apartment and your office are both in the factory. Doesn't the fragrance of chocolate get to you after a while--even though it's probably heavenly at first?
Brian: Fortunately, the office areas and my apartment are OK. Other than taking the chocolate refresher courses or helping out when there is a crunch, I'm not really around the chocolate much. I'm more focused on marketing and advertising.
OAM: Who decides what flavors will go into a collection?
Brian: Ultimately the collective wisdom of our customers. I gather comments from our retail store in Connecticut, and listen to our product development team and focus groups. And we're aware of trends about what flavors are currently in vogue, which are ascending in popularity, and which are on their way out.
OAM: Have you done any research on America's favorite flavors? Is there a stronger preference for soft centers or the chewy/nut-filled centers?
Brian: Industry trade groups do keep close tabs on American's tastes in chocolates. Americans are finally appreciating European-style gourmet chocolates. Soft and chewy, nut-filled centers are receding into the past. It appears that we're moving towards dark and bittersweet chocolate. Gourmet Swiss-style handmade truffles are in. Onward and upward!
OAM: What's your most successful truffle flavor? What's your own favorite?
Brian:
We have 20 different truffles, and I expect our three newest--Chardonnay, pumpkin, and mint--will do very well. I love all our flavors, but would have to say that amaretto is my favorite, although Chardonnay is closing in fast! If you want to try out our chocolate, go to
www.hauserchocolatier.com
and type in code OBIE1YZ on the order form. For first orders of $25 or more, we'll give you an automatic Obie reduction of $5.
back to Contents page