Talking the Talk; Walking the Walk by Carol Ganzel
Despite the lack of a requirement, many students are tackling the study of several foreign languages simultaneously. Why the extra work?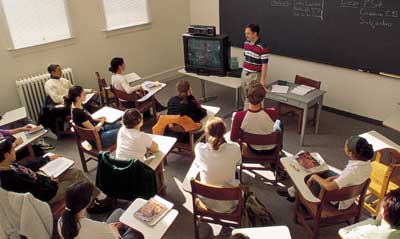 The headphones and cassette tapes are still around, but learning a language these days is more high-tech.
EXPLORING THE CULTURE, GEOGRAPHY, AND PEOPLE OF A NATION HAS ALWAYS GONE HAND-IN-HAND AT OBERLIN when teaching students to read and speak a foreign language. Yet, the emphasis 25 years ago for those who finished two years of a language was the ability to read the literature--communication was secondary. With new tools and broader goals, students today speak better and have a larger vocabulary adapted to their own interests.
Reading a language's literature is still part of the attraction for many, but others, like Hannah Wheeler, a first-year student in professor Nelson de Jesus' introductory French course, are learning a foreign language "because so many people in the world don't speak English." Senior Spanish major Amanda Ovington spent a semester in Spain, yet has taken
French, Italian, and Russian. "I want to have a connection between all these languages to some extent," she says.
Another multi-language student, Robert White '00, lives in French House and spent a semester in the Strasbourg Program. "I just think it's important to be diverse. I'm taking French, Spanish, and Russian. There are a lot of international students at Oberlin, and with that mix of people, having a level of fluency is very important."
Oberlin has a wealth of talented language professors and the high-tech International Learning Laboratory, a gift of Paul and Edith Cooper, provides an abundance of communication technology. Recently, the laboratory obtained a two-way video camera that allows live, virtually face-to-face conversations with people abroad.
This "CU See Me" technology is widespread in Japan and particularly useful to students of Japanese, says lab director Barbara Sawhill. Students also send and receive email in Roman-alphabet and non-Romance languages. Those studying Chinese, for example, simply type the Roman phonetic equivalent of the character they want, and a transliteration program displays the character or a choice of characters matching the sound. Students of Russian use keyboards for typing the Cyrillic alphabet.
Associate professor Arlene Forman helped create two CD-ROMs that include clips from conversations with native Russians and people in Ohio who speak the language. Following her lead, visiting assistant professor James Morgan videotaped answers to certain questions ("Do you like music?" or "What is the future of Russia?") while leading a Winter Term project in Moscow. The set of CDs, a work in progress, is the first of its kind for teaching the language. Forman is leading its development under the auspices of the Ohio 5 Foreign Language Technology Project funded by the Mellon Foundation and directed by de Jesus. Faculties at the College of Wooster, Ohio Wesleyan University, Kenyon College, Denison University, and Oberlin are all collaborating in the project.
For some languages, such aids are available commercially. Japanese, Spanish, and French are taught with multimedia textbooks, some of which are packaged with CD-ROMs, audio CDs, or videos. From these media, French students learn about the residents of Besançon, who talk about their families, their lives, and their town.
The Web, of course, plays its own role in modern language learning. A link to a gateway site on the Maya appears on the Web syllabus of a Latin-American course
taught in Spanish by Sebastian Faber. Web sites for researching Greek and Latin texts and cultures are also helpful, as there is no interaction with authentic speakers in the classical-languages.
But Web sites, CD-ROMs, and the latest computer programs have not displaced what Sawhill calls "the bread and butter" of the language laboratory: cassette tapes that students use to hear and imitate authentic speech. This technique isn't new news at Oberlin, where Spanish students used Edison wax cylinder "records" in the 1920s.
"I'm interested in linguistics and language patterns, and I find the tape recorders very helpful," says sophomore Dominique Archison, who has studied French and Chinese.
To learn Chinese tones, first-year students in Qiusha Ma's class listen to tapes for three hours a week outside of class then record their own speech to turn in for correction. Most of their other work is without benefit of technology: they practice writing Chinese characters in paper workbooks and converse in class. For second-year students Ma is working on an Ohio 5 videotape project on Chinese life that depicts, among other scenes, the exterior and interior of a typical Chinese post office, different from any in the U.S., and conversations between a post-office worker and customer.
The number of Oberlin students studying language is holding steady, says Robert Geitz, associate dean of the College. About 980 students were enrolled in language courses in fall 1998 and 820 in spring 1999. Conservatory voice majors take one semester of each of three different languages.
Since the language laboratory opened in 1996, its use has expanded five to seven times beyond expectation. Its 12 Apple Macintosh 7200 computers were used 7,193 times in 1997-98 and 10,396 times in 1998-99.
Aisha Galt-Theis '00, one of the 15 student assistants working in the lab, says that almost all students are computer literate, although a new program may frustrate them before they "find out where to click."
Faculty members, especially those too old to have used these tools in graduate school, still find them exciting (or alarming), but "our students take technology for granted," says French professor Janice Zinser. "It's part of their 'neural system.'"
Could today's students learn a language without technology? "Conversations with real people are what matter in language study--not technology," says Kurosawa. "However, technology allows something close to real conversations with many more people."
Carol Ganzel is the former editor of "The Oberlin Observer."