---
---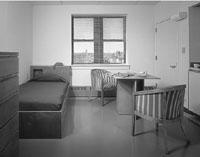 Beyond the "Vanilla Box"
Designing and building an attractive home for the homeless gobbled up three years of Obie Jonathan Kirschenfeld's life--a rewarding obsession that demonstrates, for 48 troubled individuals, that one person can change the world.
By Peter S. Nicholson '91
---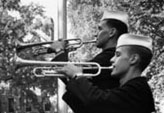 Seventy-five students and alumni who left their families, classmates, and friends to serve in the World War II never returned. Oberlin's War Memorial Garden will permanently honor all of the them. Here, a glimpse of the campus life of ten of the remarkable students who will be so remembered.
By James K. Sunshine '49
---
Musically gifted parents can sometimes helplessly pass along their talent to their kids. A multi-alum family has wound up with a son who is first chair at the National Symphony Orchestra. Guess who his stand-mate is.
By Elizabeth J. Sherman '68
---
An Oberlin Yankee In King Alfred's Court
If Oxford is really a dinosaur, as some think, this alum, garbed in traditional gown and mortar-board, is deep into the exploration of traditions dating back to 873. Maybe.
By Michael Kimmage '91
---
---