"Tis Not The Dying..."
"To live in hearts we leave behind is not to die," wrote the poet Thomas Campbell. Seventy-five Oberlin men gave their lives, young lives filled with promise, during World War II. They live on in the memories of their loved ones, and in that of their alma mater.
By James K. Sunshine '49
An Enduring Tribute to Fallen Friends
The Names of Oberlinians who died as a consequence of WWII
---
In 1943, before winning the Congressional Medal of Honor and dying in the snow during the Battle of the Bulge, Richard Cowan finished what he said was a "wonderful year" at Oberlin. More than anything else, he had wanted to be the third generation of his family to graduate from the College.

Herb Derwig, the irrepressible president of the Class of 1946 and the leading table-tennis player of the Elmwood dining room, died at Stavelot, Belgium, when a mine exploded in front of him. President Ernest Hatch Wilkins dedicated a planting of ivy and a stone in the foundation of the Men's Building (now Wilder Hall), Herb's freshman dormitory, that is there today.

David Reid and his twin brother, Bill, both enrolled in the Class of 1946, and both left Oberlin to serve as medics with the 180th Infantry Regiment of the 45th Division, which took part in the invasion of Southern France with the Seventh Army. Bill, though taken prisoner by the Germans, survived to graduate from Oberlin and, a half-century later, to serve on the World War II Memorial Committee.
David, who had been wounded once but had recovered and returned to duty, died April 30, 1945, nine days before the war ended. He was killed by a sniper as he brought back to safety the last of 10 men wounded in a firefight near Munich.
Dick, Herb, and David are among the 75 Oberlin alumni whose names will be on the memorial that will be constructed on the south side of Finney Chapel. Not much can be known about these men who were young then and would be in their 70s today. Their parents are long dead, their siblings, if there were any, are often gone as well. Most died before having children. Only a few Oberlin friends and some pages in old scrapbooks are left, and these, too, are fast disappearing. The eight vignettes assembled here are just a few of their stories.

Newell Putnam Wyman, a U.S. Navy Lieutenant, piloted the big Catalina flying boats in the Aleutians and the North Pacific, where some of the world's worst weather can be found at almost any time of year. Returning from a mission in March 1944, he was forced down in a savage storm, probably by engine failure. Two of the crew died, but Newell and five others made it to the life rafts. It was freezing cold and the wind was blowing at 45 knots, drenching the rafts and the men in spray. Overhead, two other Catalinas circled for seven hours to keep them in view, waiting for a surface rescue.
Finally, as darkness approached and fuel was running low, one Cat swooped low to try a desperate landing in the midst of the tempest. Lt. Wyman, as pilot, was in command. Fearing the approaching Cat would split in two in the huge waves and the crew lost, he stood up with the spray and the black streamers from smoke bombs blowing around him and gave the would-be rescuers the signal to gun the engines and climb out of their landing approach. The decision was Newell's to make and the pilot of the approaching Cat accepted it. The two Cats overhead circled the rafts once more and set a course for home, the squadron leader dipping his wings in salute. Three days later, surface vessels found the rafts. Lt. Wyman and his crew were dead.
Newell was from Canandaigua, New York. His father graduated from the College in 1886, and his younger brother from the Conservatory in 1941. Newell, a history major and varsity football player who lived at Embassy, graduated from Oberlin in 1938.
Home on leave in the summer of 1943, he married Maurie Lakey of Edgewood, Rhode Island. After his death she wrote to William H. Seaman '24, Oberlin's acting alumni director, of his love for the College. "Newell was very proud of Oberlin and the friends he made there. We wanted to be married in Fairchild Chapel there, but it was Commencement week and we had so little time to do so much before reporting to San Diego. Although I have never been in Oberlin, I fully believe I could walk its campus blindfolded--he told me so much of its beauty and friendliness. . . . I did want you to know that Newell was always thinking and talking Oberlin. . . . I am very proud of the way Newell left, but not at all surprised--for it is just exactly the way he lived--thinking first of others--lastly of himself."
---
Howard Frank '42 and his classmate Norman Lyle Jr. were appointed to the two top posts on the Oberlin Review at the same time, Lyle as editor and Frank as business manager. Lyle died first in the Aleutians. Frank died more than a year later.
---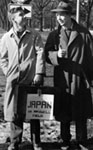 Norman Lyle did not wait to graduate with his class. Instead, on a wintry day in January, he stood clowning with a friend on the corner near the Historic Elm waiting for a ride out of town and carrying a suitcase with a sign: "JAPAN via Maxwell Field." His father had asked him why he had not waited a few months to graduate before enlisting in the Air Corps. His reply: "What good will a diploma be if the Japs and Germans win this war?"
An enormously gifted actor, editor, and poet, Norm went from editing the Oberlin Review and securing lead roles in Mummers productions such as Starting from Scratch and Phi Beta Pigskin, to navigating a four-engine bomber as an Air Corps first lieutenant. Once his plane was shot up during a raid over Japanese positions in Aleutians, but he survived the crash landing with just a scratch. On July 15, 1943, his luck ran out. ne, flying in bad weather, crashed into a mountain.
His fiancˇe at the time, Cynthia Sargent '43, who is now married and living in Wisconsin, was staying with the Lyle family in Birmingham, Michigan, when the War Department telegram arrived. When word of the crash reached campus, Norm's classmate and fellow Review staffer H. Arthur Robertson '42, known to all as "Gabby," wrote a long emotional editorial lamenting Norm's death. He closed with a remarkable poem Norm had written a few months earlier on the occasion of a fellow flier's death. "Why, death's the natural end of man!/'Tis not the dying, but the way/In which man dies that matters much."
Robertson, who now lives in Mexico, recalls that Norm had worked hard to make the Review a more lively publication than it had been under his predecessors. He tried out a new front page layout and new typefaces, and he wanted brighter writing from his staff. "This isn't the goddamn gray lady," he would tell them. "Lighten it up. Stop writing for English Comp."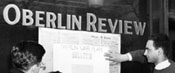 The Review office became a kind of all-day social center where Norm "slouched in baggy slacks and a beat-up sport coat and loosened tie." He wore a hat in the office, dreaming, Gabby is sure, of someday having a press card stuck in the band. And nearly every afternoon, they would break for a beer "at the little four-stool joint across from Westervelt."
Norm delighted in atrocious puns and impromptu skits, but as an editor he was deadly serious. During the eight months he edited the Review, he wrote on issues ranging from the failure of the Oberlin Dramatic Association to stage plays that would please the audience to the need for less "faculty paternalism."
In the fall of 1941, Norm turned to the prospect of American involvement in the conflict. In a front page editorial on October 17, 1941, two months before Pearl Harbor, he urged his readers to deal with the world as it is rather than as they wished it to be, and said that the lack of any alternative "leads us to ask for an immediate declaration of war against the Axis by the United States." The day after Pearl Harbor he called on his readers to recognize and assume "our responsibilities to ourselves and our country," and on December 17, 1941, he demanded that the government "state its peace aims."
"We cannot honorably support the democratic way of life unless that way of life affirms its resolve to remove the causes of war between nations and peoples. We must require assurances that we who shall be the honored dead shall not have died in vain."
Norm Lyle was 23 years old when he died.


Howard Frank, the Review's business manager during Norm Lyle's editorship, graduated from Oberlin and had been teaching as an instructor at Monmouth College in Illinois for some months before volunteering for carrier duty. He died in the Pacific November 25, 1944, during a Japanese air raid on his carrier, the USS Intrepid.
His citation for the Silver Star, awarded posthumously, said: "For conspicuous gallantry and intrepidity in action. . . . By cool courage in the face of extreme peril, Lt. Frank contributed materially to saving his ship. . . . Lt. Frank disregarded all personal danger as he worked with determined energy to bring the raging flames under control. He refused to take cover, playing his hose on the spreading blaze until instantly killed when a bomb exploded."
His family contributed $10,000 to establish the Howard Frank Scholarship "for a boy of all-round ability, aptitude for leadership, strength of character, and attractiveness of personality similar to that possessed by Lt. Frank." Last year the Frank scholarship, held by Brian Anthoney, a senior biochemistry and neuroscience major from California, was more than $5000.
Gabby Robertson '42, by then a Navy ensign, was called upon to write another editorial lament at the death of a fellow Review staffer: "Too much already has been written of sadness at death come too soon, but all of Oberlin must ache a little for knowing he has died."
"I recall the tireless and good-natured patience with which he initiated English major me into the arcane double-entry bookkeeping we used at the Oberlin Review," Robertson recalls "Howie was in fact tireless and good natured always. He had endless energy and would lend himself to any project.
"Howie liked best the business end of the Review, I suspect, because he considered writing anything but an ad too nitpicky and time consuming. What he liked best was selling advertising to local Oberlin merchants. It brought him close to people in town and made him feel part of the community. He liked to drink mid-morning coffee at Ohly's with the village's businessmen. [Known as "Ohly's on the corner," the drugstore-soda fountain was located in the storefront later occupied by Kaiser-Wells Pharmacy and the Oberlin Apothecary. The Java Zone coffeehouse-restaurant occupies that space today. --JKS] He liked to talk Yeoman sports, particularly football, with Ken Powers and Gordon Dawley. He'd talk advertising techniques with Chuck Mosher of the News-Tribune. He cruised Main and College Streets store to store and door to door and sold the advertising that kept the Oberlin Review afloat."
He was 24 years old when he was killed.


Richard Cowan transferred into the Class of 1946 from Friends University in Wichita, his hometown, in October 1942. His father, grandfather, and uncles were all graduates of the College, and his greatest wish was to be the third Cowan generation at Oberlin.
Dick lived at 81 South Professor Street and took his meals at Webster, where he and his date, Joanne Johnston '44, liked to play bridge with Homer Cooper '49 and his date. Cooper remembers Dick as a "sweet, calm, peaceful guy, not the Medal of Honor type."
Nevertheless, President Truman awarded the Congressional Medal of Honor to Dick's parents in a ceremony on the White House lawn marking their son's heroic exploits in the Battle of the Bulge. He is the only known Oberlinian recipient of the Medal of Honor.
Dick was a 22-year-old private first class in M Company, 23rd Infantry, Second Infantry Division. On December 17, 1944, the second day of the last great German effort to split the Allied front and reach the English Channel, he was a heavy machine gunner attached to I Company near Krinkelter Wald, Belgium. The company was attacked by a superior force of German infantry and tanks. The first six waves of attacking infantry were repulsed, but a seventh drive with tanks killed or wounded all but three of his section, leaving Dick to man his gun supported by only 15 or 20 riflemen. He stood his ground, holding off the Germans until the rest of his force could set up a new line behind him. Then, unaided, he moved his heavy weapon and ammunition to the second position. A Royal Tiger tank approached, but he held his fire until 80 or so supporting German infantry appeared. His first burst killed or wounded half of them. The tank fired its 88 mm., rocking his position. He continued to man his gun, pouring deadly fire into the German ranks. Barely missed by another shell from the tank and fire from three machine guns and a rocket, he stood by his gun. Finally, after he had killed an estimated 100 of the enemy, his position became untenable.
"Private Cowan was the last man to leave, voluntarily covering the withdrawal of his remaining comrades," his citation reads. "His heroic actions were entirely responsible for allowing the remaining men to retire successfully from the scene of their last-ditch stand."
Dick lifted the heavy gun on his back and escaped into the village of Krinkelt. Out of ammunition and too exhausted to carry the gun, he received permission to destroy it. He then picked up a rifle and joined other infantry to defend the town.
He was killed the next day.


Arnold Norman Farbstein '42 was not a big guy. Just the right size, Bill Farquhar '43 recalls, to fit into the cramped cockpit of a P-47 Thunderbolt, which is where he was when he died somewhere over the North Sea on February 20, 1944.
Arnold lived in The Morgue, a tiny dormitory at 82 East College Street. In 1941 The Morgue was home to 11 men, four of whom--Farbstein, Howard Frank '42, Bob DeGroff '42, and Al Scofield '41--subsequently died in the war. Although that must be the record wartime casualty rate of any dormitory, The Morgue was so named long before earning that dubious distinction.
Tom Piraino '43, who also lived at The Morgue, recalls meeting Arnold on Tappan Square as he and his date were bound, penniless, for the Varse--the late, lamented Varsity Restaurant, located in the West College Street storefront next door to what is now the Co-op Bookstore. Those were Depression years and spending money was scarce. "When Arnie saw how matters stood, he said only 'Here's the dollar I owe you,' and walked away." There was no such debt, Piraino recalls, the dollar was a gift.
Arnold is most noted for his feats on the soccer field. Captain of the soccer team his senior year, he was small, fast, and without fear. And he played to win. "Even now I can see him weaving through a defense and the look on his face when he'd done it," says his teammate Gabby Robertson '42.
"I don't know where Arnie Farbstein learned his soccer, but what he brought to Oberlin was a lot better brand than the clumsy contact game the rest of us were playing. Footwork and finesse were Arnie's best tool against other teams. And fearlessness. He never seemed intimidated by Wheaton's big Bible-thumping fullbacks, and he scorned Wooster's broadest backs.
"Arnie was short, slight, tough. 'Big guys are dumb,' he told us smaller forwards more than once. 'They think they've got you because they're big and even fast. Don't believe it. Sucker them, make them commit. Then run around them.' And that's what Arnie Farbstein usually did. But it's what he did afterward that I remember best. Whenever he'd threaded his way through a tough defense, dribbled around or through some guy and got off a shot or a pass, he'd turn to me, another little guy, and wink."
Arnold grew up in North Bergen, New Jersey. He entered Oberlin in 1937 and remained until he left for the Air Corps in 1942. An economics major, he was awarded a B.A. in absentia.
Joseph Glaser '42, his teammate and friend, had managed to bring a car to Oberlin--against the rules at the time--which he kept in a barn outside of town. Frustrated by the College's early parietal rules for women, he recalls, he and Arnold and his friends at The Morgue would sometimes drive to Cleveland for a trip to the Roxy, the city's only legit burlesque house. "Arnie always liked to push himself," Glaser says.
The story of his death came in a letter from the War Department to President Wilkins. On February 10, 1944, Arnie was on bomber relay escort duty over the North Sea and had escorted a damaged bomber to the air base at Halesworth. He was last contacted by radio as he was returning to his position. He disappeared and was later declared dead. His body was never recovered. His parents and his sister had his pilot's wings cut into a memorial stone in a cemetery in Lodi, New Jersey.
He was 24 years old and, according to Joe Glaser, stood 5 feet 7 inches without his shoes.


Carroll N.Langston, Jr. '38 was the fourth generation of a distinguished Oberlin family. His great-grandfather, John Mercer Langston, earned an Oberlin B.A. in 1849, an M.A. in 1852, and graduated from the Theological Seminary (later the Graduate School of Theology) in 1853. One of the Wellington Rescuers, he made a great speech at the trial in Cleveland. Later he was United States Minister to Haiti and a congressman from Virginia. Carroll's grandfather, Arthur D. Langston, earned his B.A. in 1877 and became a prominent educator in St. Louis. His father, Carroll Napier Langston '03, became a lawyer and banker in Chicago.
After he left Oberlin, Carroll Jr. earned a law degree at the University of Michigan and became a successful attorney in Chicago. He enlisted in the Air Corps in 1942 and trained at Tuskegee University with other black airmen. A fighter pilot on the Italian front, he carried out 50 combat missions before being forced to bail out of his disabled plane over the Adriatic Sea. His tent mate said that search parties were sent out but that his body was not recovered until Italian fishermen found it two weeks later. Carroll was still in his parachute harness. Since he died before having children, the long line of Langstons at Oberlin ended with his death.
A brilliant first baseman, Carroll played on the 1938 Oberlin team that won the Ohio Conference. A wartime letter from him to Coach Guy Throner turned up in a score book that had belonged to Throner and was found in Philips Gym in 1983.
"I flew over Oberlin once last fall in the month of November," wrote Carroll. "I was coming back from New York and could not resist the temptation to hit the deck! Wish I could have dropped a calling card. Over in Italy now living in mud and squalor and thinking murderous thoughts about the Four Freedoms and other shibboleths! It's not too bad, tho, and I imagine I'll survive. . . ."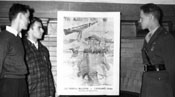 Harold Bezazian was in his 30s when he died in the Philippines in a successful attempt to rescue men of his company cut off by the Japanese. An aspiring writer, he left Oberlin in 1932 after his junior year to go to the Columbia University School of Journalism. Both his brother and sister were Oberlin graduates.
A lieutenant in the Sixth Infantry Division, he was leading his platoon in an attack on Japanese positions east of Bayanbayanan, Luzon, on March 11, 1945. Part of the company was cut off by enemy forces after four hours of fighting, his commanding officer wrote his father. Realizing their plight, Harold reorganized his men and attempted a rescue which failed. "With indomitable spirit and courage," the letter said, "Harold organized another group and led them fearlessly into the enemy positions. The mission, due largely to his repeated efforts and fortitude, was accomplished, but during the action Harold was struck by enemy rifle fire and died instantly . . . Your son's constant and untiring display of personal bravery undoubtedly saved the lives of a great number of his friends and he died while rescuing them from almost certain death."
Harold graduated from Columbia at the top of his class and with a Pulitzer Traveling Fellowship that he used for a year's study in Europe. Later he served as publicity manager for the Chicago Motor Club, as a reporter for the old Chicago Times, and manager of his father's 560-acre farm in Mississippi, all of which he regarded as necessary experience if he were to write short stories.
Harold volunteered for the army in March 1941, and was discharged as overage in November. After Pearl Harbor he immediately enlisted again and served in Iceland and Great Britain. He was brought back to the United States for officer training in 1943, won the Bronze Star for bravery in action in New Guinea, and was in the first wave of the landing on Luzon.
In his last letter to his father, Harold wrote: "God has been good to me and the company. I command G Company right now, the captain having been shot. But it's not serious and he should be back soon. I was the only officer left with the company during a three-day siege on the worst hill I've seen and I don't think I'll like mountain hiking any more.
"I got scratched by a Jap grenade, but my boys drove him off and killed another who was waiting to plug me. I'm getting the standard Purple Heart award mighty cheap. I didn't need more than first-aid treatment and they dug the shrapnel out when I got off the hill. Very slight stuff--no pain and no excuse to go to the hospital, doggone it."
His father gave $50,000 to the Chicago Public Library to construct a memorial branch library in the neighborhood where to his son grew up. It opened on West Aimslie Street in 1957.


Charles William Stacey, a young and talented Conservatory student in the Class of 1945, was determined to get into the war although he had been rejected by the Army, Navy, Coast Guard and the Canadian Air Force. He was finally accepted by the Merchant Marine, graduated from radio school on a Friday, and sailed aboard a Liberty cargo ship the following Monday as chief radio operator.
Loaded with smokeless powder, the Liberty was plowing through the Indian Ocean when it was attacked the night of June 19, 1943, by two Japanese submarines. Bill's death was described by the third engineer who spent 11 days in a lifeboat after the sinking.
"I grabbed a life belt and ran to my boat station. It seemed as if the entire ship was ablaze. I passed the radio operator's shack and there 'Sparks' Stacey was, trying to send out an SOS even though the room was all ablaze. I doubt very much whether he was able to get his message out, but I know he never gave up trying. He was not among the 40 officers and crew members rescued."
Bill was the son of the Rev. and Mrs. Fred W. Stacey of Woodbury, New Jersey. Responding to a note written to them by Bill Seaman '24, Rev. Stacey replied: "Bill sang for me in my church the night before he sailed. He sang 'O Divine Redeemer' and did it beautifully. My people will not soon forget. He walked home from church with me and said to me, 'You know, Dad, I know I am going into one of the hazardous places. If I come back it will be all right, and if I don't come back, it will be all right. I do not want you to reproach yourselves for having made this possible for me, for I am doing what I want to do.' It was his plan to return to Oberlin after the war. He thought Oberlin was a wonderful place and we appreciate the blessing he received from his association with the place."
Not too long before he went down with his ship, Bill had written a hymn, "Sad Prophet Treading O'er the Timeless Sands," which he mailed to his father in rough form. Julia Taylor '47 sang the hymn at the Commencement-Reunion glee club concert June 23, 1946, as a tribute to the College's wartime dead.
James K. Sunshine, a member of the War Memorial Committee, entered Oberlin in 1942 as a member of the Class of 1946. After serving in a field hospital in the European Theater from D-Day until the end of the war, he returned to Oberlin to earn a B.A. degree. He worked on the Oberlin Review and went on to earn a master's degree in journalism at Columbia in 1951, when he joined Rhode Island's Providence Journal-Bulletin. He retired in 1995 as the paper's Deputy Executive Editor/Systems. All photographs, except that of Bob Clapp and Norm Lyle, are courtesy of the Oberlin College Archives.
---
Return to the OAM Fall-Winter 1996 Table of Contents