Town Gown Landmark Building Transformed
---
A spacious home for the community's art, music, dance, and theater organizations under one roof--that was the driving concept for creating an all-in-one accessible cultural center. After more than a year of intensive planning, spurred by a $1 million donation from the Nord Family Foundation, Westervelt Hall on Oberlin's South Main Street has been transformed into the New Union Center for the Arts
Built in 1874, the building is one of Lorain County's most memorable landmarks, listed in 1974 in the National Register of Historic Places. The Victorian Gothic structure served Oberlin's youngsters as a state-of-the art public school with 11 classrooms until 1921, when repair estimates proved too much for the town to undertake. The last Union School students graduated in 1923, and the bell was taken from the crumbling tower and moved to the new high school.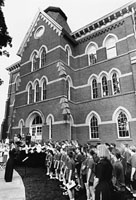 Local merchant Edmund Westervelt bought the building in 1927, and transferred ownership to Oberlin College for "temporary" classrooms, an arrangement that lasted for 34 years, when the King Building opened.
Westervelt Hall had narrowly escaped the wrecking ball more than once before the College decided to deed the troublesome structure to the City of Oberlin in 1976. Three years later, A. H. "Kenny" Clark '48 purchased the property from the city, and extensively renovated the exterior, including replacement of 1000 panes of glass of glass in 127 windows. Although Clark occasionally leased the structure for special use, including the year it served as a temporary site for the Oberlin Co-Op while the current bookstore was remodeled, the building loomed dark, silent, and abandoned for nearly 20 years. The Nord Family Foundation rescued the brick structure from ignominy in 1995.
Firelands Association for the Visual Arts (FAVA) occupies the lion's share of the first floor with an ex-panded art gallery. Also on the first floor is Uncommon Objects, a gift shop co-sponsored by FAVA and the Allen Memorial Museum of Art highlighting the work of area artists. The second and third floors provide offices and rehearsal space for The MAD Factory, a youth theater group; the Northern Ohio Youth Orchestras; the Oberlin Choristers; the Phenix Dance Theater; and the Oberlin Community Chamber Singers.
The structure now reverberates with the cheerful noise that accompanies the simultaneous creation of visual and performing arts. Soon, another new sound will soon join the rest when a replica of the original bell will be peal from the a newly constructed, lofty bell tower crowning the center.
--MC
---
Return to Around Tappan Square
Return to the OAM Fall-Winter 1996 Table of Contents