Alumni In Service To Oberlin College (ASOC)
Alumni Experts Brighten Oberlin's Early Spring
By Midge Wood Brittingham '60
---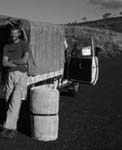 The Geology Department sponsored visits by two alumni: Scott Hassler '82 spoke during Winter Term, launching the second half of the 1995Ð96 ASOC program, and Kathryn Schubel '87 spoke during spring semester. Scott gave a talk, "Modeling the effects of impact-generated tsunamis on sea floor sediments," January 19, and, while he was on campus, worked extensively with Darian Davies '96 on his honors project, a petrographic study of Australian and South African volcaniclastic rocks; collaborated with professor Bruce Simonson on their joint research in western Australia; and taught a weekend class for the Oberlin Aikido Club. A geological sciences faculty member at California State University, Scott's career is taking a new direction: developing multimedia educational software. He consults with several Bay Area multimedia companies that produce earth science-related projects.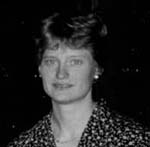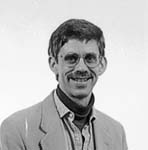 Kathy spoke February 14 about how the mineral dolomite forms, and she worked with Allison Dunn '96 on her honors project, which concerned the origin of the gypsum deposits on Cyprus. Kathy recently accepted a tenure-track appointment as assistant professor of geology and environmental earth sciences at Lafayette College. She expects to complete her Ph.D. dissertation, "Dolomite Microstructures and Reaction Mechanisms of Dolomitization," this summer at Johns Hopkins University.
"The Greek Colonization of Iberia" was the title of a February 22 talk by Murray McClellan '74. Invited by the Curricular Committee on Archeology and the Department of Classics, Murray is a member of Boston University's archeology department, where he codirects the Empuries-Boston University Project for the investigation of Greek urbanization in Catalunya, Spain. His experience includes excavations in Greece, Egypt, Libya, Jordan, and Israel. His particular interest is in ancient glass.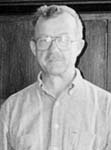 David Meieran '83 has produced and directed a number of documentaries about AIDS and lesbian and gay issues, including The Question of Equality (1995), a four-part television series about the movement for lesbian and gay civil rights produced for the Independent Television Service and Britain's Channel 4. His Ballot Measure 9 (1994), a feature-length documentary about Oregon's antigay initiative, won awards at the Sundance and Berlin film festivals. David came to Oberlin February 24 at the invitation of the art and politics departments, the Allen Memorial Art Museum, and the Lesbian, Gay, Bisexual Union to show The Question of Equality, which will be broadcast nationally this fall.
David Thomas '56 gave a March 1 talk, "To Queer or Not to Queer: Dilemmas of Identity Politics," as part of the Lesbian Gay Bisexual Concerns Committee Speaker Series. An associate professor of politics at the University of California at Santa Cruz, David majored in government at Oberlin and earned the Ph.D. at Harvard in 1968.
As part of his course on workers' rights, Visiting Distinguished Professor of Politics Don Pease invited James William Goold '75, who, with Pharis Harvey, executive director of the International Labor Rights Fund, spoke on "The New Global Economy--A Disaster for Workers?" Goold is senior legislative advisor, legislative and economic development director, and press secretary in the office of U.S. Congressman George E. Brown, Jr., chair of the House Science, Space, and Technology Committee. James is also Washington staff director and senior policy advisor in the office of U.S. Congressman Bernard Sanders, and is staff coordinator of the U.S. House of Representatives' Progressive Caucus.
The Department of Psychology sponsored the visit of Marian Diamond Sigman '63, who spoke April 15 on "Child Development Research in the Service of Children." She is a professor of psychiatry at UCLA 's medical school. After majoring in psychology at Oberlin, Marian spent a year at the London School of Economics before earning a Ph.D. at Boston University in 1970. She is particularly interested in autism.
Midge Wood Brittingham is executive director of the Oberlin College Alumni Association.
---
Return to the Alumni News and Notes
Return to the OAM Summer 1996 Table of Contents