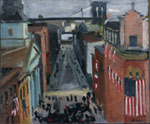 ---
---

Familiar Intimacies: Making Art a Part of Life
There's plenty new at the Allen Memorial Art Museum: new acquisitions and a renewed commitment to serving the Oberlin community, for instance. But some things never change--the AMAM is still one of the best teaching art museums anywhere.
BY CYNTHIA NICKOLOFF '88
---

What Color is Love?
"Everyone has a story," Ruth McBride Jordan recently told a reporter. "I just happen to have a son who writes." Her story would be riveting no matter who did the telling, but in the hands of her son, James, it becomes unforgettable. An excerpt from his book, The Color of Love: A Black Man's Tribute to His White Mother.
BY JAMES "BRITTLES" McBRIDE '79
---
Derek Lee Ragin has one of the world's most celebrated voices. If not for his Oberlin friends, he might never have found it.
BY BETTY GABRIELLI
---
---