Bassist Leon Lee Dorsey Hits Jazz Bigtime
---
Since the fall release of The Watcher, composer and bassist Leon Lee Dorsey '81 has been wined, dined, interviewed, and praised, and has earned a coveted four-star review in the December 1995 issue of Down Beat, the jazz aficionado's bible. He appears almost routinely on top-ten lists for jazz artists.
Dorsey, 37, has been in constant demand for more than a decade as a sideman to such jazz headliners as Lionel Hampton, Art Blakey, Ornette Coleman, Lee Konitz, Harry Connick, Jr., Freddie Hubbard, and Duke Ellington. He has performed at the White House, concertized throughout Europe and in Japan; appeared at Carnegie Hall with Frank Sinatra, and in France with Wynton Marsalis.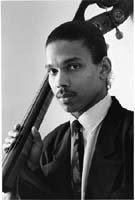 The Watcher is an hour-long 11-selection album featuring Dorsey's Oberlin College chum Lafayette Harris '85 on piano, Don Braden and Vincent Herring on sax, Cecil Brooks III on drums, and, of course, Dorsey on bass. Seven selections are Dorsey's own compositions, falling into the "neobop" tradition, and reflecting the influence of Miles Davis and Wayne Shorter. The remaining four titles are standard jazz classics including "Misty," "Cheek to Cheek," "United," and "Caravan."
A double-degree major in classical and jazz double bass at the Conservatory of Music, Dorsey was the first African-American student in the school's 148-year history to give a recital in jazz performance. He went on to earn a master's degree in music at the University of Wisconsin-Madison, and another M.M. at the Manhattan School of Music. Even with his intensely peripatetic performance schedule, he is a doctoral candidate at City College of New York, where he studies with the legendary jazz bassist--and his mentor--Ron Carter.
Lee does very little solo work on the album. His bass lines are melodic, inventively harmonic, and provide a strong rhythmic line for the group. Only on "Misty" does a solo line emerge. Dorsey says he always likes to whet his listener's appetite for more. "You know," he said, "in some albums, you can hear a guy take a 20-minute solo. You might say, 'Boy, that guy can play,' but you're glad when it's over." By rationing his skills, he says, he hopes to leave his audience with a taste for more.
--Mavis Clark
---
Return to the Alumni News and Notes
Return to the OAM Summer 1996 Table of Contents