Oasis Founders Write The Definitive Book On Adopting a Shelter Dog
By Mavis Clark
---
Eliza Rubenstein '94 and Shari Kalina '93 began working on their recently published book, The Adoption Option: Choosing and Raising the Shelter Dog for You, two years ago, when Eliza was an Oberlin senior, and Shari had just graduated.
Their publisher, Howell Book House, (a branch of Simon & Schuster Macmillan Company) recognized immediately that these two authors were exceptionally well qualified. Eliza had been training dogs since she was 11, and, at 14, she was writing a "Kids and Canines" column in Front and Finish: The Dog Trainer's News. This enterprise netted her two awards from the Dog Writers' Association of America. Shari, also a "born" dog lover, had founded the OASIS Animal Shelter in Oberlin during her time on campus, and both had spent earlier years as shelter volunteers. Together they created a cheerful, informative, step-by-step guide for anyone who wants to know how to locate, adopt, and successfully raise a shelter dog--a kind of Dr. Spock manual of the canine world.
Their unwavering devotion to dogs first connected Shari and Eliza at Oberlin. Each had lobbied the Office of Residential Life--successfully--for the right to live off-campus with their four-legged housemates. Each had taught EX-CO classes on animal welfare and care. Each had recognized the need for a local animal shelter.
Shari says she was dumbfounded to discover that the town had no existing arrangement for the care of stray dogs. The part-time dogcatcher captured lost or abandoned dogs and delivered them to the pound in neighboring Elyria, where they were killed unless they were promptly adopted.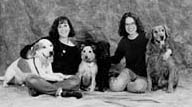 She emptied her account of the almost $1000 she had managed to save and founded OASIS Animal Shelter on lower Main Street. The shelter, a tiny, unheated storage building loaned to her by the City, was swiftly stacked three-deep with cages, fully occupied and with a waiting list. Without hesitation, Eliza joined the effort. She and Shari recruited an enthusiastic corps of 65 students from the College willing to walk, groom, feed, socialize, and play with the dogs and to hose down and clean out the cages at least twice a day. Proceeds from bake-offs, local art auctions, and donations from students and townspeople helped with the expenses for neutering, shots, and medical care provided at cost by a local veterinary, and to help pay for the sacks of food the dogs consume single day of the year. After serving as director of OASIS for three years, Shari was nominated as a finalist for the Campus Compact Humanitarian Service Award in 1992. After graduation, she returned to her home state of New Jersey with all three of her dogs, and worked there for St. Hubert's Giralda, a shelter in Madison. She also worked at a school for autistic children, and volunteered at the Randolph, N.J., Animal Pound before she launched her own store, Panagea--Greek for "earth"--in Bethesda, Maryland. Shari keeps in touch with OASIS through once-a-week phone calls to Vera Opel, who now runs the shelter.
Eliza moved to the West Coast with her shelter dog, Sebastian, and her 13-year-old golden retriever, Alfy, after graduating with a B.A. in English. She works at Dog Fancy magazine while pursuing a master's degree in choral conducting at the University of California at Irvine. She is planning a career in music at the university level, and plans to earn one or two more degrees before launching into teaching.
Eliza says, "This is an Obie kind of book, designed to destroy the sterotypical 'let's go buy a pedigreed dog' affectation." She's convinced that adopting a dog from a local shelter is truly "reflective of the Oberlin spirit."
For those considering a rescue of any of the 10 million dogs living in shelters each year, The Adoption Option can be ordered from the Co-Op Bookstore in Oberlin, which donates 25 percent of the proceeds to OASIS. Address: 37 West College St. Oberlin, OH 44074; phone: (216) 774-3741.
---
Return to the Alumni News and Notes
Return to the OAM Summer 1996 Table of Contents