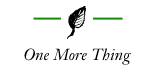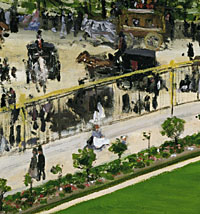 Near the end of his life the impressionist master Claude Monet told an interviewer that when one of his idols, the great painter Honorˇ Daumier, saw Le Jardin de l'Infante (Garden of the Princess, Louvre) hanging in an art dealer's gallery window, he shouted, "are you not going to remove that horror from your window?"
In the catalog for the exhibition Origins of Impression, Gary Tinterow wrote that art historians believe that tale to be apocryphal. Monet was probably referring to his Le Quai de Louvre, painted during the same period as Garden of the Princess. The story nevertheless reveals the outrage elicited by the changing style of artistic expression, at the forefront of which were Monet and his peers.
While the average fan of impressionism might pass the painting by, Garden of the Princess contains the incipient elements of the full-blown style, and incorporates aspects of realist vocabulary, too. Concern for atmosphere and light is apparent in both Monet's treatment of the cloudy, gray sky and in his rendering of the muted light's play throughout the scene. A close inspection reveals that the artist did not mix his paints, but applied separate dabs of color, allowing the viewer's eye to blend them.
The changing artistic style mirrored what was occurring in Parisian society--the inhabitants' bustling, self-conscious pride in their city, their country, and themselves--and the content of Garden of the Princess more than hints at the impressionists' love affair with the vibrancy of modern life. Garden of the Princess "literally depicts the moment when Monet turned his back on the academic paintings of the Louvre and painted modern life," says Allen Memorial Art Museum director Anne Moore. Gone are the historical and mythological subjects of acad¸me, and in their place are Paris--the houses and trees crowded along the Seine--and Parisians--galloping about in carriages or strolling along on foot.
The "horror" that Daumier may, or may not, have decried nearly a century and a half ago is now one of the world's most sought after masterpieces of impressionism. The AMAM recently lent it to the Galeries Nationales du Grand Palais's exhibition The Origins of Impressionism, which was shown in Paris at the Grand Palais and in New York at the Metropolitan Museum of Art, and to the Art Institute of Chicago's exhibition Claude Monet: 1840Š1926.
---