A A Fr i e n d l y C C o n s p i r a c y
While none of them got together to plan it that way, the support of classmates, faculty champions, and an Oberlin music lover combined to magically influence the life of one conservatory undergrad.
By Betty Gabrielli
---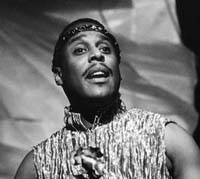 During his senior year at Oberlin, Derek Lee Ragin '80, a piano major with his eye on a career as an accompanist, little realized that while he "played around" in the conservatory halls "singing very high, imitating Joan Sutherland and Leontyne Price and pop artists," a friendly conspiracy was about to propel him into a career as one of the world's most celebrated countertenors.
He succumbed that year to the urging of friends--even though he scoffed at the idea--to audition for a leading role in the Opera Theater spring production. To his utter astonishment, he won.
"To this day I thank Judith [Professor of Opera Theater Judith Layng] for casting me," says Ragin. "Until that moment, I had no idea what singing as a countertenor was, or that it could be your life's work."
Ragin returned to Oberlin this past spring to reprise the role that launched his career--that of Oberon in Benjamin Britten's A Midsummer Night's Dream.
To be honest, Ragin wasn't a total stranger to vocal performance when he auditioned for Layng. He learned his rare and surprisingly sophisticated ability to control voice production at his mother's knee. At age 5 he made his first public appearance singing Schubert's Ave Maria, and at 11 he started formal vocal training at New Jersey's Newark Boys Chorus School, where he was soprano soloist for three years. At the same time he began formal piano studies at the Newark Community School of the Arts.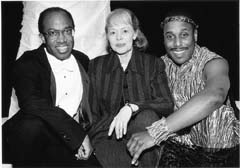 Ragin felt his voice was too unsettled to make singing his focus when he came to Oberlin, and he chose to major in piano. He kept up his singing, mostly as a conventional tenor, studying with Associate Professor Richard Anderson for his minor in vocal performance.
In describing Ragin's 1980 performance as Oberon, Anderson recalls, "I didn't know him. Up on that stage, he had suddenly transformed from student to professional. He was the embodiment of that role. I was stunned."
Ragin also sang with Voices for Christ and the Collegium Musicum, whose then director, Emeritus Professor of Music Theory L. Dean Nuernberger, along with Ursula Hoff Stechow '42, encouraged him to put more emphasis on his voice.
"Dean Nuernberger gave me numerous high-tenor solos," recalls Ragin. "Mrs. Stechow, whose daughter was in the ensemble, would attend the rehearsals in Fairchild Chapel.
"Every time she heard me do a solo, she would say, 'Young man--you should go to Europe!' I didn't even know who she was--I'd just think, 'Oh isn't she sweet,' and go on to my next class.
"It wasnÕt until my senior year, when we were at a reception after a concert, that she flat out told me, 'You should be doing something more with your voice. People are doing this in Europe. Why don't you give it a chance?' She sort of adopted me, helped me in so many ways."
Today Ragin is at the top of his form, a singer whose emotional impact, purity of tone, precision of pitch, and subtlety of style are said to meet and surpass the standards set in the last generation by such legendary countertenors as Alfred Deller and Russell Oberlin.
Last year Vanity Fair magazine dubbed him one of the six greatest living countertenors, including him in an opulent photo spread and describing the countertenor sound as " . . . like no other in music . . . other worldly. Beyond gender."
Indeed. The androgynous countertenor sound combines the sweetness and high register of a woman's voice with a man's volume and breath control. Also known as male alto, haute-contre, and falsetto--no authority agrees on the exact term--the word countertenor denotes the highest-pitched masculine voice.
The countertenor sound today is in full revival, thanks to a contemporary appetite for historical performance. While Ragin often performs 20th-century works, many of the European Renaissance and Baroque operatic roles that form the foundation of the countertenor repertoire were written for castrati. Just a few years ago Ragin was invited to help produce the soundtrack for the film Farinelli: Il Castrato, which went on to win the Golden Globe Award for Best Foreign Film and was nominated for an Academy Award in 1994. In order to approximate the range and timbre of Carlo Broschi, the fabled 18th-century castrato known as Farinelli, Ragin's voice was blended with that of coloratura Ewa Mallas Godlewska. Director Gerard Corbiau said he cast Ragin, sans audition, for his "distinctive, sweet sound."
The castrati's virtuosity and purity of tone was said to have sent admirers into paroxsyms of rapture. Ragin is no stranger to that phenomenon; he too has acquired a few groupies. "But only a few," he demurs. He says his fans are nothing like those of Jochen Kowalksi, a German singer known for his multicolorful tonal approach.
"He's probably the diva of the countertenors," laughs Ragin. "After performances . . . they flock to him like a pop star."
Like many American artists who must travel abroad to find work, Ragin regrets that there aren't more professional opportunities at home. "I spend a lot of time flying. I spend a lot of time getting over jet lag."
This season his schedule includes performances of Gluck's Orfeo ed Euridice in Stuttgart; recitals in Switzerland, France, Germany, and Finland; a recital and orchestral appearance at the International Melbourne Festival, and a 14-day, 10-concert tour of Australia. In the U.S he'll tour with the Moses Hogan (Class of 1979) Chorale, a New Orleans ensemble that performs traditional repertoire and spirituals, and he'll sing the role of Oberon in the Met's fall and winter production of A Midsummer Night's Dream.
Fortunately, he lives not far from the Newark Airport, one of the hubs for those flying to or from Europe. "I'm [home] maybe every month, but then I'm only there a week and then I'm off again.
"How many miles have I logged?" He shakes his head: "Countless."
--Betty Gabrielli is senior staff writer in Oberlin's Office of Communications.
---
Return to the OAM Summer 1996 Table of Contents